Modders Finally Bring Undead Nightmare To Red Dead Redemption 2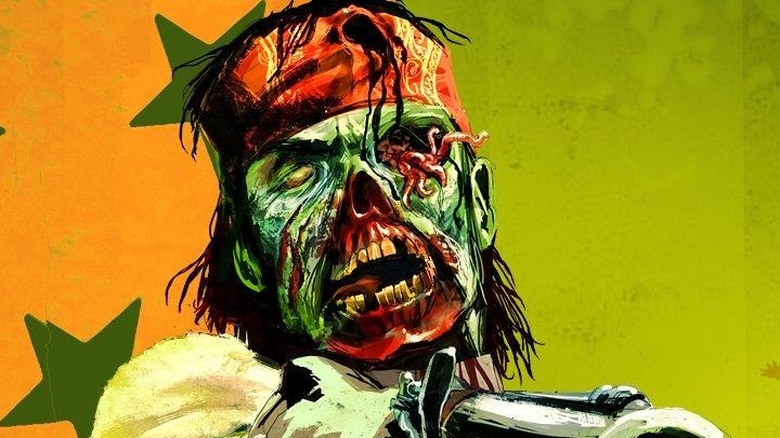 A mere five months after Rockstar Games released "Red Dead Redemption," it received a memorable expansion in the form of "Undead Nightmare." Just in time for Halloween, the expansion reworked the game's map as the stage for a zombie-themed horror story, throwing away many of the base game's classic western cliches. "Undead Nightmare" was a breakout success, with some critics hailing it as a masterpiece, and fans have waited patiently for a follow-up or spiritual successor ever since.
Three Halloweens have come and gone since the game-changing "Red Dead Redemption 2" launched, and there don't appear to be any signs that Rockstar is taking another swing at introducing zombies to the west. For many players, this meant relenting to participate in Halloween-themed events in the divisive "Red Dead Online" to get their spooky western fix. Luckily, a community of modders has been hard at work, and they've recently succeeded in doing what Rockstar has not: They've created an "Undead Nightmare" for "Red Dead Redemption 2."
"Undead Nightmare 2 – Origins" seeks to deliver as much of the original "Undead Nightmare" experience as possible to "Red Dead Redemption 2." The mod's description reads: "The dead have risen, a number of settlements have fallen, and some still stand a chance – it's up to you to either lend a hand, or let them perish." The mod features completely reworked "Undead Towns," injecting some of that "Undead Nightmare" B-movie feel into "Red Dead Redemption 2." So what can players expect to encounter when they fire up this horrifying fan game?
What Is Undead Nightmare 2?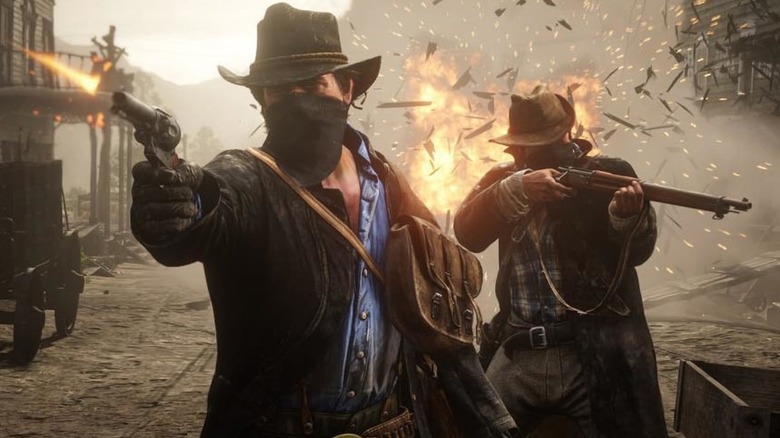 Players can expect to become embroiled in a battle between the living and the dead, deciding who they'll help and where. It's not only the general populace that's fending for their lives, but the law too. Some locations will have it worse than others, becoming wholly overrun, but the outbreak is at its worst in New Austin. 
As seen in a gameplay video posted by Quarantine Gamer, if players can get past the dead, they may still have to deal with busting through survivors' boarded-up residences to get to safety. Some additional treats "Undead Nightmare 2 – Origins" includes to help set the mood are a playable zombified John Marston, an appropriately haunting soundtrack, and an eerie blood moon hanging overhead.
It's clear that a great deal of work went in to this mod, and for "Red Dead Redemption 2" players on the PC, this may be the closest the game ever gets to recapturing the glory of the original "Undead Nightmare."