What The Critics Are Saying About Call Of Duty: Vanguard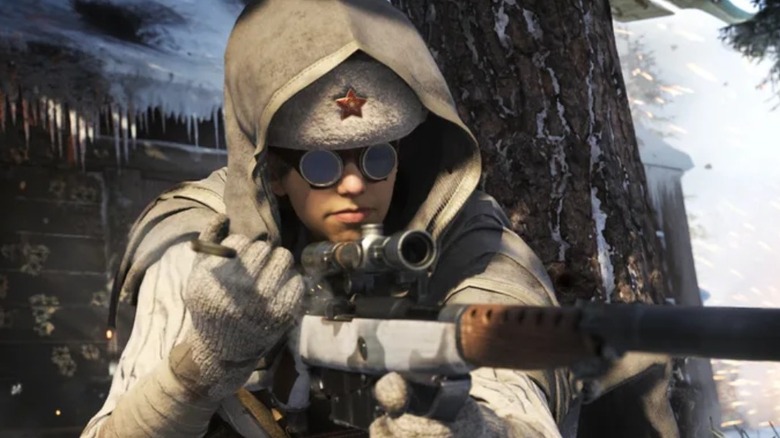 "Call of Duty: Vanguard" has arrived after months of testing and fine-tuning, and fans couldn't be more hyped. Gamers were already excited for everything that "Vanguard" Season 1 has to offer, but now critics have had a chance to add their takes on the latest entry in the storied war game franchise. Unfortunately, it seems that they're mostly mixed on the game's single-player campaign, though multiplayer and Zombies modes look more promising. 
Advertisement
Wesley Lin-Poole at Eurogamer explained that "Vanguard" should have been a more fulfilling single-player campaign, but it ultimately fails to live up to the hype. He complimented the fact that each character is based on real WW2 heroes, and said that the voice acting and animation stood out as excellent, but "there's no subtlety or deftness to proceedings." In fact, he described the gameplay as "too by-the-numbers for it to make an impression. It's all crushingly linear." Daniel Tack at Game Informer agreed, noting that the single-player campaign "is weak." in comparison to the title's other two modes. Most importantly, Lin-Poole noted that the game tackles the racism and sexism of the period well, communicating complicated ideas of the time somewhat effectively.
Advertisement
IGN provided a more in-depth look at "Vanguard," with individual reviews for each of the game's three modes. When it came to the single-player mode, Simon Cardy seemed to agree with other critics, giving the campaign a 7/10 and noting that it doesn't reach the heights of some other "Call of Duty" titles. Thankfully, reviewers seemed more impressed with the other two modes of "Vanguard," and had complimentary things to say about Zombies mode and multiplayer.
Multiplayer and Zombies fared better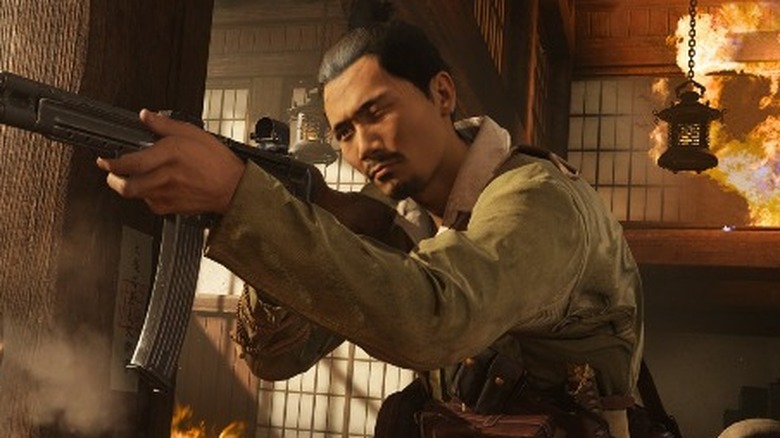 Many players love "Call of Duty" specifically for its multiplayer mode, and "Vanguard" doesn't disappoint in that regard. Seth Macy's review in progress at IGN noted that the multiplayer mode in "Vanguard" feels familiar, but is also very fun, fine-tuning some snags in previous "Call of Duty" multiplayer modes. Macy explained that the new multiplayer mode doesn't add much to the franchise, but that it's still an enjoyable experience overall. Macy especially praised the new Champion Hill mode in "Vanguard," a sort of "last man standing" multi-arena deathmatch, but commented that multiplayer mostly seemed similar to previous "Call of Duty" games. Macy did praise the new Combat Pacing options in "Vanguard," which allows players to control how many soldiers face off on any given map.
Advertisement
Yin-Poole argued that the multiplayer mode made "Vanguard" worth playing, but commented that its gameplay is very similar to past "Call of Duty" titles. "It moves and shoots more like Modern Warfare and Warzone," Yin-Poole noted, "Which is a good thing for the upcoming osmosis with the all-encompassing battle royale." Yin-Poole and Tack both agreed that multiplayer feels good in "Vanguard," but doesn't provide a fundamentally different experience.
Critics seemed much more optimistic about the Zombies Mode in "Vanguard," but commented that it wasn't quite finished yet. Reviewers anticipated that future updates to the game will expand the experience. New Zombies Mode content will begin to release on December 2.
Advertisement
Overall, "Vanguard" offers a solid "Call of Duty" experience for fans of the franchise, but doesn't offer many new innovations. Gamers will be the ultimate test of the game, though, and "Call of Duty" streamers will need to weigh in on the latest installment as well.