Why Grand Theft Auto: The Trilogy's Reviews Have Been So Disappointing
"Grand Theft Auto: The Trilogy: Definitive Edition" went from one of the hottest rumors of the year to being a real video game that has since been released across all platforms. Unfortunately, high hopes have turned into bitter reality as the remastered collection has gotten off to a rocky start and it doesn't seem like that is getting corrected just yet. The critic reviews have begun to roll out for the "Grand Theft Auto: The Trilogy: Definitive Edition" and so far they haven't been very positive.
Advertisement
One of the primary reasons being cited for these negative reviews is poor performance, along with some of the updated visuals looking strange or flat-out bad. For Kotaku, Zack Zwiezen shared some impressions of the trilogy after spending about an hour checking out each game. While Zwiezen was pretty happy with the visual look of the game, some bad lighting effects and framerate dips of the performance mode on Xbox Series X made him not recommend the package at the $60 USD price tag. As some over reviews covered, the next-gen consoles don't perform perfectly, but they perform much better than some of the other versions. However, there's one console fans might want to avoid picking up the game on.
Advertisement
Grand Theft Auto: The Trilogy: Definitive Edition is real bad on Switch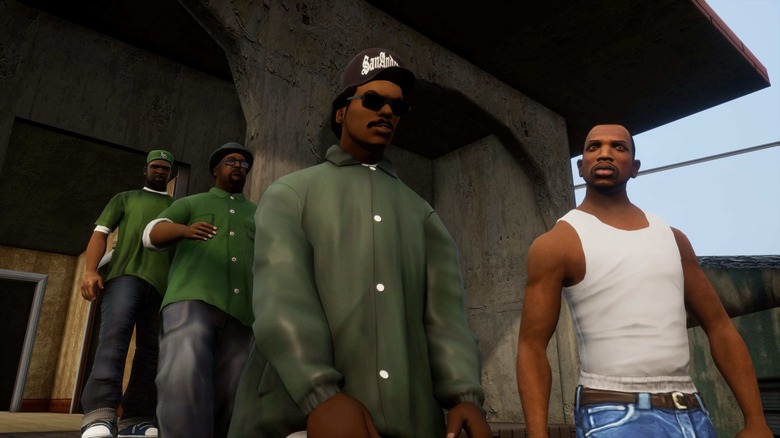 For VGC, Jordan Middler reviewed "Grand Theft Auto: The Trilogy: Definitive Edition" on Nintendo Switch, scoring it a 2/5. Middler noted that the Switch version features a resolution similar to original PS2 versions, along with load times that will give you far too much time to reflect on how poor this version is. While it is a collection of classic games, a framerate that constantly dips close to 20 FPS makes for an experience unworthy of these genre-defining games.
Advertisement
Gamereactor gave the collection a 4/10, with Petter Hegevall arguing that calling it the "Definitive Edition" is a bit of a stretch. Hegevall criticized the updated gameplay, writing that the protagonists of each game still move in a very clunky way. Hegevall also stated that he dealt with a myriad of bugs and technical issues through the trilogy. Hegevall did not state which platform he played on, however, he sighted similar issues with the framerate dipping substantially.
Press Start Australia had one of the more positive takes, with Adam Mathew recommending the game in his review-in-progress. Mathew praised the limited improvements made to the gameplay and camera, especially in "Grand Theft Auto 3," although he mentioned having similar issues with lost frames on PS5. Ultimately, Mathew recommended the trilogy to fans of the originals, suggesting that newcomers hold out for the final review.
Advertisement