Why This Battlefield 2042 Character Has Fans In An Uproar
EA and Dice are changing the name of an operator's skin in "Battlefield 2042" after some fans discovered its unfortunate connection to a real-world conflict. "Battlefield 2042" is currently in its early access period, with people who ordered the special editions able to play before the full launch on November 19. Despite the game getting shockingly positive review scores, a few people have noticed some issues, including one operator skin. Operator Pyotr "Boris" Guskovsky has an unlockable epic operator skin named "Little Green Man." While the name could be a joke about how Boris is a large man or a reference to plastic toy soldiers, it unfortunately referenced something else entirely.
Advertisement
The phrase "little green men" also refers to the unmarked uniforms of Russian soldiers in the ongoing conflict between Russia and Ukraine. Considering that Boris is canonically Russian-born, the name appears to be a reference to the conflict between the two countries. This unfortunate connection was pointed out by a fan on Twitter, who noted the offensive nature of using this title as a joke in "Battlefield 2042." It's unclear if this skin name was actually based on real-life events or not, but either way, the "Battlefield 2042" developers are moving quickly to remove it.
EA and Dice remove the "little green man" skin from Battlefield 2042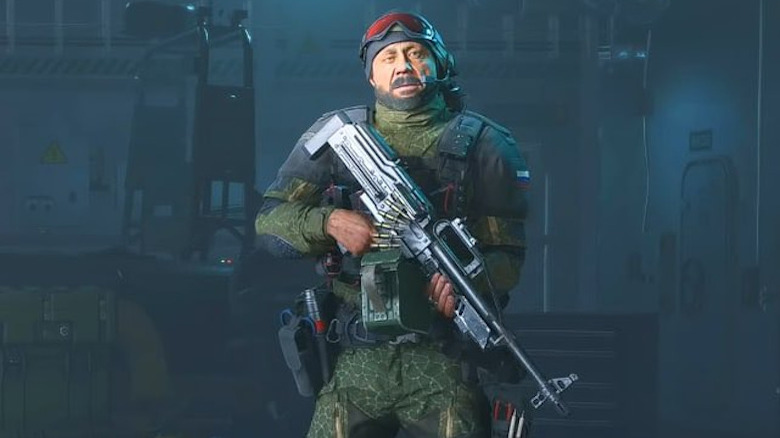 Shortly after fans began to notice the connection between the Boris skin and the real-life conflict, the official Battlefield account released a tweet announcing that the name of the skin would be changed in an upcoming update.
Advertisement
"Today you helped inform us about a name we use for a Skin in Boris' Mastery Tiers. It unintentionally references a real world issue, and isn't reflective of our team's values. We'll be changing the name in a forthcoming update, and appreciate it being brought to our attention," the tweet said.
The apology stated the reference was an accident, so it appears that nobody working on "Battlefield 2042" actually thought it was a good idea to reference the ongoing conflict. "Battlefield 2042" has a few issues still, including a serious bot problem, where only a handful of players in 128 player lobbies were real players, but at least one issue has been resolved successfully. 
The future for "Battlefield 2042" still looks bright, despite the unintentional misstep. Players who don't have access to the early version of the game can look forward to its full release on November 19. 
Advertisement