Streamers Confirm What We All Suspected About PewDiePie's Real Life Behavior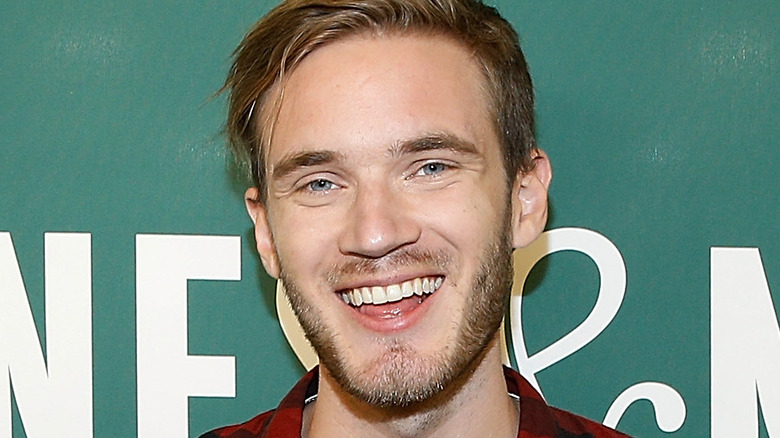 John Lamparski/Getty Images
YouTuber Felix "PewDiePie" Kjellberg has had a number of notorious feuds with other creators over the years, leading to a list of people who simply can't stand him. Despite breaking boundaries on YouTube and holding quite a few impressive records, PewDiePie remains a somewhat controversial figure in the content creation world. However, things online tend to work differently than in real life, and those who have met and interacted with PewDiePie in person often have a vastly different take on the streamer from what fans might expect. While Pewds enjoys playfully roasting internet culture on his channel, other streamers have said he's a competent, professional, and generous person in real life.
Advertisement
In 2021, PewDiePie decided to share a softer side of himself by opening up about the tragic addiction that changed his life, showing viewers a more personal side of himself already well known by his friends. Some streamers have seemingly corroborated the idea that this honest, blunt individual is, in many ways, the "real" Pewds.
Saiman Says PewDiePie is humble
Despite his fame, PewDiePie seems to stay down to earth, never opposed to meeting other content creators and sharing a fun moment. Fellow YouTuber Saimandar "Saiman Says" Waghdhare — an Indian YouTuber with over 1 million followers — traveled across the world to meet his idol, PewDiePie. While the move was partially a bid for higher ratings and good content, Waghdhare also seemed genuinely impressed by PewDiePie's kindness. 
Advertisement
Waghdhare began his video by explaining that PewDiePie's controversial T-Series diss track had been banned in India, leaving him unable to listen to his favorite song. To solve the problem, Waghdhare joked, he'd traveled all the way to Brighton in the UK to meet with PewDiePie. That sounds great on the surface, but the truth was that Waghdhare hadn't actually talked to PewDiePie about this before going all the way to the UK. Oops.
Things worked out, however, and the duo hosted an Indian snack review in a following video, with PewDiePie revealing his true identity by taking off an unconvincing pair of sunglasses. The pair then shared some Indian snacks, some laughs, and a "Brofist" bump before parting ways. The video was a delight for viewers, who got to see PewDiePie interacting naturally with Waghdhare.
Advertisement
Before the video was uploaded, Waghdhare posted a picture of himself and PewDiePie to his Twitter, captioning it, "The most humble man I've ever met. Thank you @pewdiepie for inspiring creators around the world." It's clear that the chemistry between the pair was real, and that PewDiePie really did share a pleasant afternoon with Waghdhare.
Jacksepticeye and MrBeast admire PewDiePie's demeanor
Jacksepticeye and PewDiePie have collaborated before, but several comments from Jacksepticeye have indicated that the pair are actual friends, not just partners in content creation. In early 2020, the YouTuber told Metro UK that PewDiePie is actually very "down to earth," and that his internet fame hasn't gone to his head. Jacksepticeye also explained that it's strange to see people criticize his friend for misconstrued quotes that are often taken out of context. 
Advertisement
"I don't know how he does it, with that many people on you and that much scrutiny on you constantly. I think I would have lost my mind by now," JackSepticEye said. He went on to explain that the pair have hung out in real life, outside of the bounds of YouTube, and that they've been able to build a friendship that has little to do with the streaming platform, supporting each other along the way.
Another big YouTuber, MrBeast, also spoke out in support of PewDiePie. In an interview with 100 Thieves, MrBeast echoed that Pewds is rather humble, despite all of his fame. While it's unclear if PewDiePie and MrBeast have met in real life, the two definitely have a friendly online relationship built on mutual respect. It could be easy for both MrBeast and PewDiePie to flaunt their internet superiority, but both creators apparently stayed grounded by acknowledging each others' talent.
Advertisement