The Devastating Death Of John Madden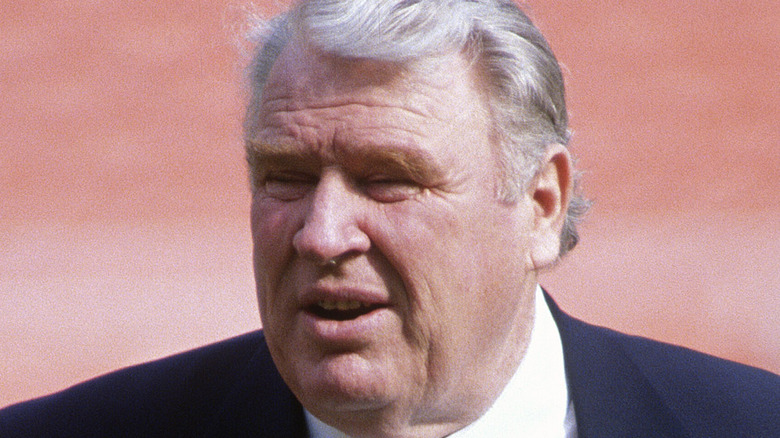 Focus On Sport/Getty Images
NFL Hall Of Fame Coach John Madden died on the morning of December 28, 2021, at the age of 85, according to a report published on the NFL website. A cause of death has yet to be announced for the legendary coach and sportscaster.
Advertisement
Madden first achieved great success as the head coach for the Oakland Raiders. As reported by Sports Illustrated, Madden took the position in 1969 at the age of 32, and by 1976 had already coached the team to a championship at the Super Bowl. 
Yet, it was Madden's life after coaching where he became a fondly remembered and a familiar voice for generations of football fans. Per ESPN, Madden started his career in sports broadcasting in 1978, famously breaking down plays and strategies with his accessible explanations. But no matter where his career took him, Madden always displayed his immense passion for the game of football.
"Nobody loved football more than Coach," NFL Commissioner Roger Goodell said in a statement. He was football. He was an incredible sounding board to me and so many others. There will never be another John Madden, and we will forever be indebted to him for all he did to make football and the NFL what it is today."
Advertisement
John Madden was football's greatest representative
Focus On Sport/Getty Images
John Madden was born in Austin, Minnesota, on April 10, 1936, and raised in Daly City, California. While he was drafted by the Philadelphia Eagles in 1958 out of Cal Poly, he unfortunately never got the chance to play pro football due to injuries (via NBC New York). However, his lack of an opportunity to play professionally only led to great success as a coach and arguably one of the most outstanding representatives for the game he loved so much. 
Advertisement
Per The New York Times, Madden's success extended beyond coaching and broadcasting, as he was also a three-time New York Times bestseller. Along with his iconic commercials for Miller Lite (via Sports Illustrated), Madden also had many other memorable on-screen roles. He appeared as himself in football comedy movies such as "The Replacements" and "Little Giants" and the 1983 film adaptation of Stephen King's novel "Christine." He also voiced himself in an episode of "The Simpsons" (via IMDb).
Arguably, Madden's reach most notably extended to the realm of video games, thanks to Electronic Arts' "Madden NFL" series. According to IGN, in 1988, he first lent his name to the Apple II computer game "John Madden Football," kicking off one of the most profitable and successful sports games series. Currently, it is the only official NFL licensed game series, and it's managed to sell 250 million copies since its first title launched more than three decades ago. Madden is genuinely one of football's most remarkable figures and will be missed.
Advertisement