Football Coach And Gaming Icon John Madden Dies At 85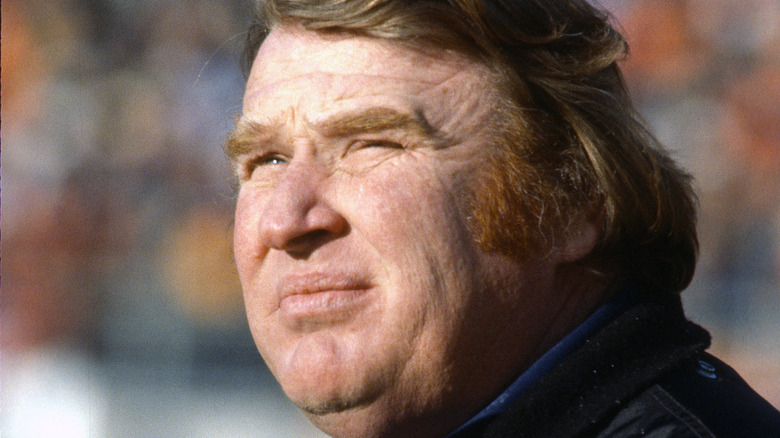 Focus On Sport/Getty Images
The sports world is in mourning after the announcement that John Madden — the legendary head coach of the Oakland Raiders (now located in Las Vegas) and renowned broadcaster — has died at the age of 85 (per ESPN). Madden had been dealing with several health issues over the past few years, including having to get heart surgery in 2015.
Advertisement
Madden is a legendary figure in the world of American football. While his playing career was cut short due to a knee injury, Madden would go on to have a successful head coaching career with the Oakland Raiders, winning Super Bowl XI in dominant fashion against the Minnesota Vikings in 1977. Madden would step down as the Raiders' head coach in 1978, but his vibrant personality and masterful knowledge of football led him to begin a broadcasting career that was just as successful that spanned 30 years and saw him work for all the "Big Four" networks — ABC, Fox, NBC, and CBS — at one point or another. Madden eventually retired from broadcasting in 2009 after calling Super Bowl XLIII between the Pittsburgh Steelers and the Arizona Cardinals.
Advertisement
But Madden isn't just a legend in football. He's also extremely popular in the world of gaming, with his namesake being used in the now-iconic "Madden NFL" franchise.
John Madden lent his likeness and namesake to EA Sports' popular Madden NFL franchise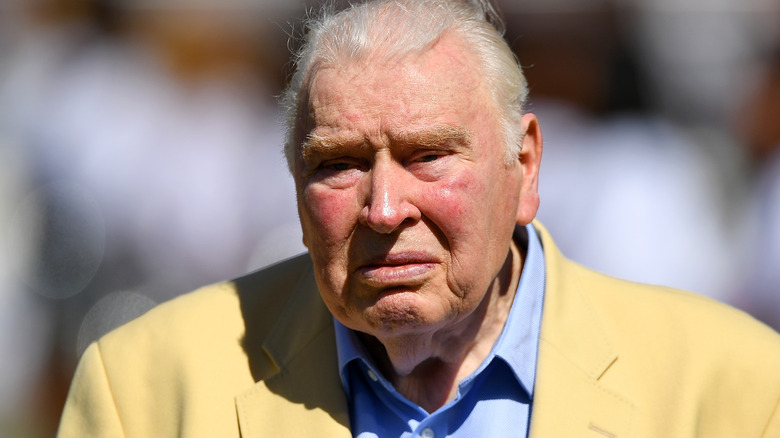 Thearon W. Henderson/Getty Images
After creating a near-perfect simulation of Super Bowl VIII on a PDP-11 minicomputer, Trip Hawkins would found Electronic Arts (now known as EA) in 1982. Immediately, the company endeavored to make a game based completely around football and sought out well-known figures in that world that would endorse the product and make it more marketable. San Francisco 49ers quarterback Joe Montana was the first one approached, but couldn't commit to the project due to existing contractual obligations with Atari. UC Berkeley (Cal) head coach Joe Kapp was also approached by EA, but his royalty demands were considered too high (per ESPN).
Advertisement
Madden would be approached in 1984 about the project and eventually agreed to put his name on the game, with "John Madden Football" releasing in 1988 for the Commodore 64. The game would go on to be the leading football sim in gaming, and eventually was given the NFL licensing beginning with "Madden NFL '94". To date, the EA Sports football franchise continues to be the most popular gridiron football game on the market, especially after the series obtained exclusive NFL licensing beginning in 2005, an agreement that continues to this day.
Madden's influence and popularity was the foundation on which "Madden NFL" was built upon. Without him, it's unclear whether the original concept developed by Hawkins would've been properly fleshed out. Even if modern iterations of the game remain polarizing in terms of quality, "Madden NFL" shaped the sports gaming landscape as we know it. For that, the gaming community owes John Madden an unpayable debt. 
Advertisement