PewDiePie Confirmed What We Suspected About His Relationship With Markiplier
PewDiePie and Markiplier are two of the most recognizable and influential names in the world of streaming and online content creation. Since bursting onto the scene in 2010 and 2012, respectively, the pair have amassed passionate fanbases who excitedly tune into their every project. As such, it's no surprise that the two also became good friends. 
Advertisement
Over the course of several years, PewDiePie and Markiplier collaborated on multiple projects with one another, which have ranged from playing a game of "Who's More Likely To...?" with fellow streamer Jacksepticeye to recording silly videos of Mark being slapped around by his friends. No matter the scale of the project, it was always a hit with the fans. Every time the two content creators appeared in the same frame, the internet would go absolutely wild. Each of the videos they made together have racked up millions of views, proving that this friendship wasn't just a ton of fun — it was lucrative. 
However, fans have noticed that the two haven't worked together in quite some time. Because of this, some have become worried that PewDiePie and Markiplier had a falling out. Over the last few years, whole Reddit threads have been created in the name of getting to the bottom of what happened between the pair. Had some unknown drama torn the two apart, or had their online output simply evolved in different directions? In 2021, concerned fans finally got an answer from PewDiePie concerning his longstanding friendship with Markiplier. 
Advertisement
Markiplier and PewDiePie are no longer close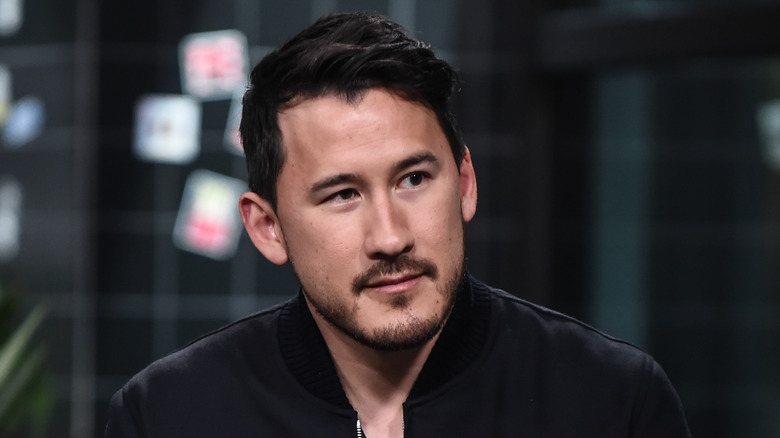 Daniel Zuchnik/Getty Images
In one of PewDiePie's "LWIAY" videos, in which he looks through fan-submitted questions and memes, the YouTuber took a moment to address why it had been a few years since he had collaborated with Markiplier on a video. Their famous friendship came up as PewDiePie explained his history with Xebaz, a content creator he'd worked with early on in his career. 
Advertisement
According to Pewds, fans became distraught when he and Xebaz stopped making videos together, demanding to know what had happened between the two. Although he seemed a bit lost for words at first, PewDiePie explained, "Nothing happened, but ... I don't know how you tell the internet some people just don't stay friends forever."
PewDiePie explained that the same could be said for his relationship with Markiplier: "It's like, yeah, we're just not as close as we used to be. It's kind of awkward when everyone online is just going, 'You need to collab!'" He then jokingly added that he'd never collaborate with another content creator in the future.
While PewDiePie's comments may not be what fans wanted to hear, they did at least clear up a few misconceptions. The lack of collaborations from Markiplier and PewDiePie didn't spring from some kind of argument or animosity; the two creators simply grew apart. This happens in plenty of real world friendships, so it makes sense that two people who mostly communicate online could run into the same issue. However, that doesn't mean that the pair haven't been there to support one another in the intervening years.
Advertisement
Markiplier and PewDiePie still support each other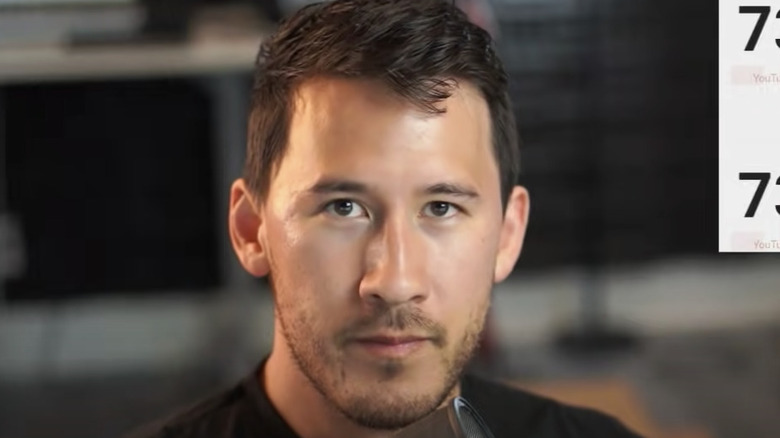 Back in late 2018, PewDiePie found himself embroiled in a feud with Indian music label T-Series, which was poised to overtake PewDiePie as the most-subscribed channel on YouTube. Just when it was looking like PewDiePie was going to lose his spot, Markiplier stepped in and released a lengthy video imploring fans to subscribe to PewDiePie's channel. Although T-Series eventually won out, Markiplier's effort paid off in the short term: His fans subscribed to PewDiePie in droves, driving the YouTuber's numbers back up and leading outlets such as Dexerto to claim that Markiplier had temporarily "saved" PewDiePie's channel. Since then, children's entertainment channel Cocomelon also surpassed PewDiePie's subscriber count (per Dexerto), and it looks like Markiplier steered clear of this particular YouTube war.
Advertisement
The two creators have continued to prop one another up in recent years, occasionally featuring each other's content on their channels. This is always a bit of an event for longtime viewers. When PewDiePie watched a clip of Markiplier bellydancing in 2020, some fans on YouTube remarked that it felt just like old times to see the two YouTubers on the same screen. At the very least, there have been a few reminders that PewDiePie and Markiplier enjoy one another's content, even if they aren't making it together.
Although it doesn't look like the two will be collaborating anytime in the near future — and they're sadly not as close as they once were — fans should be happy to know that there's no bad blood between Markiplier and PewDiePie.
Advertisement