Zeri: Everything We Know About League Of Legends' New Champion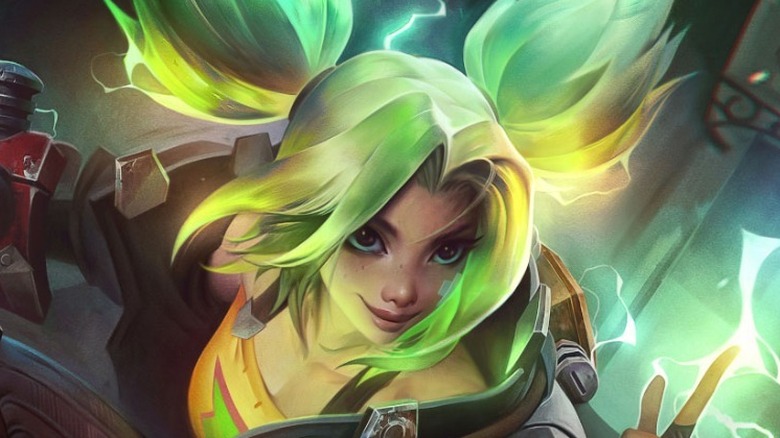 There's a new champion coming to "League of Legends" who is sure to get players charged up in more ways than one. Zeri, The Spark of Zaun, will be the first fresh champion of 2022. When Patch 12.2 drops, she'll be ready to tear through the Rift with a spark, a shield, and a spunky attitude.
Advertisement
So far, "League of Legends" fans have a fairly good bit of information about what they can expect from Zeri thanks to her champion trailer, abilities rundown, and extensive biographical background all shared on the official game site. Though there's not an official date yet for the release of the patch that will contain Zeri, she's likely on her way to "League of Legends" sometime soon — since the game usually doesn't keep players waiting too long after teasing a champion.
With electrifying abilities that interweave seamlessly with her emotional backstory, Zeri is a well-rounded character, so much so that she'll likely be a popular pick for any "League of Legends" team. So, what's the story with this driven champion who's already making sparks fly even before her release?
Advertisement
Zeri's Backstory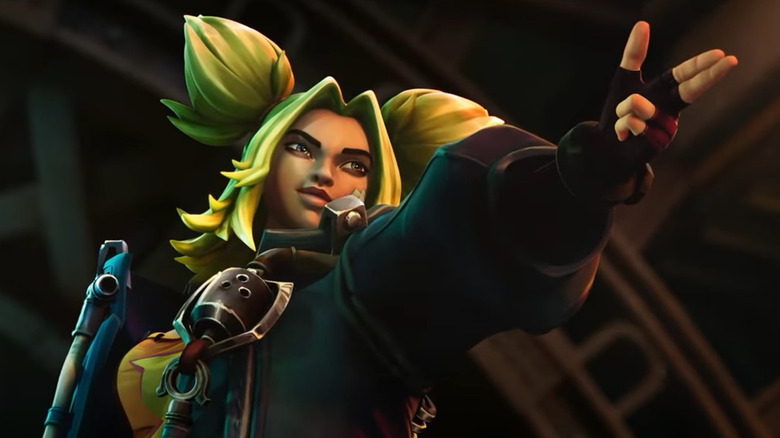 Zeri grew up in a big working-class family from Zaun, the undercity region highlighted in Netflix's ultra-popular "League of Legends" show "Arcane." The area also serves as home to popular champions like Ekko, Jinx, and Warwick, among others. Zeri's electricity has always gone along with her emotions since she was a baby, making her "a lovable mess" and "furious blur" of sorts who went on to save people in her region who fell victim to a Chem-baron-caused quake.
Advertisement
Despite her heroic pursuits, Zeri's loud powers led to her becoming a target of the barons who teamed up against her. Before long, she went from fighting to her limits as a "one-woman force" to inspiring the rest of her district to join her. A champion with a heart for her community, Zeri truly was "the spark that ignited their fire." In addition to her innate electric powers, Zeri got a rifle made by her mom and powered by her powerful emotions, as well as a jacket to help contain her powers and stay stealth when necessary. A hometown hero who won't take no for an answer, "Zeri fights for those who cannot." Those intrigued by Zeri's lore will be equally impressed by her fierce abilities in battle.
Advertisement
Zeri's Abilities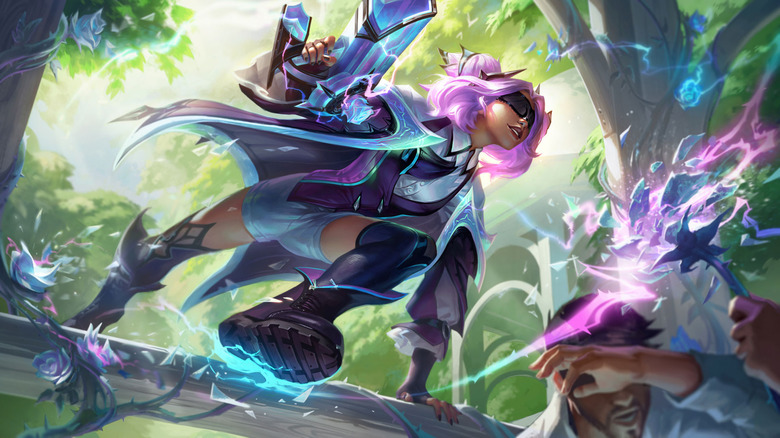 Zeri's an absolutely loaded champion, so much so that many fans on Twitter think she's disproportionately strong. For starters, Zeri's passive ability grants her both the ability to steal an enemy's shield and gain movement speed in the process.
Advertisement
Zeri's Q attack, "Burst Fire," has a magic-based passive ability that allows her to use a basic attack multiple times to fill up her Sparkpack, which will eventually unlock bonus damage and a slowing effect on enemies. The active ability is "a burst of 7 rounds that deal physical damage." Right out of the gate, Zeri's looking beefed up with quite the intense two-in-one. Her W attack, "Ultrashock Laser," both slows and damages an enemy. Aim isn't crucial since hitting a wall will still unleash a ranged attack, yet another perk making Zeri a foolproof and multifaceted champion. Zeri's E, "Spark surge," allows her to dash, vault, charge up, and reduce cooldown time, once again proving that she really can do it all.
Advertisement
Finally, Zeri's ultimate, "Lightning Crash," sends her into an overcharged state with increased attack and move speed with chain lightning. Enemies are well-advised to approach this current-channeling champion with extreme caution. Though there's no saying exactly when Zeri will make her "League of Legends" debut, it's surely going to be a game-changer when it happens. Fans of Zeri may also be curious to learn about a very similar agent coming to "Valorant:" the electrifying Neon.