Why Cal From Star Wars Jedi: Fallen Order Sounds So Familiar
Third-person action-adventure "Jedi: Fallen Order" transported players back to the "Star Wars" universe when it released in 2019. Developed by Respawn Entertainment, the narrative-driven title tells a unique story that takes place after the events of "Episode 3: Revenge of the Sith." As Cal Kestis, a Padawan who managed to avoid the mass execution of Jedi set in motion by Order 66, you join forces with a former Jedi Knight, a pilot, and a droid to rebuild the organization. To accomplish this, Cal must master his powers and uncover the secrets of a lost civilization — all while avoiding the Empire's Inquisitors.
Advertisement
"Fallen Order" boasts a cast of new and familiar characters, bolstered by performances from an impressive array of voice actors. Forest Whitaker ("Black Panther," "Godfather of Harlem") returns to voice Saw Gerrera, while the prolific Debra Wilson plays Cal's mentor, Cere. Respawn recruited another film and television star to bring its protagonist to life: Cameron Monaghan. Though born in 1993, Monaghan has enjoyed an extensive career both on stage and on screen. Here's where you've likely encountered him before.
Malcolm in the Middle jumpstarted Monaghan's career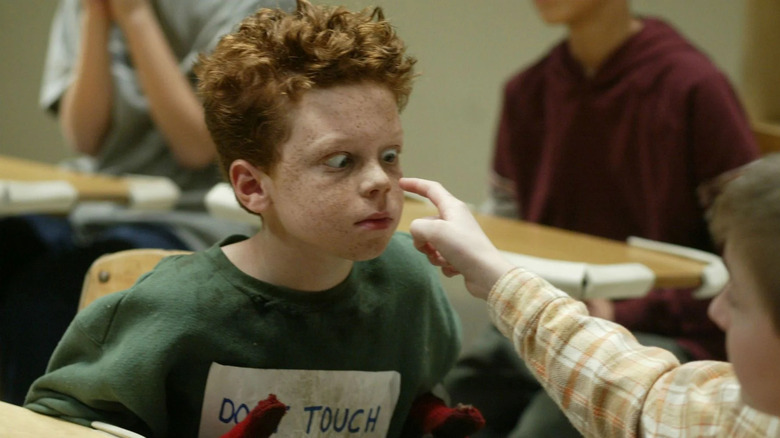 Fox
In 2003, Monaghan played Winthrop Paroo in the TV movie version of the classic musical "The Music Man." This project seemed to open the door for the young actor, leading to his breakout role in the sitcom "Malcolm in the MIddle" the following year. Over the course of six episodes, Monaghan portrayed Chad, one of the middle school students in The Buseys class attended by Dewey (Erik Per Sullivan). 
Advertisement
Chad wears red oven mitts and a revolving lineup of signs taped to his shirt featuring messages like "Don't Touch, Bites" and "Goes For Eyes." He exhibits other odd behaviors, such as an obsession with sorting objects and the belief that he can set people on fire with his mind, throughout his screen time. Though Chad only shows up sporadically during Seasons 5 and 6, Monaghan managed to distinguish the character through his comedic timing and delivery. He followed up his stint on "Malcolm in the Middle" with several single episode appearances on other TV series, including "Avatar: The Last Airbender," "Criminal Minds," and "Monk" in the early 2000s. He even scored a part in "Click," the dramedy film starring Adam Sandler.
Advertisement
He appeared in multiple film adaptations of popular novels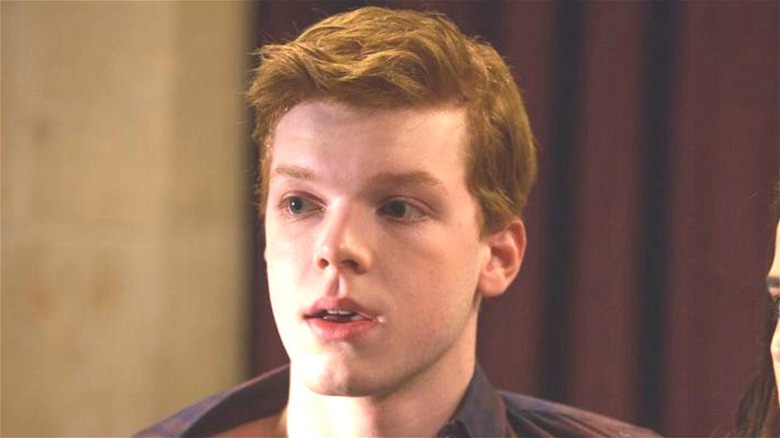 The Weinstein Company
Though primarily a TV actor, Monaghan has crossed over to the realm of film on more than one occasion. In 2014 alone, he appeared on the big screen four times in "Jamie Marks is Dead," "The Mall," "Vampire Academy," and the "The Giver." Three of these projects were based on well known novels, though that did not prevent them from receiving low to mixed reviews. "Vampire Academy," adapted from the first book in the series of the same name, bombed particularly hard, receiving a dismal 16% on Rotten Tomatoes.
Advertisement
"The Giver," which features talent like Jeff Bridges, Meryl Streep, and Alexander Skarsgård, fared slightly better with a 35% Tomatometer. Monaghan portrayed Asher in the dystopian teen drama, one of the main character's two closest friends. He betrays this relationship, but ultimately enables the hero to escape the clutches of the oppressive government at the heart of the story. Despite criticism of the project, Monaghan related to Asher, who enjoyed a larger role in the movie than its source material. "I was a little bit of a class clown when I was younger. I had a lot of energy and didn't quite fit well within the more rigid parts of academic society," he told Entertainment Weekly. "That experience kind of informs how Asher feels."
Advertisement
Monaghan portrayed one of Shameless' most complex and beloved characters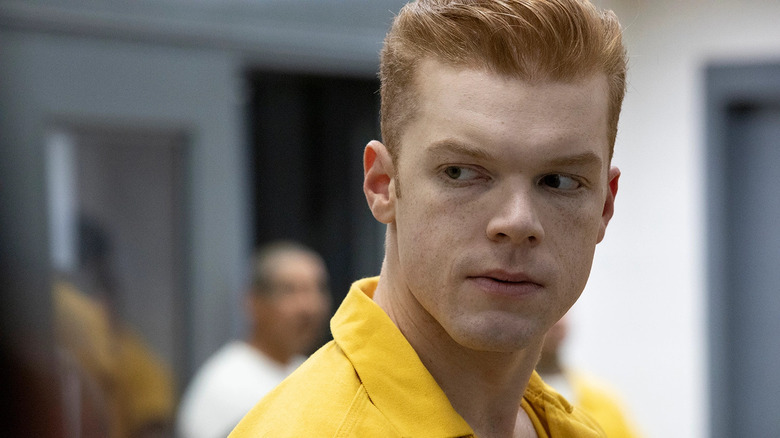 Showtime
Starting in 2011, Monaghan played Ian Gallagher during the entire 11-season run of American dramedy "Shameless." Centered on the experiences of the impoverished Gallagher family, the series examines the struggles of Ian and his five siblings as they attempt to fend for themselves in the face of their father's alcohol and drug abuse. Ian gained attention as a character diagnosed with bipolar disorder, in addition to his status as part of the LGBTQIA+ community. Though the show does not offer complete clarity on Ian's sexual orientation, he dates and eventually marries Mickey (Noel Fisher), the older brother of recurring character Mandy Milkovich (Emma Greenwell).
Advertisement
"Shameless" has an 82% on Rotten Tomatoes, with multiple seasons boasting a perfect score, though it faltered towards the end of its run. Even so, Ian remained an important beacon of representation for multiple often overlooked groups. "You know, the character that I was playing was an LGBT love story, as well as a story about mental illness, and coping and struggling with that," Monaghan explained to The Nerds of Color. "I had so many positive responses from people regarding those things ... So I think that not only was I able to grow as an actor but being able to hear that response and feedback helps you grow as a human being too."
He found his inner Joker in Gotham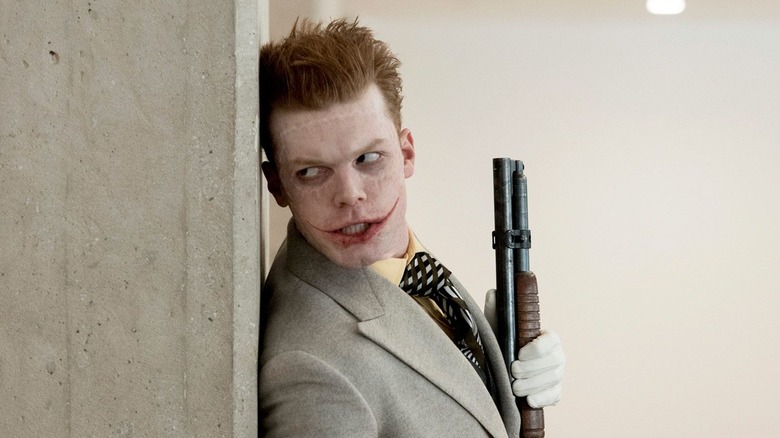 Fox
Beyond "Shameless," Monaghan is perhaps best known for his time as twins Jerome and Jeremiah Valeska in Fox's "Gotham." Set in the iconic city from the "Batman," the series follows James Gordon at the start of his career with the Gotham City Police Department. It explores the origin stories of well known "Batman" villains over the course of five seasons, including The Penguin, The Riddler, Mad Hatter, and Ra's al Ghul. Though "Gotham" never refers to the Valeska brothers as the Joker, they embody and explore different aspects of the antagonist. During an interview with The Hollywood Reporter, showrunner Bruno Heller described Jerome as a "proto-Joker." Rather than portraying The Clown Prince of Crime directly, "Gotham" focuses on "how the Joker came to be." 
Advertisement
Described as a "scene stealer," Monaghan frequently went off-book to better capture the reactive nature of Jerome and elicit more natural responses from his co-stars. "I felt like the only way to play him would be to push the buttons of the other characters," he told Observer. "The best way to get genuine reactions was to shock them; hit them with sucker punches, take them off-guard, push them off-balance." "Gotham" drew mostly positive reviews from critics, averaging a 77% on Rotten Tomatoes. Monaghan attributed this in part to the "timeless" nature of the source material, and the ability to relate to the figures that inhabit it. "That's sort of what we're tapping into, with this character," he explained. "The idea that he exists in everyone; in some dormant state, there is the potential to be someone like Jerome."
Advertisement