Actor Reveals The Bizarre Side Effect Of Playing Mario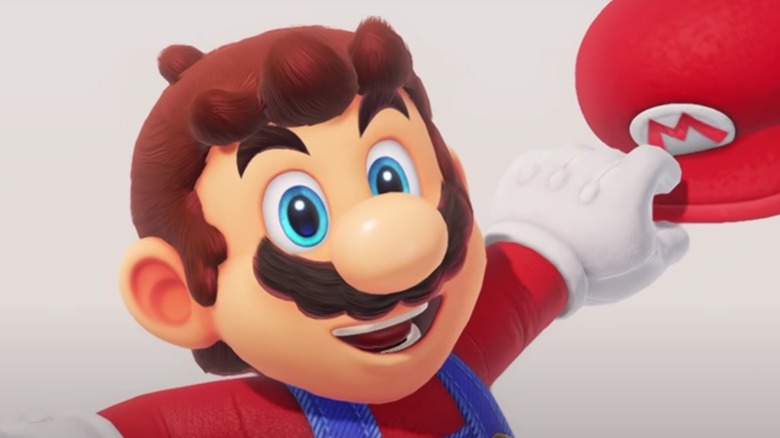 Playing Mario has been a dream job for the character's voice actor in more ways than one. Charles Martinet jumped into the role of Mario over 30 years ago and never looked back, racking up 150 "Mario" appearances and counting on his resume. Though the talent behind gaming's favorite plumber has also scored work on gaming projects as varied as "Skyrim," "Star Wars," "Ratchet & Clank," and many more, fans easily know him best for bringing the beloved plumber to life. As it turns out, after all these years, repeatedly transforming into Mario has affected Martinet on a deep, subconscious level, so much so that the prolific voice actor now dreams as Mario.
Advertisement
When Italian outlet Retro Gamer asked how he gets ready for recording (translation via GamesRadar+), Martinet explained that "these characters for me are always there. I mean, I dream as Mario, flying over these lakes or over the ocean, in the moonlight, a little bit 'Galaxy'-esque. And I sometimes dream in 2D." The fact that Martinet is so connected to his iconic character that he merges with him even while unconscious is a whole new level of dedication. Talk about getting into character!
Martinet IS Mario
As evidenced through what he's shared in various interviews, Charles Martinet's naturally playful, positive, and vibrant personality is the secret to Mario's success. He has a good time on the job, often doing multiple takes just to play around with all the ideas he has for his characters.
Advertisement
Since he literally dreams as Mario, one could argue that Martinet is always working — but always having fun. Even when elaborating on his experiences dreaming as Mario, the voice behind the legend couldn't help himself from slipping into various character voices during the interview: "If I wake up in the morning and I'm having a lousy day, I'm like [Wario growl]. These voices are just alive in me." As uncanny as this side effects of playing Mario may seem, it gives Martinet quite the leg up. Because of how ingrained the character has become within him, "there's not a lot of preparation."
Martinet will probably keep dreaming as Mario forever since he plans to play the character "until [he] drop[s] dead." Thanks to Nintendo's bizarre game release strategies, fans in 2021 braced themselves for the death of Mario — but it looks like the Italian plumber is here to stay. Only time will tell if Chris Pratt will experience the same interesting side effects when he voices Mario in the upcoming animated film.
Advertisement