It Takes One Hand To Play It Takes Two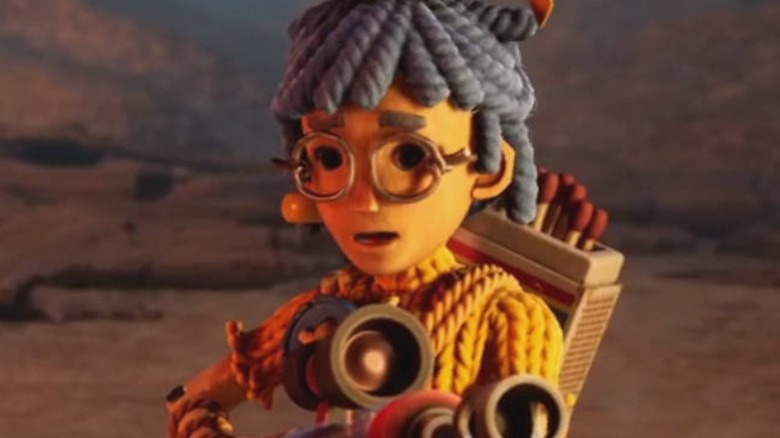 The PS5 DualSense controller has been a leap towards the future of gaming , but it has been lacking in one specific area that has become more and more prominent in the gaming sphere. The PS5 controller isn't accessible to some people with disabilities, and while that's true of most controllers, PlayStation doesn't offer an official controller solution like the Xbox Adaptive controller. One YouTuber has created an attachment for the DualSense that would allow people to play PS5 games like "It Takes Two" and "Rocket League" with just one hand.
Advertisement
As reported by Kotaku, Akaki Kuumeri created the 3D printed attachment for the PS5 controller as part of The Controller Project,  a contest run by Pruse Printers to create snap-on controller attachments for people with disabilities. The controller attachment, which you can see on Kuumeri's YouTube page, allows for the movement of the left joystick to be manipulated by moving the controller while it rests on a surface, like a table or a lap. The paddles on the right side of the controller allow for the left bumper and trigger to be activated while only using the right hand. In addition to this design, there's also an alternate model for people who can only use their left hand. While this adaptive attachment has big implications for the disabled community, it also could mean that "It Takes Two" might only take one.
Advertisement
Kuumeri wanted to play It Take Two alone
In the video, Kuumeri shows themself playing both characters in the game with one controller in each hand. Kuumeri also shows off the contraption that allows them to use the D-pad with their right hand. The contraption puts D-pad-like four buttons in the air above the face buttons. Kuumeri admits that it is a bit cumbersome and can be removed if playing a game where the D-pad isn't necessary.
Advertisement
Kuumeri posted the 3D print designs online for people to download and assemble their own version of the controller. Kuumeri also showed how to connect the contraption onto the PS5 controller in the video, modeling both the left-handed and right-handed versions of the controller. While Sony could still develop its own official version of an adaptive controller, it's nice to see the gaming community taking matters into its own hands. Kuumeri isn't the first person to build a controller for people with disabilities; One dad built his daughter an adaptive controller so she could play "The Legend of Zelda: Breath of the Wild."