It's Time To Talk About This Unhinged Pokemon Game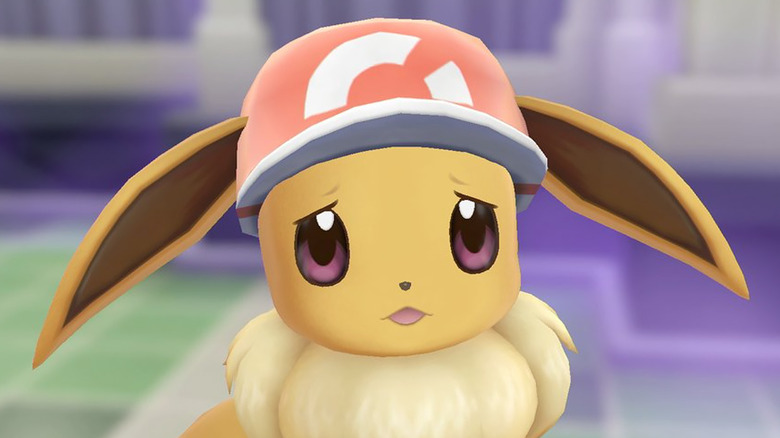 When fans think about "Pokémon," images of Pikachu or other iconic and friendly creatures are likely to come to mind. Perhaps you recall a memory from an episode of the anime where the power of friendship triumphs over the devious Team Rocket, or an absurd number of Gym Leaders. The "Pokémon" franchise has always been a family-friendly affair, with the game, manga and anime all typically focusing on a young protagonist's journey across a wonderful world filled with the magical creatures. When "Pokémon" comes to mind, it's likely a wholesome thought — until now. There's an unhinged new version of "Pokémon" in the world and it needs to be talked about. 
Advertisement
One indie developer has creating their own take on "Pokémon," one where the Pocket Monsters aren't as agreeable — and players will have to use guns to survive. It's certainly not the "Pokémon" that fans and players are used to, and it wouldn't be a huge surprise if Nintendo has something to say if the title ever releases, but even still, it looks like a respectable amount of work has gone into the project. Here's everything fans need to know about the insane new "Pokémon" shooter and how the internet is reacting.
Fans Don't Know How They Feel About A Pokémon Shooter
Currently, developer @Dragon_GameDev2 only has two posts on their Twitter account, a short video of how the project is shaping up and a reposted YouTube video that details the creator's development log. As it stands, the project is in a fairly impressive state. The pair of videos show that the project includes at least three main areas filled with increasingly dangerous Pokémon. Encounters with more common Pokémon are punctuated by epic boss fights against iconic legendary monsters like Zapdos, Articuno and Mewtwo.
Advertisement
Although this is clearly a passion project for @Dragon_GameDev2, commenters aren't exactly sure how to react. On one hand, what the indie dev has previewed looks well-made; on the other, well, it's a game about shooting "Pokémon." Some responding to @Dragon_GameDev2's post seemed genuinely interested and impressed with the project, with a few users demanding to be able to play the game right away. Of course, just as many commenters were shocked and appalled by what they saw. In the comments of @Dragon_GameDev2's post inviting subscribers to check out how the fan game was made, @fenixarson7 responded, "no one [who is] not a psychopath would wanna shoot pokemon."
Regardless of how fans feel, it's unlikely this project could ever be made available for download without inciting Nintendo's wrath, as fan game developers have learned in the past.
Advertisement