The Real Reason Mortal Kombat Fans Think NetherRealm Is Trolling Them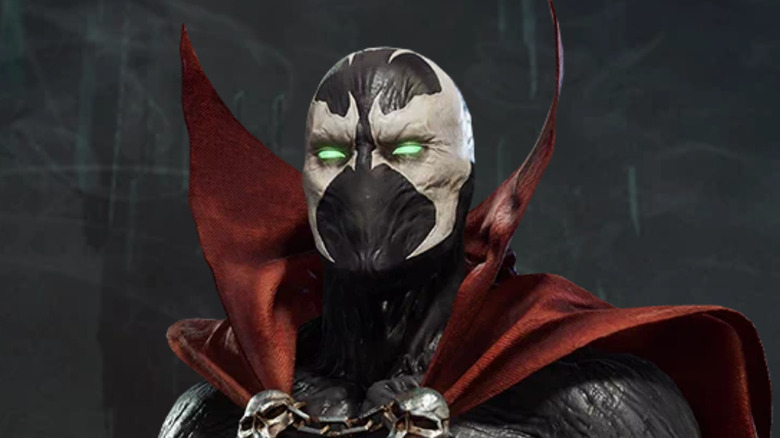 After all these years, the folks behind "Mortal Kombat" still have a few surprises up their sleeves. Over a dozen games and multiple screen adaptations later, including the recent HBO Max film that was the most streamed on the platform in 2021, the bloody, badass series is still going strong with no signs of stopping. In fact, a since-deleted tweet by a "Mortal Kombat" developer from NetherRealm Studios has given fans fair reason to suspect that "Mortal Kombat 12" has been covertly confirmed — or has it?
Advertisement
As captured by VGC, NetherRealm Studios senior production manager Jonathan Andersen shared a photo of his desk on Twitter on Thursday, Jan. 27. It seems like a fairly run-of-the-mill shot of artwork from the early days of "Mortal Kombat" splayed across a keyboard and two monitors just barely visible in the upper corners of the image. What's easy to miss is the big reveal in the upper right-hand corner: a download file listed as "MK12_Mast..." 
While this photo seems like an accidental leak regarding the production of "Mortal Kombat 12," further investigation has indicated that this very well could be a setup by NetherRealm and Anderson.
Mortal Kombat Devs Are Dropping Creative Hints
Though it's hard to say for sure whether or not the devs planned this "Mortal Kombat 12" tease, it is a little suspicious that the telltale tweet was taken down 10 minutes after it was posted. And though Anderson very well could've made an honest mistake, it's interesting to note that the shot is laid out to give observant fans just enough information to draw their own conclusions.
Advertisement
In addition to the file title shown for "Mortal Kombat 12," eagle-eyed fans have also noticed snippets of an email from someone  instructing Anderson about "confidential" material, warning him against sharing "any part of this video" and to "take extra care with this material." The note also mentions that "our fans eagerly scrape the internet for any trace," which really makes the whole set-up seem a little too good to be true. Still, an intentional leak could also mean that "Mortal Kombat 12" is on the way.
Why in the world would the team behind "Mortal Kombat 12" announce their next title in such a sneaky way through an account with just above 3,000 followers? Perhaps it's a strategic new marketing plan, or maybe it's just the love of the game and a little bit of well-intentioned trolling. Only time will tell.
Advertisement