The Bizarre Way Sonic The Hedgehog Robbed A Bank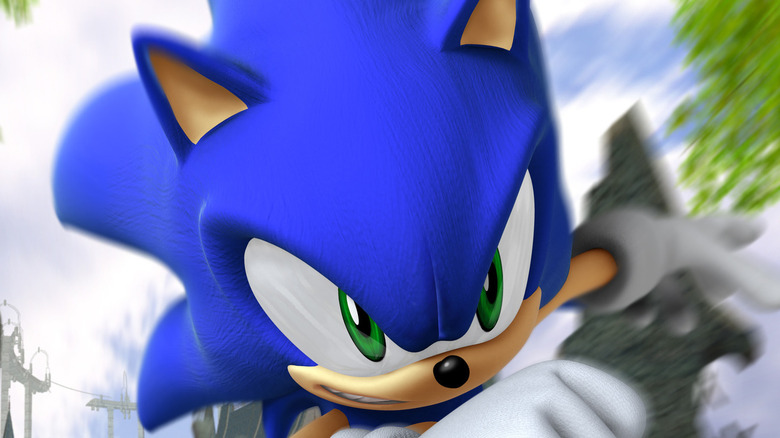 When it comes to the iconic video game character Sonic the Hedgehog, what's the first thing that pops in your mind? Probably running at the speed of light, collecting glowing rings, rolling up into a ball,  — all of the things commonly associated with the anthropomorphic hedgehog when he's saving the world from the villainous mad scientist Dr. Robotnik. In any universe, Sonic is typically a virtuous little guy and one of the biggest forces for good in gaming history. However, it seems everyone's favorite hedgehog has recently been fingered as taking part in a bank robbery! Sure, Sonic has done some terrible things in the past, but could this be true?
Advertisement
Well, yes and no. Turns out, somebody used a Sonic the Hedgehog mask when robbing a Florida Credit Union bank in DeLand, Florida, on February 2, 2022. According to the incident report posted on the DeLand Police Department's Facebook page, "Sonic" entered the bank and demanded money from one of the bank's tellers. Before the teller could comply with the demand, "Sonic" struck the teller window repeatedly with a hammer in an attempt to break it. "Sonic" then fled the Florida Credit Union branch after being confronted by another employee. 
'Sonic' is still at large
Authorities have yet to apprehend this Sonic imposter and bring them to justice. Luckily, however, all of the innocent parties involved were unharmed in the incident. "[E]verybody is safe, nothing was taken, and local police are on it," said Brian Leatherman, Assistant Vice President of Branch Operations at the Florida Credit Union (via TheGamer). 
Advertisement
Due to Florida's 1995 Sunshine Law, which gives citizens easy access to crime reports, still images of the incident have gained tons of traction on social media. Many commenters have made humorous digs at the very idea of Sonic robbing a bank and fleeing quickly enough to avoid arrest. One Facebook commenter quipped that "Sonic has turned to a life of crime," while a direct reply stated that the hedgehog merely "trying to collect all the rings." Another commenter mentioned Sonic's signature speed and wished authorities the best of luck in catching him. 
According to the incident report, "The suspect was last observed wearing a black hoodie, black pants, carrying a black or gray backpack or duffle bag," in addition to the aforementioned Sonic the Hedgehog mask — though it's highly unlikely the person responsible is still wearing it. That would be commitment, wouldn't it?
Advertisement