Is Tiny Tina's Wonderlands Cross-Platform?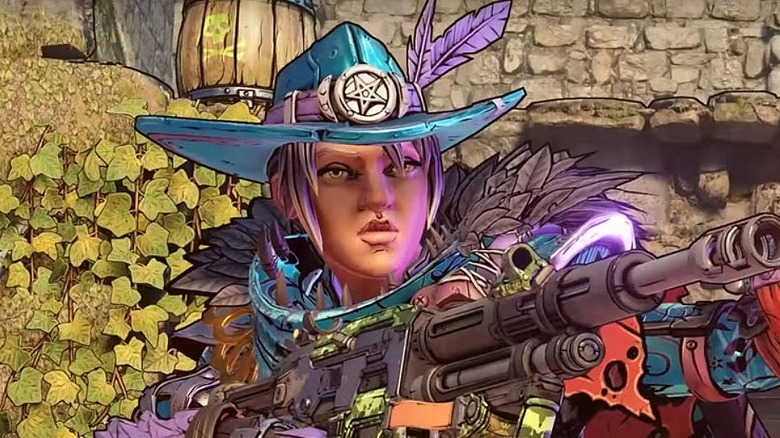 Since the first game in the series was released in 2009, the "Borderlands" franchise has only continued to grow in scope and take on a life of its own. "Borderlands 3" changed gaming in more ways than one, and it's clear Gearbox is open to taking risks with the franchise for the benefit of fans. There's even a "Borderlands" movie on the way for fans who just can't get enough of the looter shooter and its wacky universe.
With all that's been going on in the world of "Borderlands," though, perhaps nothing has fans more excited than the upcoming release of "Tiny Tina's Wonderlands," which was officially announced with a trailer reveal at the June 2021 Summer Game Fest. The title takes its cues from the "Borderlands 2" DLC "Tiny Tina's Assault on Dragon Keep," which gave the colorful FPS a whimsical D&D-inspired makeover.
Tiny Tina's standalone adventure is set to be a wild one full of thrilling combat, whether players experience it solo or with their friends. Given the option to go multiplayer, many "Borderlands" fans are curious to learn whether or not "Tiny Tina's Wonderlands" will be cross-platform. And thanks to some intel from Gearbox CEO Randy Pitchford, gamers now know exactly what to expect ahead of the game's release.
Tiny Tina's Wonderlands is Fully Cross-Platform
It's official: "Tiny Tina's Wonderlands" is a cross-platform game.
As announced through a tweet by Gearbox CEO Randy Pitchford, "Tiny Tina's Wonderlands will ship on March 25 with full cross play for all platforms at launch, including PlayStation." He also thanked Gearbox Software engineers, 2K Games, and Sony for helping make cross-platform a reality for "Tiny Tina's Wonderlands."
This news stands in contrast to the fact that "Borderlands 3" still doesn't have PlayStation-compatible cross-play, though the addition of this feature to "Tiny Tina's Wonderlands" means "Borderlands 3" players might finally get what they've been hoping for after all this time. It's at least a step in the right direction.
Pitchford has been open about his issues with Sony over this cross-play roadblock in the past. So, while cross-platform confirmation is a relief for any new multiplayer releases — especially given Sony's reluctance to embrace cross-platform play for many popular games, it's especially worth celebrating for "Borderlands" fans, given the franchise's history with the topic.
"Tiny Tina's Wonderlands" will release on March 25, 2022 for Xbox Series One, Xbox Series X|S, PS4, PS5, and PC.