Why Overwatch Fans Are In An Uproar Over This Mercy Skin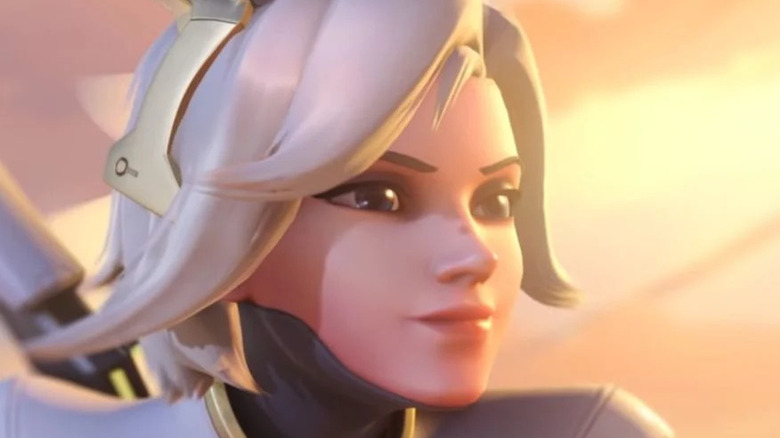 Blizzard Entertainment
After years of success, the days of "Overwatch" are now officially numbered. With the release of "Overwatch 2" right around the corner and its closed beta set to begin in late April, many have flocked to its soon-to-be predecessor in an effort to squeeze every last bit of enjoyment of the innovative and influential PvP hero shooter. To commemorate such a successful run, Blizzard Entertainment has introduced an anniversary event to "Overwatch" players in which they can earn once-limited time only items such as legendary "remixed" skins that players might have previously missed out on.
Dubbed the "Anniversary Remix", the first batch of rebooted unlocks — "Volume One" — begins on April 5 and will run through April 26, giving players a three-week window in which they can unlock these legendary skins and finish the "Overwatch" cycle with a bang. Even though these unlocks being quite extensive, there are some notable omissions. One, however, seems to have generated more of an uproar than usual, and that is the exclusion of the Pink Mercy skin, a highly requested and rare cosmetic.
Blizzard has 'no plans' to reintroduce the Pink Mercy skin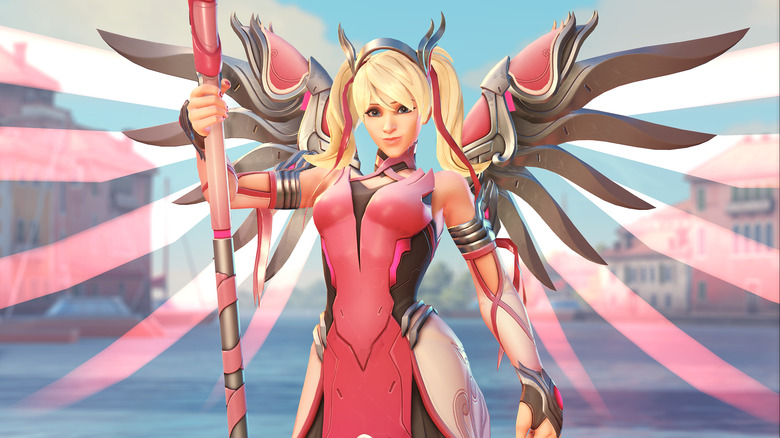 Blizzard Entertainment
Released as a limited-time collectible in 2018, Mercy's pink skin is insanely valuable and rare. It was part of a fundraiser for a charity for breast cancer research that earned well over $12 million for the cause. Since the charity campaign's end, players have still clamored for its return as an unlockable and almost every conversation pertaining to "Overwatch" skins has at least one inquiry regarding Mercy's highly sought out outfit. Even though the skin's return during the "Anniversary Remix" would be fitting, players shouldn't hold their breath regarding its inclusion.
Responding to questions regarding the Pink Mercy skin's inclusion in the "Anniversary Remix" event, "Overwatch" community manager AndyB was quick to squash any talk of the skin's return on the game's official forums saying, "[Blizzard Entertainment] have no plans to bring back the Pink Mercy skin or icons." WyomingMyst, a tech support member of the "Overwatch" community forums, also weighed in, saying that the inclusion of Pink Mercy wouldn't make any sense as the skin wasn't released as part of a seasonal event, implying that the skin was simply created for the breast cancer charity campaign and nothing else.
As disappointing a revelation it may be, it might be time for "Overwatch" fans to simply accept that Pink Mercy was likely a one-time thing and nothing else.