Resident Evil Leaker Points To A Ton Of Missing Village Content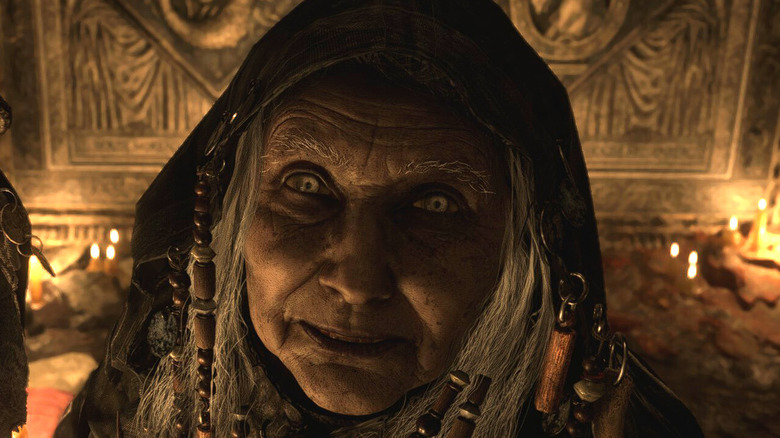 Capcom
Fans are still eagerly awaiting any scrap of news about the confirmed free DLC for "Resident Evil Village," but a recent revelation may mean Capcom's new content only amounts to a tribute for what was taken from the game. A notable "Resident Evil" leaker has taken to Twitter to share what they claim to know about content that was cut from the critically acclaimed "Resident Evil Village" – and their report paints a picture of an extensive biome that could have been, which was allegedly whittled down to a meager lake-side jaunt. 
AestheticGamer (also known among gaming circles as Dusk Golem) posted a rather lengthy series of tweets yesterday, claiming that Moreau's area in "Resident Evil Village" was heavily altered and cut so that the studio could put more time into other areas of the game. These claims should be taken with a grain of salt, but AestheticGamer has previously reported accurate information regarding "Resident Evil" titles. And although this isn't the first fans have heard about content getting left on the cutting room floor, if everything AestheticGamer points out is true, players missed out on a wild ride through what could have been one of the most unique areas in a "Resident Evil" title.
Moreau's Area Could've Had Mermaids And Swamp Monsters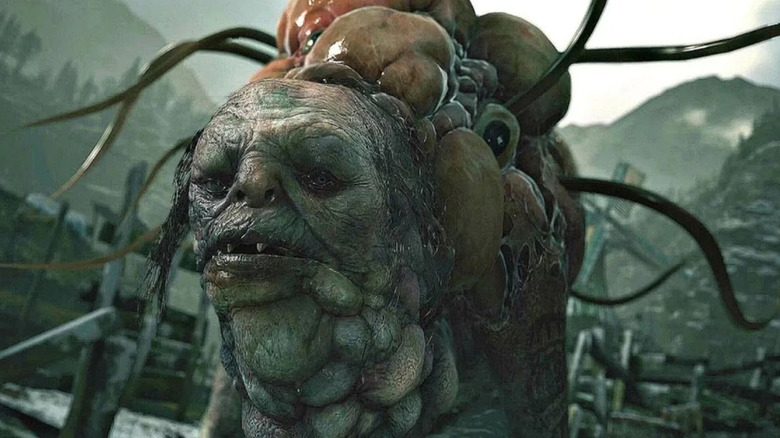 Capcom
AestheticGamer started by explaining that (due to assumed budget and time constraints) Capcom resolved to cut major parts of Moreau's domain in "Resident Evil Village" to put the effort into Lady Dimistricu's castle and Heisenberg's Factory. The move makes sense on paper, as it ensures the first and final areas of the game are as fun and rewarding to players as can be. However, Capcom might've given up something amazing in the process. 
The "Resident Evil" leaker claims they'd seen an earlier, very different version of the swampy zone. AestheticGamer says, "Moreau's section initially had a sorta' open swamp like section that was laid out similarly to End of Zoe's swamp stuff," referring to the atmospheric "Resident Evil 7" DLC. The leaker continued, "In the water, there [were] various items scattered around ... but the water was home to Mermaid-like enemies." AestheticGamer says the mermaids were capable of a screech attack that could stun players and draw the unwanted attention of a stalking swamp monster resembling Mr. X or Lady Dimitrescu.
By AestheticGamer's account, the differences didn't end there. The user also pointed out the initial inclusion of several other enemies, but concluded they too were ultimately removed to the trim the section. While players may never see Moreau's Swamp in its full glory, at least there's some kind of "Resident Evil Village" DLC on the way.