The Real Reason Sonic 3 May Cut Dr. Robotnik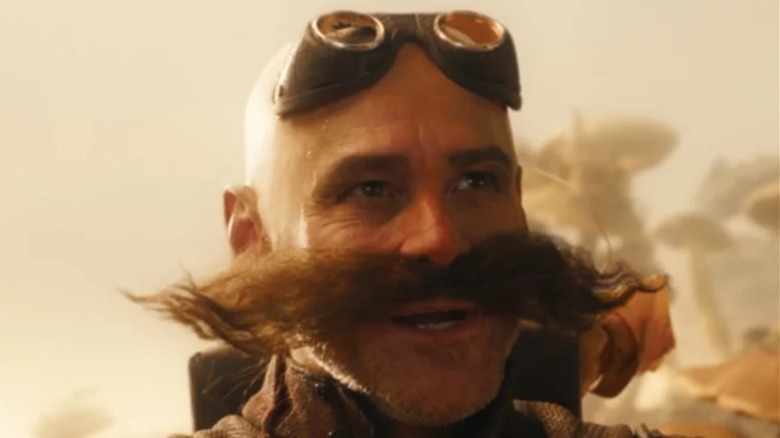 Paramount Pictures
True to form, Sonic the Hedgehog hasn't stopped moving since his first game dropped in 1991, and there's no better time to be his fan than now. This year, the speedy blue star has been especially busy. The critically acclaimed new film "Sonic the Hedgehog 2" releases April 8, and it was confirmed this February that there will definitely be a "Sonic the Hedgehog 3" film to follow. What's more, the franchise has big plans for the future, including an entire Sonic cinematic universe telling stories in which some of the blue blur's supporting characters take on bigger roles.
For every beloved hero in gaming and film, there's a villain to match. In the Sonic films, that's Dr. Robotnik, played by comedy legend Jim Carrey. Given Carrey's superstar status and the pivotal role of Dr. Robotnik in the franchise, it might come as a surprise to some fans that "Sonic 3" may not include the dynamic villain at all. As it turns out, the decision has nothing at all to do with the plot of the next film, but the potential cut would have major implications for Sonic's continuing storyline.
Jim Carrey May Retire Before Sonic 3
As he revealed during an interview with Access Hollywood, Jim Carrey may be retiring. Though the interviewer first thought Carrey was joking, he shared that he was "being fairly serious" about his statement, though he also noted that "It depends. If the angels bring some sort of script that's, you know, written in gold ink that says to me that it's gonna be really important for people to see ... I might continue down the road, but I'm taking a break."
Carrey went on to share how much he enjoys the simpler things in life these days, like painting, quiet time, spirituality, and going to his grandson's baseball games. He also added, "This is something you might never hear another celebrity say as long as time exists: I have enough. I've done enough. I am enough."
Just yesterday on April 6, 2022, IGN got more intel on the topic during a red carpet interview with "Sonic 2" producers Neal H. Moritz and Toby Ascher. When asked about how Carrey's statements on retiring may affect "Sonic 3," Ascher responded, "We love Jim and he's so special, and what he does with Robotnik is so incredible. We would love him as long as he'd like to be there with us."
Moritz seemed fairly hopeful about the possibility of Carrey's return. In his words, "I have a feeling that he loves Robotnik so much that he won't be able to walk away from it." Even so, the interviewer commented that Carrey's shoes would be hard to fill, to which Moritz responded, "we wouldn't even try." So, if Carrey retires, the character of Dr. Robotnik may be cut from any plans for "Sonic 3," but there's no telling what the future holds for the film just yet.