TMNT: Shredder's Revenge News Will Make Classic Cartoon Fans Very Happy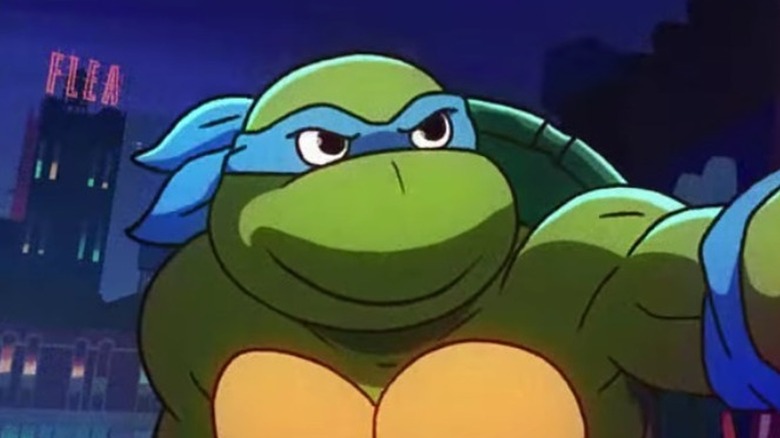 Paramount+
Few franchises have been as far-reaching, influential, or iconic as the "Teenage Mutant Ninja Turtles." The fun and slightly satirical property about a quartet of superhero turtles first entered the mainstream through a series of comic books published by Mirage Studios in 1984. Since then, the "Teenage Mutant Ninja Turtles" has become a multi-media giant that has been the subject of films, toys, an animated TV series, and video games. The latest example of the latter is "TMNT: Shredder's Revenge," a side-scrolling beat 'em up due for release this summer across virtually all platforms.
On April 20, IGN released a video showcasing the first 11 minutes of gameplay from "TMNT: Shredder's Revenge." The entry features graphics and mechanics that harken back to the old days of arcade brawlers. This is to be expected, as it has been branded a spiritual successor to the original "Teenage Mutant Ninja Turtles" arcade title that came out in 1989. But that isn't the only bit of nostalgia players can find in the exclusive footage. Upon closer inspection, you can hear familiar voices emanate from the turtles — voices that will likely excite fans of the "TMNT" animated series that ran from 1987 to 1996.
Main cast of the TMNT animated series returns for Shredder's Revenge
Dotemu
Alongside the gameplay footage, IGN disclosed the release window for "TMNT: Shredder's Revenge." No specific date was given, but a summer debut puts the launch sometime between June and September. But that wasn't the only blockbuster news in regards to the highly anticipated title.
To make things even more exciting, it's been revealed that the original cast of the "Teenage Mutant Ninja Turtles" animated series will reprise their roles as the eponymous action heroes in the game. Cam Clarke (Leonardo), Townsend Coleman (Michelangelo), Barry Gordon (Donatello), and Rob Paulsen (Raphael) all appear in "TMNT: Shredder's Revenge."
Outside of the four "Teenage Mutant Ninja Turtles" leads, no word has been given as to whether other cast members of the animated show will return. This includes Renae Jacobs who voiced April O'Neil in the series, a character publisher Dotemu already confirmed as playable in "TMNT: Shredder's Revenge".