Rocket League Could Have A Challenger In 2K Games
Psyonix
Released in 2015, Psyonix's "Rocket League" has enjoyed sustained popularity throughout its lifespan. Serving as a chaotic amalgam of soccer and a demolition derby, "Rocket League" sees two teams of three players battle it out as they use each of their unique vehicles to guide a large metallic ball into the opposing team's goal. The game's simple yet engaging gameplay loop, gorgeous visuals, and emphasis on physics as opposed to algorithmic outcomes have largely kept it a major player in the sports game market, even in the absence of a full-fledged sequel.
Advertisement
Another likely factor in "Rocket League's" success is its lack of any true competitor on the market. Though the game is technically a sports title, many of its contemporaries are based off of real sports, allowing "Rocket League" to exist in its own niche and cultivate its own unique audience. However, that lack of competition may soon be coming to an end, as 2K Games has reportedly been developing a competitor to "Rocket League." This game has a few different aesthetics, but it's very similar to the vehicle-and-ball action that "Rocket League" fans love. And according to recent insider leaks, this suspected competitor may be out sooner than you'd expect.
2K games is reportedly developing Gravity Goal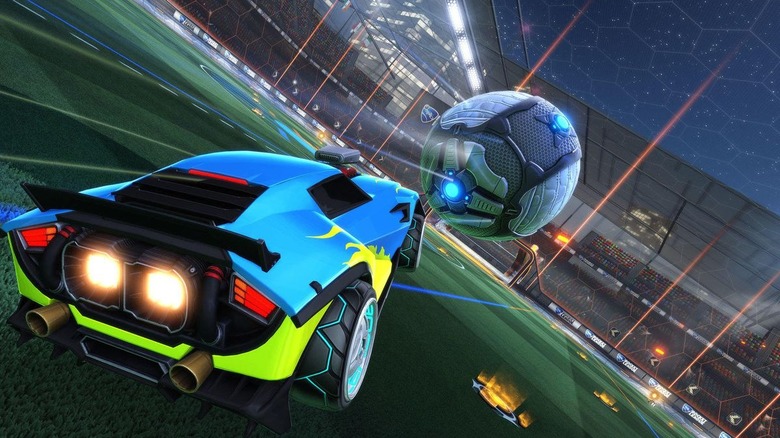 Psyonix
According to a recent Exputer report from games journalist Tom Henderson, insider information has revealed that 2K Games is currently far along in the development of "Gravity Goal," which is specifically intended to launch as an alternative and cometitor to Psyonix's "Rocket League." 
Advertisement
As opposed to cars, "Gravity Goal" will use what is described as "'Tron-like bikes" in 1v1, 2v2, and 3v3 matchups, with the same goal of sinking a ball into the back of the opposing goal. Henderson also describes a system in which discs adorned with LED lights are used to attack opposing players, causing them to either slow down or come to a complete stop upon contact.
The report goes on to state that "Gravity Goal" was actually in alpha stage testing in late 2021 and that a formal announcement regarding the game and its release date may be only a few months away. "Gravity Goal" would reportedly be a next-gen exclusive, available only on the Xbox Series X|S, PlayStation 5, and PC platforms. Exputer also shared a screenshot — provided by French website JVL — of the game seemingly being added to the Steam database.
Advertisement
Whether or not 2K Games can compete with the lauded "Rocket League" remains to be seen. But if reports are correct, gamers will see if "Gravity Goal" holds up really soon.