Telltale's The Walking Dead Was Almost A Different Franchise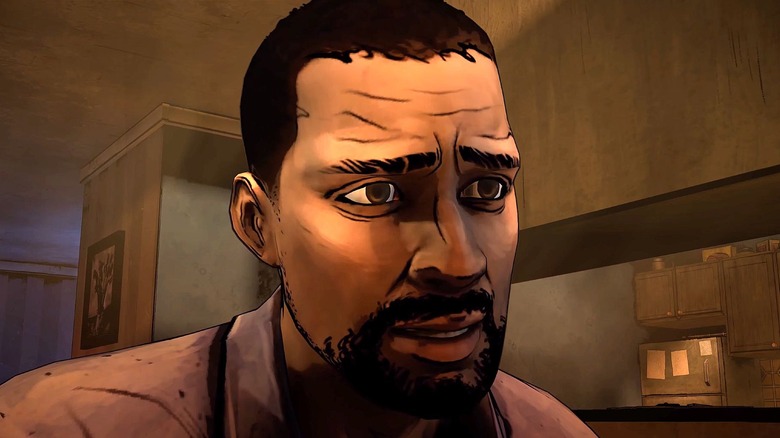 Telltale Games
On the heels of "The Walking Dead" becoming one of the hottest shows on television in the early 2010s, indie developer Telltale Games was tasked with creating a wholly original story set within the franchise's contained fictional universe. The end result was 2012's "The Walking Dead: A Telltale Games Series," a beloved point-and-click episodic adventure game focused on a criminal who accompanies a young girl named Clementine through the hellish landscape of post-apocalyptic Atlanta. The game was a hit among critics and was credited by PC Gamer as rejuvenating the point-and-click genre in the process.
However, the end product almost wasn't what it turned out to be. As a matter of fact, "The Walking Dead" game by Telltale almost looked completely different and wasn't even set in the same universe as the beloved comic books or the television series from which it took its inspiration. Instead, the game almost wound up being a spinoff of an entirely different video game series. As part of the celebration of the game's 10-year anniversary, a documentary chronicling the game's development has been published by Skybound Games. Among the subjects discussed is how the critically acclaimed episodic adventure evolved from another zombie-filled pitch.
Telltale's The Walking Dead was nearly set in the Left 4 Dead universe
Telltale Games
In Skybound Games' documentary, season design and direction lead Jake Rodkin shared that one of the game's earliest iterations was based on "Left 4 Dead," the survival horror franchise from Valve and Turtle Rock Studios. "The very first 'Walking Dead' [was] actually for a different zombie thing that ended up turning into 'The Walking Dead,'" Rodkin recalled in the documentary. "The first conversation was actually with Valve and it was about what if we did a narrative side story in the universe of 'Left 4 Dead'."
Apparently, this early prototype even had a different interface from the final product, being a text-based game in which progress bars would have to be managed by players. However, talks between Telltale and Valve eventually broke down and the Telltale team took this blueprint to create "The Walking Dead," which spanned four official seasons and even got its own spin-off starring the character Michonne.
"The Walking Dead" co-creator Robert Kirkman jokingly said, "I'm really glad that didn't work out," referring to Telltale's initial partnership with Valve.