Kanye West's Bizarre Nintendo Pitch Revealed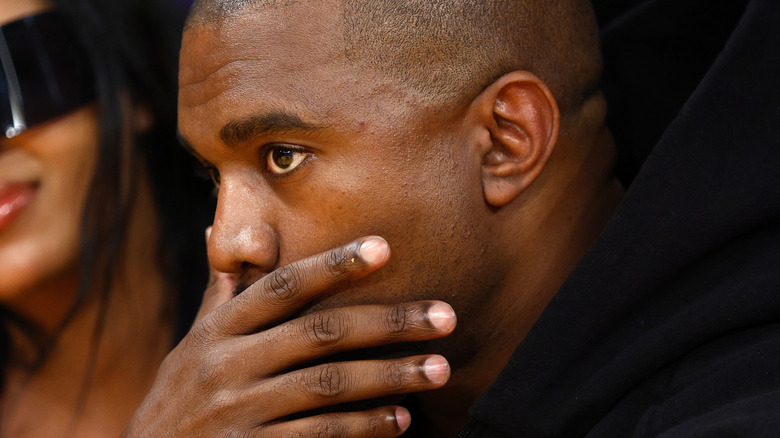 Ronald Martinez/Getty Images
Kanye West is known for his contributions to the music world, as well as his forays into fashion. Of course, the rapper might also be better known these days for his relationship with Kim Kardashian. The end of the two stars' relationship has led to contentious TikTok feuds and huge claims from Kardashian about West's career, but that's all just the tip of the Kanye West iceberg. It turns out that West's ambitions have long stretched beyond fashion and music. At one point in time, he even wanted to branch out into the world of video game development.
The game announcement itself is common knowledge, but the story surrounding it is much stranger. In 2016, West announced to a packed crowd that he'd been working on a video game called "Only One." At the time, West said, "The idea of the game is my mom traveling through the gates of heaven." West then played a short video clip of an animated version of his mother flying through the clouds, dressed in white, and riding on a winged horse. She soon grew her own wings and emerged above the clouds. 
The clip featured original music by West, but the crowd seemed underwhelmed once the video concluded. West seemed upset, telling the audience, "That's not easy to do, man! Y'all just be acting like s*** is regular!" He continued to tell the audience that creating the clip was difficult, and that he'd met with game developers that shut him down after he shared his vision. West then played his clip a second time.
While the idea never fully materialized into a game, it turns out that Kanye's pitch story was much wilder than he alluded to. Nintendo itself shut him down.
West pitched to Miyamoto himself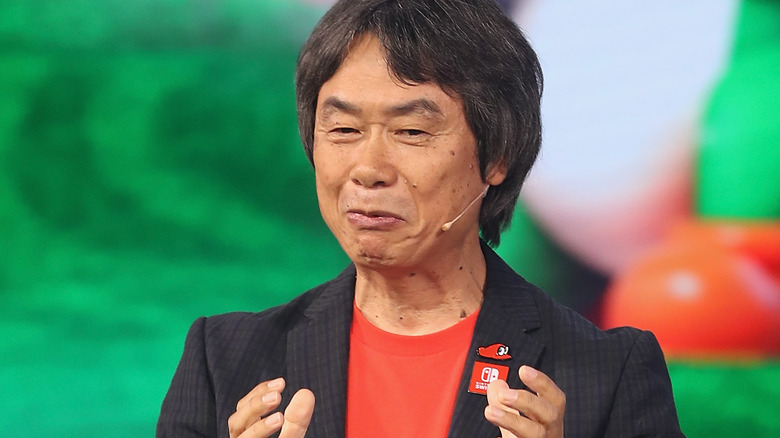 Christian Petersen/Getty Images
Over on Twitter, Twitch Lead Community Producer Zachary Ryan (formerly of IGN and Ubisoft) recently shared the story of one of the strangest moments in his video game career, calling it one of the funniest things he'd ever experienced in the world of games journalism. 
According to Ryan, his day started out normally enough. He'd traveled to meet Shigeru Miyamoto for an interview in 2016. When an enthusiastic Nintendo representative asked Ryan if he'd heard the then-newest Kanye West album, "The Life of Pablo," Miyamoto sprang to life and began telling a story about meeting Kanye at E3. That being said, it wasn't just any normal meeting.
Ryan explained, "He said that Kanye had shown up at the Nintendo booth unannounced and asked for an audience with Miyamoto specifically, right then and there." Ryan had heard rumors of people seeing West at that year's E3, so the story seemed to check out. Miyamoto went on to describe something that sounded much like West's clip he previewed to an underwhelmed audience. Miyamoto described the game to Ryan, although Ryan didn't share the exact details in his tweet thread. At the end of his story, Ryan said Miyamoto didn't seem off-put by the game, but surprised that West pitched to him in the first place. According to Ryan, Miyamoto "nodded and said 'it was very interesting.' There was a long pause and he added 'it was very moving.'" 
Ending the story, Miyamoto then apparently "laughed REALLY hard and said 'Kanye West wanted to make a game with Nintendo' and then, in English, 'Wow!' and gave me two thumbs up." This button to the story cracked Ryan up — but strangely enough, it still isn't the complete picture of the odd Kanye video game saga.
Reggie Fils-Aime tells a similar story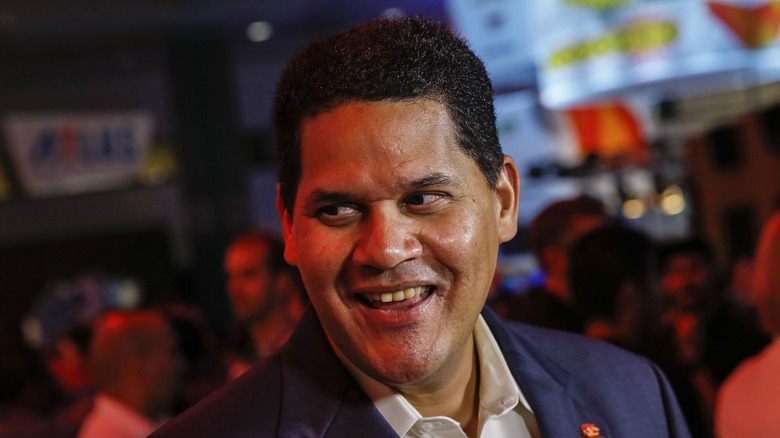 Bloomberg/Getty Images
Reggie Fils-Aime, who was the president of Nintendo of America at the time this all went down, had a similar story to Miyamoto's. Fils-Aime shared his side of the incident on an exclusive podcast to raise money for charity, but Nintendo Everything later shared the details for those who didn't back the project. Fils-Aime said he met with West and his then-wife Kim Kardashian at West's Yeezy Studio during E3. At first, it seemed like West just wanted more opinions on his developing video game project, but then he admitted, "I want to work with Nintendo."
Fils-Aime explained that there was too much going on at Nintendo to entertain the rapper's request, but he didn't want to completely brush West off. He instead told West that he wouldn't enjoy working with Nintendo because of the company's high standards, because the company pushes creators to make the best content. In other words, he tried to explain that Nintendo might be a difficult partner to work with. Instead of growing scared of the prospect, West felt even more excited by the prospect of a challenge. 
Unfortunately, the project didn't work out, and Nintendo did not collaborate with West. The rapper's fans will always have the song and music video for "Only One," but a video game project never emerged.