Dr Disrespect Breaks His Silence On Steph Curry Tripping Accusations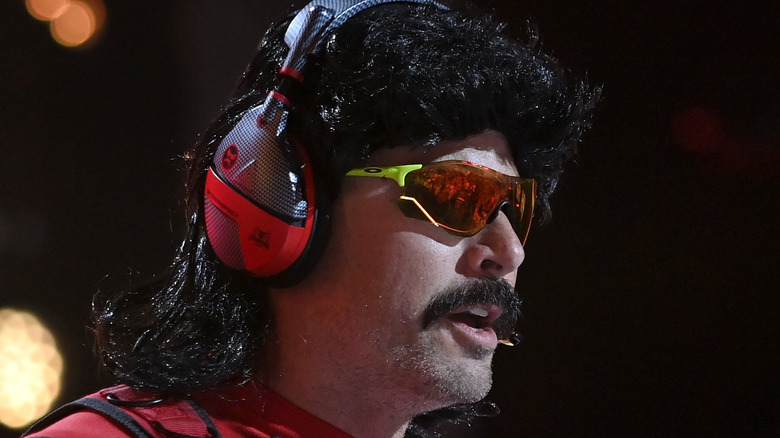 David Becker/Getty Images
NBA superstar Steph Curry took a rough fall during Game 3 of the Western Conference Finals. The game, which was held in Dallas, TX, and pit the Golden State Warriors against the Dallas Mavericks, has unexpectedly led to a great deal of deal of debate and ribbing in the gaming community, all thanks to the presence of Dr Disrespect and OpTic Texas' HECZ.
Dr Disrespect had a pretty great seat for the game, as fans can see the Two Time Champion situated right on the floor, almost totally in the action. He shared this vantage point with none other than HECZ, which led to the pair taking a celebratory picture. In the snapshot, the two can be seen smiling and pointing at the camera, clearly all in for a fun night out. Unfortunately, this night out would soon turn into a bit of a controversy for both pro gamers, as a clip of Steph Curry's fall began making the rounds on Twitter and calling their foot placement into question.
In a hotly-contested clip that went viral while the game was still in progress, Curry can be seen taking a tumble while making his way around the court. Almost immediately, Warriors fans began to latch onto the idea that someone had purposefully tripped Curry out of spite. But in a detail that feels like it's too weird to be true, many noticed that the trip happened right around the time Curry was passing Hecz and Dr Disrespect. Naturally, a number of viewers latched onto this aspect of the video, with some going so far as to blame Dr Disrespect for tripping Curry at a crucial moment.
Why do fans think Dr Disrespect and HECZ tripped Steph Curry?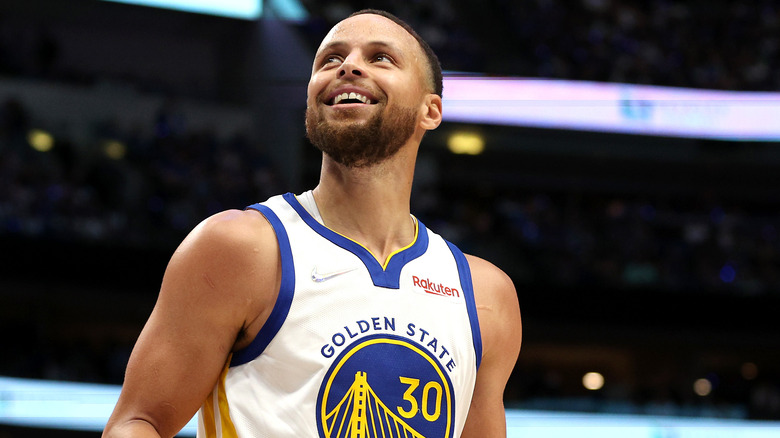 Tom Pennington/Getty Images
Almost immediately after the trip, people on social media began clowning on the moment. "Call of Duty" League commentator Landon Sanders incredulously asked, "Did I just see Dr Disrespect & H3CZ trip Steph Curry?" Twitter was full of questions just like this, as gaming fans everyone tried to figure out if they could believe their own eyes.
As the clip of Steph Curry's courtside trip began to spread around Twitter, the debate surrounding Doc and HECZ's guilt only grew in strength. Fans took to freeze-framing the clips, showing Curry's distance from the two when the trip began. While many fans stood strong in their belief that the pair had not tripped Curry, others pointed out a specific moment at the end of the clip, when Curry got up halfway and turned around angrily, seemingly gesturing right at the gaming duo. In the clip, HECZ can be seen immediately making the case for his own innocence, raising his hands and shaking his head. This moment seemed to inspire even more heckling, however. Even HECZ's own org, OpTic Gaming, got in on the action by posting an image of the fall and HECZ's reaction, complete with a sarcastic caption saying he definitely didn't trip Curry.
Naturally, both Doc and HECZ weighed in on their innocence with some to-the-point tweets. Dr Disrespect stated, "I didn't trip [Steph Curry]." Meanwhile, HECZ reposted the infamous clip and said, "It wasn't me." Despite these statements and the number of tweets breaking down the event frame-by-frame, it took a little while for fans to understand what had really gone down during the game.
What really happened to Steph Curry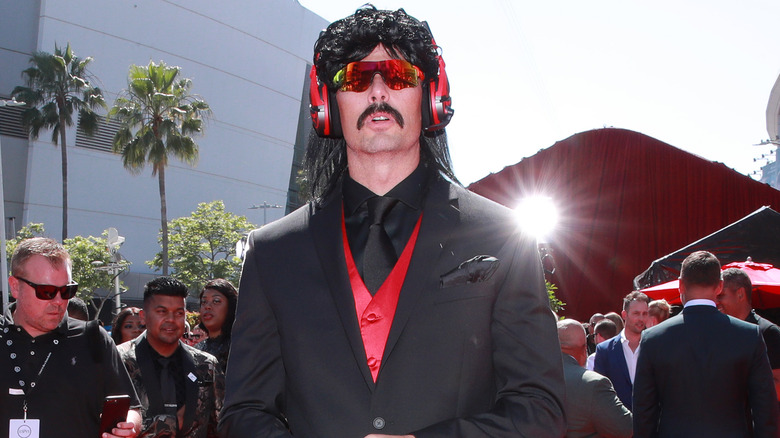 Rich Fury/Getty Images
As it turns out, Steph Curry was actually brought down by none other than a vendor taking an order at courtside. NBC Sports reports that a vendor was kneeling down to take an order from a fan in the stands when Curry tripped, sending him tumbling to the ground. Naturally, this explanation also left fans feeling displeased, with many commenting on NBCS's post of the clip to note that Curry could have incurred a much worse injury.
Not everyone was quite so upset by the event, however. Many people seemed to take joy in the sheer strangeness of the whole incident. After all, how often do you see a viral clip of an NBA star falling on the court that involves a personality like Dr Disrespect in full costume? One image that has been making the rounds since the game shows Curry rising to his feet and continuing on his way, with Dr Disrespect looming in the background like a mulleted guardian angel. Fan Duel seemed to especially appreciate this picture, retweeting it and writing, "Hang this in the Louvre."
Now that Dr Disrespect and HECZ have been cleared of any wrongdoing in "The Case of Who Tripped Steph Curry," people are having fun with the bizarre moment in sports history. Fans will surely tune into the Doc's next stream to see if he brings up his brush with the NBA.