The Stranger Things Star You Never Knew Was A Twitch Streamer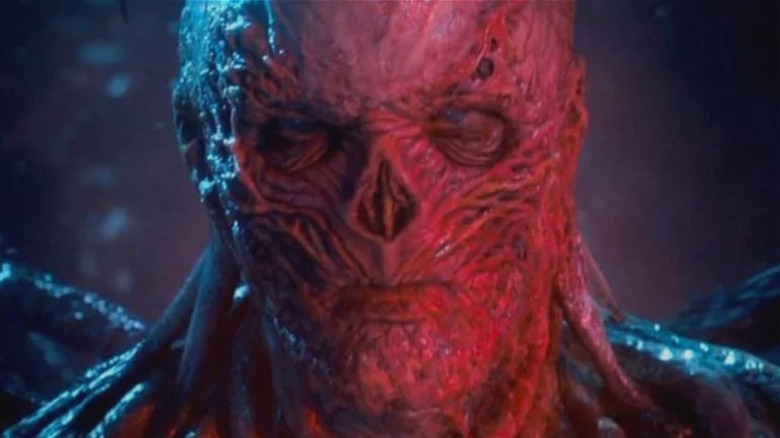 Netflix
"Stranger Things" Season 4 has finally dropped on Netflix, and fans are enthusiastic about the latest installment of the creepy 1980s-flavored series. Critics – while not entirely enthusiastic – all seemed to say the same thing about the new installment, commenting that while some parts of Season 4 tend to drag a bit, it's still a nostalgic good time. With every new season comes new characters and settings, and while every new addition to "Stranger Things" isn't a hit, one new character has wowed fans with her ability to impress viewers on and off-screen.
Light spoilers for "Stranger Things 4" to follow.
Grace Van Dien, who previously appeared in another Netflix show, "Greenhouse Academy." plays new character Chrissy in "Stranger Things." In the new season, Chrissy is a cheerleader, beloved by her high school community but tormented by her troubled home life. Van Dien looks the part of the popular girl, with her long blonde hair and wide smile, but the actress is hiding a rather geeky skill that might put her more in league with the ragtag group of kids on "Stranger Things" than the cheerleading squad.
Many "Stranger Things" viewers might be surprised to find out that Van Dien is also a streamer, but what does she play? And maybe more importantly, is she any good? The answers to both questions have delighted fans of gaming and "Stranger Things."
Grace Van Dien streams Valorant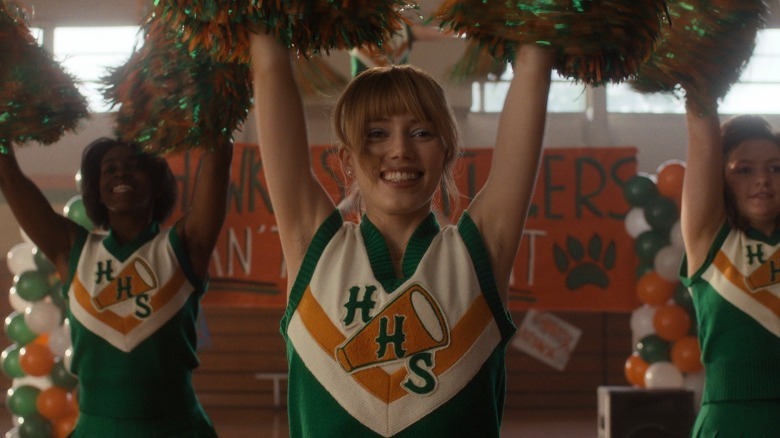 Netflix
Van Dien streams "Valorant" on Twitch under the name BlueFille, and although she only has about 38K subscribers, she's got a regular schedule set up, along with an impressive, aesthetically pleasing "About" section. Van Dien's bio mentions that she's an actress on "Stranger Things," but doesn't center her streaming identity around her acting career. It seems that Van Dien wants to attract viewers based on her content, and on the premise of building a community of like-minded viewers that enjoy talking about anime, video games, and Van Dien's cute cat, Woki.
While Van Dien's About Me page explains that she streams a variety of games, including "Overwatch," "The Forest," and "Fortnite," it seems that her latest fixation is "Valorant." Sadly, Van Dien doesn't put streams up on her VOD page, meaning that those who miss her live events might not get a chance to see her. However, she has included a couple of clips on her TikTok account, highlighting some of her most hilarious (and frustrating) moments. Van Dien also tries to announce when she's going live on Twitch on her other social media platforms, like Twitter, so fans know when to tune in to her stream.
After the premiere of "Stranger Things" Season 4, Van Dien has also fit some Just Chatting streams into her busy schedule, presumably so fans can ask questions and chat with her personably, but the core of her content still revolves around gaming. Unsurprisingly, fans have been absolutely delighted to find that Chrissy from "Stranger Things" has her own Twitch channel, and gamers are just beginning to sing Van Dien's praises online.
Fans love Van Dien's nerd cred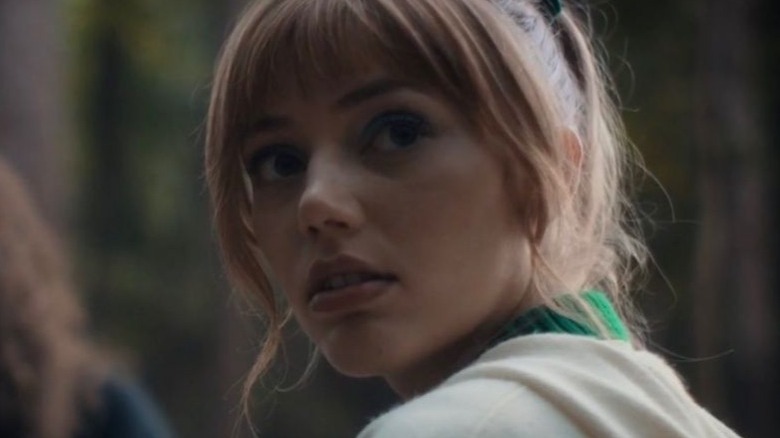 Netflix
"Stranger Things" fans have been excited to find that Van Dien streams on Twitch. Van Dien herself retweeted one incredulous fan who tweeted, "THE GIRL WHO PLAYS CHRISSY ON STRANGER THINGS IS A VALORANT STREAMER?" Another gamer quickly said they were "swooning" over Van Dien. Others said that the actress deserved to play a less punishing game than "Valorant."
Overall, Van Dien is even winning over new fans through "Valorant." One gamer commented that Van Dien is a gracious streamer, taking time to chat with fans and be generally nice. Another shared the word that Van Dien typically plays Viper, an agent that specializes in poison and acid attacks, making her somewhat difficult to play.
There's a small contingent of viewers who take pride in knowing that they found Van Dien's streaming channel before she became more famous for being on "Stranger Things." And while it's true that Van Dien is an actress with a public-facing job, some gamers were quick to remind others that she's still a person, with her own hobbies, likes, and dislikes.
As for Van Dien, she's having fun just playing around in "Valorant." It seems that she hasn't entered into Ranked play just yet, but maybe a career of high level "Valorant" play is in her future. For now, the actress is busy promoting Season 4 of "Stranger Things," streaming, and generally engaging with fans. Her Twitch numbers have seen a drastic increase since the premiere of "Stranger Things" Season 4, which can only mean good things are ahead for the actress.