Bruce Campbell Discusses Ash's Return In Evil Dead: The Game And MCU's Pizza Poppa - Exclusive Interview
Albert L. Ortega/Getty Images
If there's been one name synonymous with the words "horror" and "comedy" over the past four decades, it's Bruce Campbell. The wild ride began in 1981 for Campbell and his friends — writer-director Sam Raimi and producer Rob Tapert — with the release of "The Evil Dead," an innovative, small-budget wonder that redefined the horror genre with Ash Williams' (Campbell) first confrontation with the malevolent force that haunts a cabin in the woods. Ash's otherworldly dealings with the book responsible for it all, the Necronomicon, took a wickedly funny turn from there, first with the 1987 release of "Evil Dead II," then followed by the hilarious threequel "Army of Darkness" in 1992.
Advertisement
But Campbell, Raimi, and Tapert didn't quite close the Book of the Dead for good following the classic film trilogy. Further cementing his stake as the definitive antihero, Ash returned with a pair of sidekicks — Kelly Maxwell (Dana DeLorenzo) and Pablo Simon Bolivar (Ray Santiago) — for "Ash vs Evil Dead," a series that ran for three seasons on Starz from 2015 to 2018.
Realizing the potential for more blood-spattered adventures for Ash and company, Boss Team Games and Saber Interactive teamed with Campbell, Raimi, and Tapert to produce "Evil Dead: The Game." New in stores and online, the video game not only includes the return of Campbell, DeLorenzo, and Santiago to voice their "Ash vs. Evil Dead" characters, but it also features other characters and environments from the original "Evil Dead" film trilogy.
Advertisement
In an exclusive email interview with Looper, Campbell not only discussed "Evil Dead: The Game" and the potential for expanding it, but he also gave a preview of "Evil Dead Rise," which he is producing with Raimi and Tapert. In addition, Campbell, AKA "The King" (as in "Hail to the King, Baby"), talked a bit about the inanimate, unsung hero of the "Evil Dead" universe and chatted about his memorable turn in Raimi's horror-infused MCU smash "Doctor Strange in the Multiverse of Madness."
A new day's dawning for the Evil Dead
Boss Team Games/Saber Interactive
Luckily for gamers and fans of the "Evil Dead" saga, "Evil Dead" games date back at least a couple of decades now. How many games preceded "Evil Dead: The Game," and at what point did you feel that the concept took a big step forward?
Advertisement
There were three games before this version. They were rudimentary but had the right idea. With new platforms and technology, we can go the rest of the way.
Apart from the fact that "Evil Dead: The Game" brings in characters from all the movies and "Ash vs. Evil Dead," what aspect of the new game are you most excited about?
The fact that we look and play like any game out there. We can be compared eye-to-eye with any game and hold our own. The quality is very high.
Sadly, "Ash vs. Evil Dead" only ran three seasons, and in our past interviews, I know you said you were hoping for five. Since "Evil Dead: The Game" includes Kelly and Pablo, do you feel like this is the completion of the story arc in any way?
Advertisement
It's not the futuristic world hinted at in the "Ash vs Evil Dead" finale, but it all acts as an enhancement to the story and the [current] world.
Getting the band back together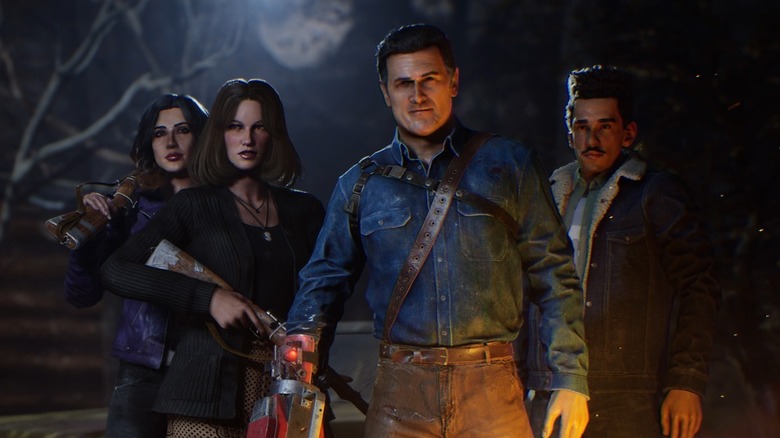 Boss Team Games/Saber Interactive
Do you think fans may find this more exciting than actually bringing "Ash vs Evil Dead" back because they now have the opportunity to play Ash, Kelly, and Pablo?
I think it's a push. More of the series would have been cool, but this is the next best thing. Don't forget: The game is young. This thing will only evolve and grow.
Advertisement
I've talked with Dana DeLorenzo several times, and she is so proud that Kelly is part of her past with the series and with the game, present again. How important was it for you to have their involvement in the game?
Having the original folks as much as possible brings street cred to the game. That's important.
Who else were you excited to return to voice their characters? Did Ted Raimi voice Henrietta? Do we get him as Chet from "Ash vs Evil Dead"?
Yeah, we get Ted as Chet. That was as important as anyone else.
Players have the opportunity to play four different versions of Ash in "Evil Dead: The Game" — three from the movies and Ash from the TV series. Which version of Ash did you like playing the most and why?
Advertisement
I'm not a gamer, so I can't answer that, but each Ash has a different approach and skill. They are all worth a spin.
Revving up 'The Classic' again
I'm also thrilled that the game includes "The Classic." The Classic has always been a character in itself. What is it about the car that people love so much?
I hate that piece of s**t, but Sam makes sure to put it in every film he makes. It's become inextricably linked with his legacy. I maintain that something special must have happened in that car — maybe in the back seat.
Advertisement
In addition to gameplay, fans — with any beloved film-TV-video game property — are very particular when it comes to story canon. How involved were you, Sam Raimi, and Rob Tapert to make sure "Evil Dead: The Game" was on the money with its canonical elements?
We always track the "rules" in every "Evil Dead" project. We have allowed some creative license, but they have to stick with the basics: evil book, re-animated Deadites, etc.
The game's storyline — is that something that Boss Team Games proposed to you and then you, Sam, and Rob made suggestions about, or did you three actually collaborate with Boss on it?
They [Boss Team Games] ran the show and we stayed in touch as they progressed.
Popping back into Raimi's film lens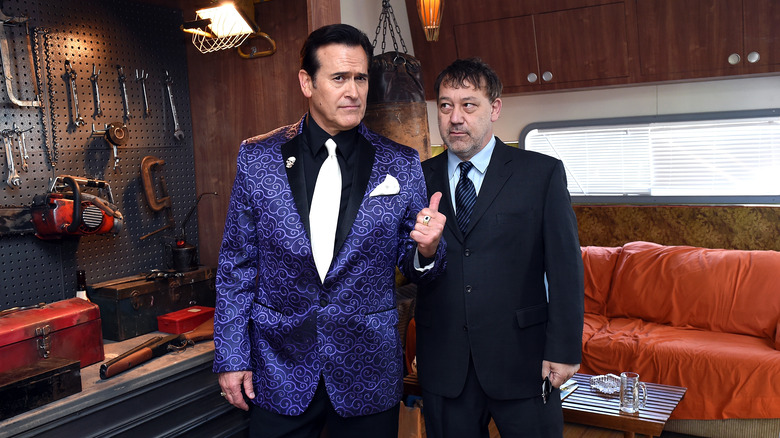 Nicholas Hunt/Getty Images
It was a complete blast seeing you in "Doctor Strange in the Multiverse of Madness" — Sam [Raimi] can't help himself when it comes to having you beat yourself up on screen, can he?
No. He knows what matters.
Advertisement
If it were up to you to select the members of the Illuminati, which Marvel characters would you have selected?
Sorry, can't comment — I know diddly-squat about that universe!
Some critics are writing that Pizza Poppa is the best new character in the Marvel Cinematic Universe. Does it surprise you that the character is getting so much love?
Look, fans always like little zingers like that. Sam and I have had a long history, and fans seem to appreciate that. Fans are cool like that.
Many viewers and film reviewers, including myself, are ecstatic that the "Multiverse of Madness" has an "Evil Dead II" feel to it, made complete by your two scenes. Did you feel nostalgic in any sort of way watching the movie and seeing Sam in his filmmaking element?
Advertisement
I was just delighted that the film hit it out of the park. The old boy still has it!
The rise of more Evil Dead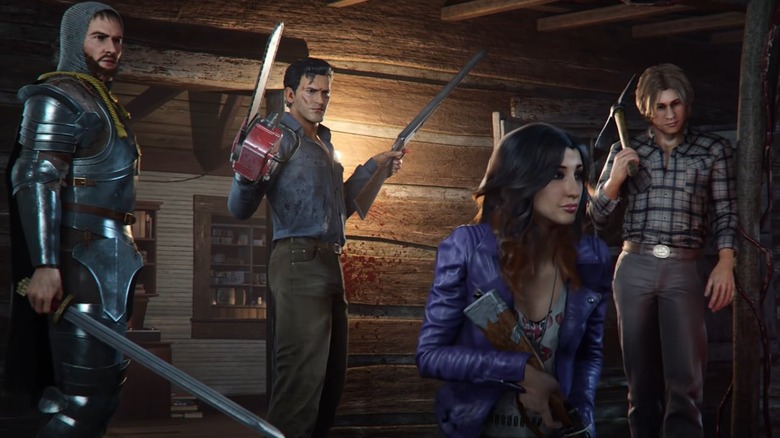 Boss Team Games/Saber Interactive
At this point, what can you tell me about "Evil Dead Rise"? Fans are thrilled that you, Sam [Raimi], and Rob [Tapert] are all involved!
We were all very involved in this film. [Director-writer] Lee Cronin did a great job, and we're more than a little excited to present it. The flick is very well-crafted, and fans will appreciate not only the Easter eggs honoring the past, but Lee's vision for a new Evil Dead, which is memorable.
Advertisement
When you produce a new film like "Evil Dead Rise," does the idea of a video game tie-in float around in your mind?
Any film we do could eventually be involved in the game. That's the beauty of having the game finally out.
Dream scenario: Are there any other movies or TV shows of yours that you'd like to see a video game arise from? "Bubba Ho-Tep," maybe?
Honestly, I would prefer to bring Bubba to our game!
What are your hopes for future volumes of "Evil Dead: The Game"? I'm hoping you'll say more, since playing Ash this way is a hell of lot easier on your body!
I'll voice Ash for as long as he's needed. There are actually a lot of plans for expansion, so stay tuned!
"Evil Dead: The Game" is now available in stores and online.
Advertisement
This interview was edited for clarity.