Why Dana DeLorenzo Considers Evil Dead: The Game A Bonus Episode Of Ash Vs. Evil Dead - Exclusive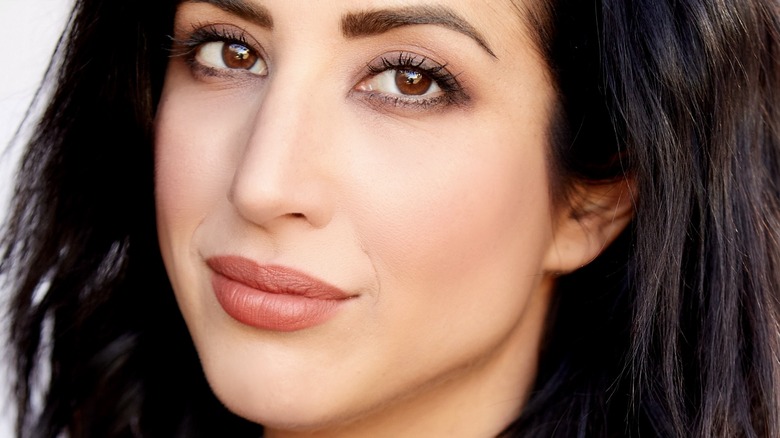 Jonny Marlow
Fans of the director Sam Raimi's "Evil Dead" trilogy got a welcome jolt of energy in 2015 when cable network Starz flipped the switch on the horror comedy "Ash vs. Evil Dead." The series featured the unintended consequences antihero everyman Ash Williams (Bruce Campbell) faced after he accidentally cited incantations from the Necronomicon, AKA the Book of the Dead — unleashing demonic forces once again that physically materialized as murderous Deadites.
The difference between the "Evil Dead" films and "Ash vs. Evil Dead," though, is that Ash wasn't going it alone in his efforts to vanquish evil. Instead, he had the help of two sidekicks — Kelly Maxwell (Dana DeLorenzo) and Pablo Simon Bolivar (Ray Santiago) — who, thanks to their creative ways to help Ash slay Deadites, quickly became breakout stars of the show. Sadly, Ash, Kelly and Pablo's adventures in all-things evil wrapped up after 30 episodes in three blood-soaked seasons, leaving the "Evil Dead" faithful wondering if they would ever see the ass-kicking power trio again.
Thanks to Boss Team Games and Saber Interactive, hopes for a reunion have become a reality, at least in a virtual sense, in the new video game "Evil Dead: The Game." In addition to the voices of Campbell, DeLorenzo and Santiago, the game features other characters and environments from "Evil Dead" lore.
While "Evil Dead: The Game" features the familiar faces from "Ash vs. Evil Dead," does serve as a continuation of the series in any way? In an exclusive interview with Looper, DeLorenzo shared her thoughts about what fans should expect regarding going into the game.
The game encompasses the whole Evil Dead saga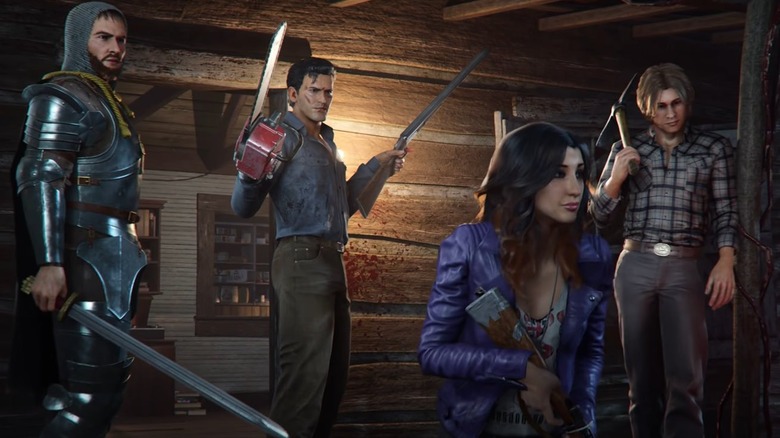 Boss Team Games/Saber Interactive
Fans, naturally, hoped the series would find a new home after the series was cancelled in 2018, but to no avail. However, excitement began to brew again with the announcement of "Evil Dead: The Game." And while the game has several familiar elements of the series in new scenarios, DeLorenzo said it shouldn't be viewed as stand-in a fourth season. 
"Consider it a bonus hour-long episode, maybe," DeLorenzo observed. "Why I say that is it's not necessarily a continuation, like a Season 4 would've been, but it has everything from not just 'Ash vs Evil Dead' the series, but [also] from the first three movies of the franchise that any fan at any point of the franchise will love."
As how the game specifically relates to Kelly, DeLorenzo said she was grateful the game's producers were open to  her suggestions. "I don't know what they've used and what they didn't, but I got to say things like, 'Hey, this never came to fruition [in the series], but this would be a fun little thing for Kelly that the fans might like if you want to throw this in,' or things like, 'Hey, she needs a meat [tenderizer].' I definitely put that suggestion in, and they might have done it already when they were doing the game — I'm sure they did their research — but it felt good to have them be open to collaboration, and for a character that I love with all my heart."
DeLorenzo said she had such a great time recording that she didn't want it to end.
"I was like, 'Don't we have some more to record?' They're like, 'Dana, no. The union says no, we're done now. It's been ... We're done!' I was like, 'Just don't tell anybody! Let me riff. Let me keep on,'" DeLorenzo said, laughing. "That means I love something if I don't want to leave."
"Evil Dead: The Game" is now available in stores and online.