Yennefer From The Witcher 3 Is Gorgeous In Real Life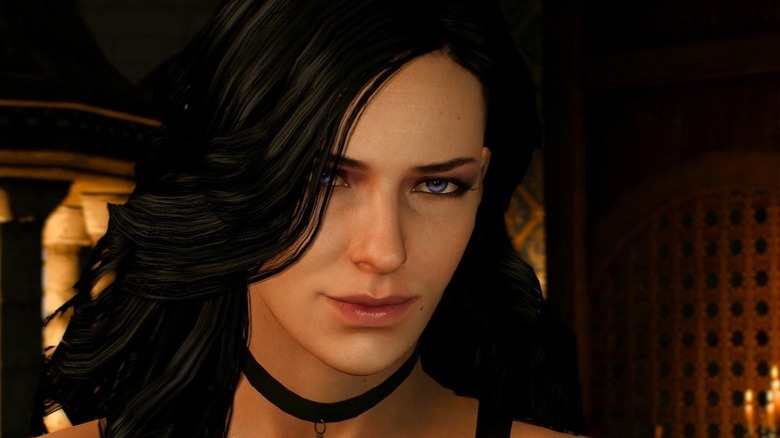 CD Projekt
If you're a huge fan of "The Witcher" franchise, it's likely that Yennefer of Vengerberg is a character who is burned into your memory. A powerful sorceress, Yennefer is a central figure in all of the "Witcher" games developed by CD Projekt Red, and is particularly prominent in the series' piece de resistance "The Witcher 3: Wild Hunt," serving as both a companion and love interest to Geralt of Rivia. Having lived through a deeply traumatic upbringing, Yennefer is a complicated character who is as dangerous as she is caring, resulting in her and Geralt having a somewhat tumultuous relationship.
Not only is Yennefer one of the most powerful characters in the "Witcher" universe, but with her long black hair, blue eyes, and a stunning fashion sense, it's easy to see why Geralt is so head over heels in love with her in the game, TV series, and original novels. Viewers of the Netflix series adaptation of "The Witcher" quickly grew to love Anya Chalotra's portrayal of Yennifer, but those who have played "The Witcher 3" likely have a hard time getting one particular voice out of their head. Although the writing, world-building, and badass action in "The Witcher 3" have been the subject of much praise, Yennefer is truly brought to life by her voice actress, the incredible (and uncredited) Denise Gough. But what else may you know Denise Gough from?
Denise Gough has been in a number of games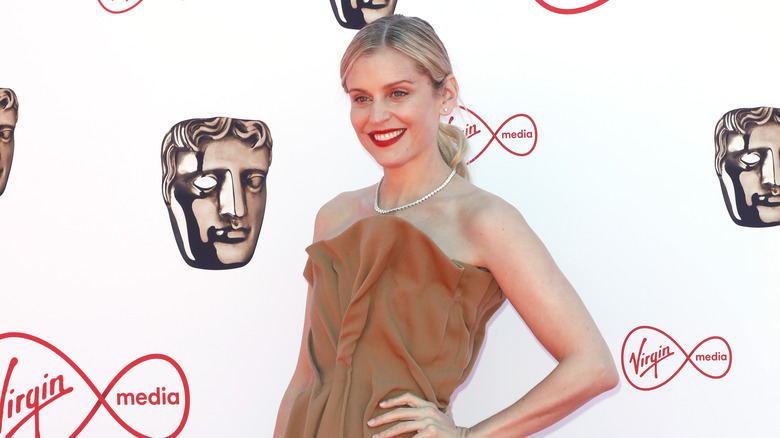 Tristan Fewings/Getty Images
Outside of "The Witcher 3: Wild Hunt," actress Denise Gough doesn't have a ton of voice acting on her resume. However, she's gone for quality over quantity, lending her voice to some beloved franchises. She played multiple roles in "Dragon Quest Heroes" and "Mass Effect: Andromeda." Players may also recognize her voice from "Star Wars: Battlefront 2," "XCOM 2," and "Divinity: Dragon Commander." 
Gough maintains an important place in the gaming community. Having played one of the most important characters in "The Witcher 3: Wild Hunt", one of the most successful and lauded games of all time, Gough is highly regarded by the series' fanbase, with many fans pointing to her interpretation of the character as superior to the version of Yennefer seen in Netflix's "The Witcher." Calling back to her beloved portrayal of Yennefer, Gough co-hosted the Future Games Show on June 11, 2022, along with Doug Cockle, who voiced Geralt in "The Witcher 3." This was the moment that a number of fans may have realized that they'd seen her outside of the gaming sphere. Shortly after the announcement was made that Gough and Cockle would be hosting the livestream event, fans began to look into Gough's credits, discovering that not only is she a massively talented and prolific actress — but that she's been in plenty of projects that fans may have already seen.
Denise Gough's impressive theatre and film resume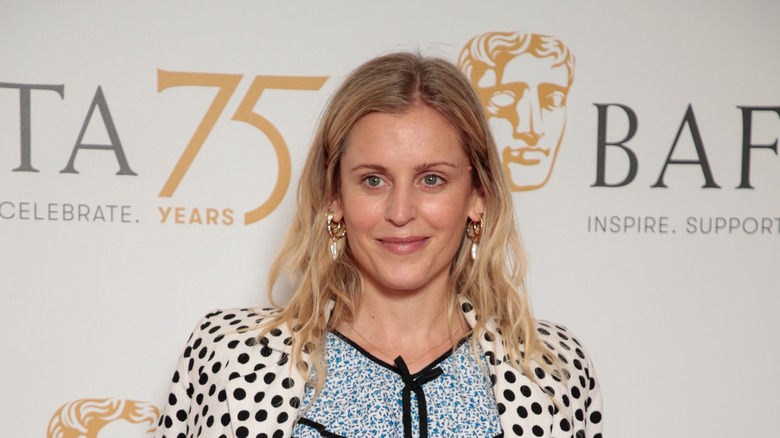 Shane Anthony Sinclair/Getty Images
Gough is a highly decorated theatre actor, racking up numerous major award nominations. She's won the prestigious Laurence Olivier Best Actress Award twice over. Her first Olivier award came in 2016 for her performance as Emma in Duncan Macmillan's "People, Places and Things." Gough's second Olivier win was in 2018, when she took home the award for her lauded performance as Harper Pitt in Tony Kushner's "Angels in America." This performance also earned her a Best Actress nomination at the 2018 Tony Awards.
Off-stage, Gough has appeared in a number of films, in all different genres. She's received positive reviews for her performances in dramatic films like 2020's "Monday," horror films such as "The Other Lamb" and "Martyrs Lane," not to mention more family-friendly fare like "The Kid Who Would Be King." Most recently, she made waves for her performance as Dianna Lafferty in the critically acclaimed TV crime thriller "Under the Banner of Heaven," which reunited her with one of her "Angels in America" costars, Andrew Garfield. And it looks like Gough is on a roll, because fans of the "Star Wars" franchise can look forward to seeing her in Disney+'s "Andor," a prequel to "Rogue One."
Gough is extremely passionate about her craft and her place in the world of acting and performance. When asked by The Guardian why she prefers to be called an actress, rather than an actor, she responded, "We fought to be on the stage. We should reclaim that word: I don't know where it came from, this ... notion that putting "ess" on the end makes us weak. I would be no less afraid of a lioness than a lion."