Junker Queen From Overwatch 2 Is Gorgeous In Real Life
"Overwatch 2" is right around the corner, with the early access period opening up on Oct. 4, 2022. Fans have been waiting patiently for a sequel since it was first announced in 2019, but even with as much hype as there is around "Overwatch 2," there are also many concerns about its quality. Between leadership changes, a painfully long development process, and the fear that the game might not be distinct enough from its predecessor, fans have their worries. 
Still, the game still has the potential to please players. One thing to definitely look forward to will be the addition of new characters like Sojourn, and the proper introduction of characters that have been teased by "Overwatch" by quite some time — like the bold, fearless, and tough-as-nails Junker Queen. The development team began teasing Junker Queen a few years ago, as she could be heard spouting off orders in the Junkertown map (per Polygon). She also made a surprise appearance in an animated short detailing the origins of fellow "Overwatch" hero Wrecking Ball. However, it wasn't until June 2022 that fans got their first good look at both the character's full design and a chance to hear what the mysterious ruler of the Junkers sounds like. 
Now that the fans know Junker Queen is on her way, they'll probably be very curious to know more about the charismatic performer providing the character's voice. As it turns out, the actor behind the 7-foot-tall Junker Queen is quite gorgeous in real life.
Leah de Niese shines as Junker Queen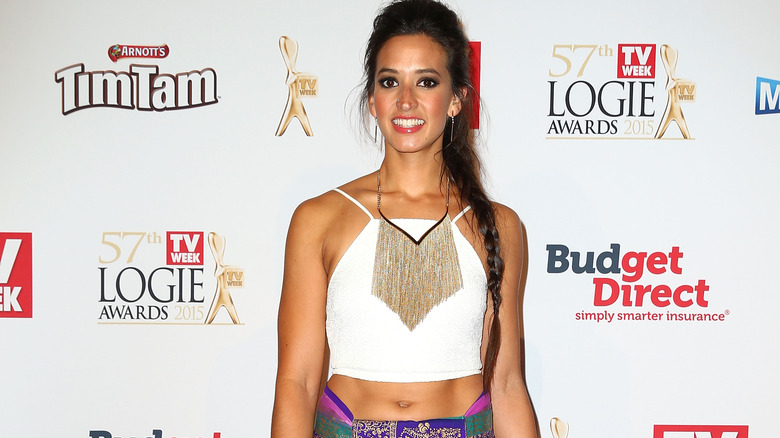 Ryan Pierse/Getty Images
Taking on the role of the Junker Queen in "Overwatch 2" is Leah de Niese, a talented and gorgeous Australian-Sri Lankan actress who is also, unsurprisingly, a model. According to comments made by "Overwatch" lead narrative designer and writer Gavin Jurgens-Fyhrie, it sounds like the team is really pleased with de Niese's voice performance, which seems to have truly brought the Junker Queen to life. As Jurgens-Fyhrie wrote on Twitter when announcing de Niese's involvement with the game on June 16, "She has done astounding work. She gives Queen a grinning confidence and dangerous joy that we just love."
Everyone who has collaborated with de Niese during her time as the Junker Queen has been deeply impressed by her work. In the words of "Overwatch 2" audio and technical narrative director Scott Lawlor, "It's really amazing when the right actor matches the character and the personality. You feel this sort of magic that comes out of it."
In addition to a fierce attitude, de Niese will clearly bring a touch of humor to her role. In addition to her signature axe, the Junker Queen will have a bunch of weapons, including a knife she's named Gracie. These reveals in Junker Queen's cinematics and gameplay teases have been sold not just by the exquisite animation, but by de Niese's clear commitment to the bonkers material. Clearly, this character has many sides, and de Niese's versatility as an actress will clearly shine through once players get to see more of the Junker Queen beyond the previews that have been shared so far.
Leah de Niese's many successes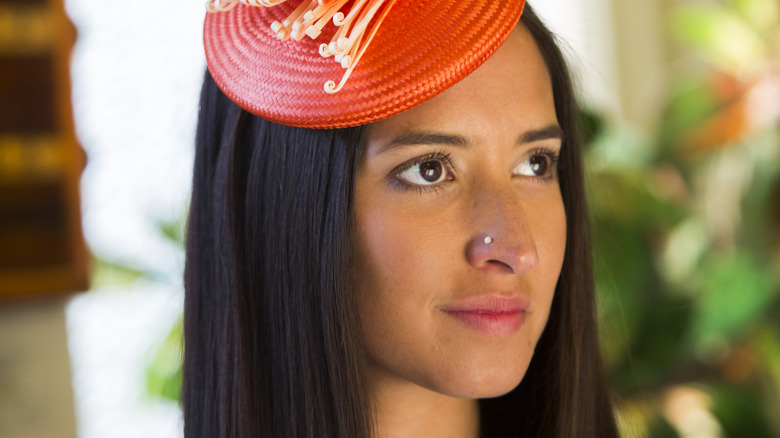 Craig Sillitoe/Getty Images
In addition to her work on "Overwatch 2," Leah de Niese has an impressive body of TV work, among other projects. Starting off in stage work, she eventually made her way to the screen, where she's been charming viewers ever since. She's well-known to Australian audiences for her role as Nicola in "House Husbands," a dramedy that depicted a group of stay-at-home dads. Fans were devastated when (spoilers) her character was killed off, since she was so beloved amongst them. However, the risky move proved to bring in a ratings boost for the series. As for her other TV projects, de Niese has also scored recurring roles as Abby in "Twentysomething," Odile in "Offspring," and both Miranda Starvaggi and Larissa Caldwell in the long-running series "Neighbours."
Her acting speaks for itself, but that's not where the awesomeness stops with de Niese. She's paying her success forward by doing things like hosting sessions to help other Australian actors audition in the U.S. When she's not busy with various projects, Leah de Niese can be found interacting with fans on Instagram, where she excitedly posts photos of her travels, activism, and behind the scenes pictures and clips of her various projects — including, yes, "Overwatch 2." When it comes to her role as the Junker Queen, it's clear de Niese will be able to draw on her own variety of life experiences which have made her the strong and stunning woman she is today.