TMNT: Shredder's Revenge: How To Unlock Casey Jones
Released on June 16, 2022 after much anticipation from fans of the beloved franchise, "TMNT: Shredder's Revenge" is off to a strong start. Right out of the gate, critics are impressed by this fresh take on classic "TMNT" games that both honors its predecessors and builds upon their strengths, especially in terms of combat. Though it's not an official sequel to any other "TMNT" game, some consider "Shredder's Revenge" a spiritual successor to the 90s title "TMNT: Turtles in Time."
Advertisement
While there is a lot to love about "TMNT: Shredder's Revenge," its incredibly brief playtime is not among its strengths. Then again, in a world of massive RPGs and many other games that can easily eat up hundreds of hours, a two-hour title could be considered a breath of fresh air.
Due to its brevity, it's all the more important players make the most out of "TMNT: Shredder's Revenge." There are seven playable fighters in the game, all of whom are available from the game's start — except for one. Fans are particularly motivated to get access to long-time "TMNT" icon Casey Jones, who first appeared in the universe in a one-shot comic from the 80s, followed by multiple appearances in the animated show. Armed with sports equipment and a winning attitude, Jones is a force to be reckoned with. Here's how to unlock him.
Advertisement
Beat TMNT: Shredder's Revenge once to unlock Casey Jones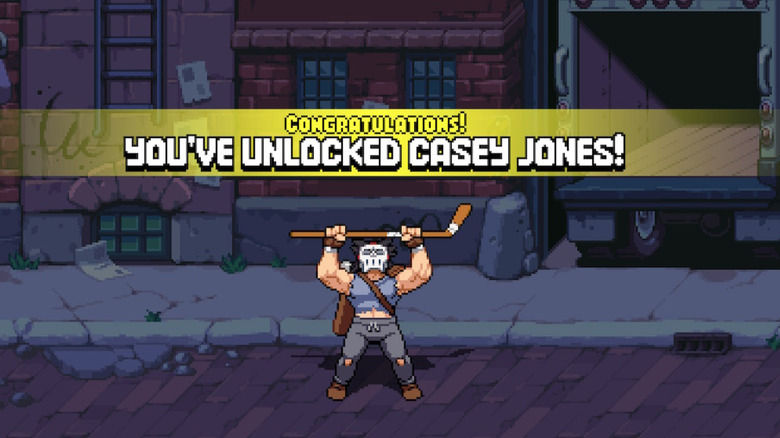 DotEmu
There's a big bonus to unlocking Casey Jones since doing so will extend the playtime of "TMNT: Shredder's Revenge." All players have to do is beat the game's main story mode and Jones will automatically be unlocked, according to Thomas' Trophy Tutorials. As for getting through the game, there are 16 levels to conquer in total. Though it can be done in two hours, times may vary depending on player strategy and skill.
Advertisement
Once Jones is unlocked, "TMNT: Shredder's Revenge" will have an even greater replayability value. Rotating between a cast of seven creates opportunities for novelty, and getting to know each fighter can increase one's overall success in the game. As for Jones himself, he's primarily a ranged fighter with three stars in that category, as well as two stars each in speed and power, plus different kinds of sporty weapons at his disposal. Jones' golf bag allows him to switch out his arsenal at any time. So, whether players go for the classic hockey stick, dual bats, or a simple slide attack, they'll be set up for success and a great time.