No Man's Sky On Switch: What's Included?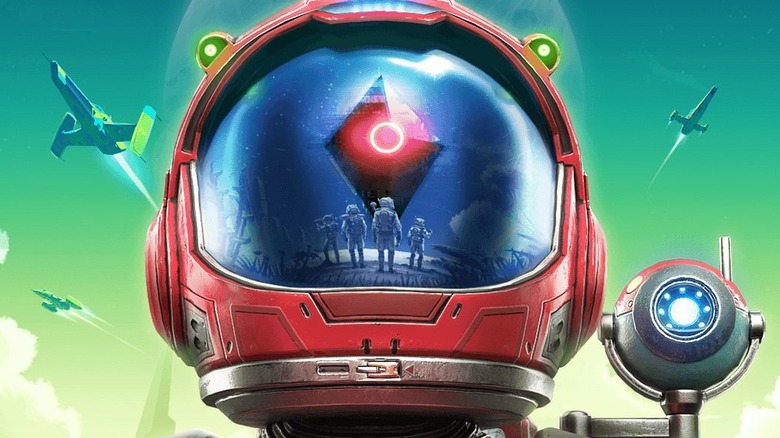 Hello Games
"No Man's Sky" has had one heck of a journey. Initially released barren and underdelivering in its promise of grandiose space adventure, it led to a PlayStation boss addressing "No Man's Sky" complaints and admitting PR wasn't great for the title. From there though, the game began to see a turnaround. By a year old, "No Man's Sky" was getting huge improvements, starting a trend of feature-heavy updates that would help revitalize the sci-fi adventure. From there, a combination of next-gen upgrades and content additions featuring everything from serious machinery in the "Sentinels" Update to a "No Man's Sky" take on space crime ala the "Outlaws" Update has kept players both happy and busy.
Advertisement
Now, "No Man's Sky" is in a better place than ever before, housing a steady player base that actually has something to do with the title's vast, open universe. However, it seems that Hello Games still has a few surprises left in store for players — like an announcement that the massive "No Man's Sky" would soon arrive on Switch. That said, if bringing all of "No Man's Sky" to Nintendo's portable console sounds too good to be true, that's because it is. Players picking up the sci-fi exploration adventure on Switch won't have access to the exact same content players on other platforms will — but it'll have to do for the time being if fans want to take their galaxy-spanning exploits for a spin on Nintendo's hardware.
Advertisement
Switch version includes up to Prisms Update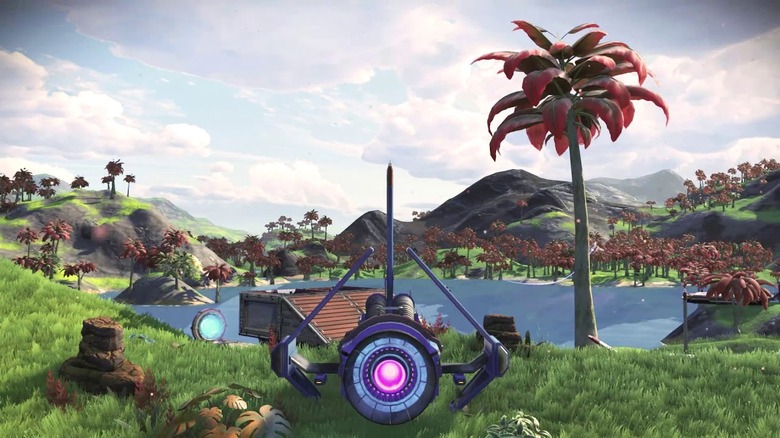 Hello Games
Players getting excited for the Switch release of "No Man's Sky" on Oct. 7 ought to know what they're getting with the game, because it's a little different from other versions of the title available on different platforms. According to a recent trailer, the Switch version of "No Man's Sky" will feature up to the "Prisms" Update, leaving the most recent three by the wayside. Despite Switch players missing a few of the more recent updates, there will still be plenty to do for those eager to explore (or maybe even reexplore) the universe. 
Advertisement
Some notable inclusions from content that is part of the Switch "No Man's Sky" release include the planetary and environmental variations that came alongside the "Origins" Update as well as the milestone-based "Expeditions" Update that helped cut the grind. Brave players can even seek treasures and thrills by exploring the derelict freighters introduced in the "Desolation" Update. On the flip side, this does mean that, at least for the time being, "No Man's Sky" players on Switch won't be able to learn what they can do in a mech or build planetary settlements with overhauled base building.
Switch version doesn't include multiplayer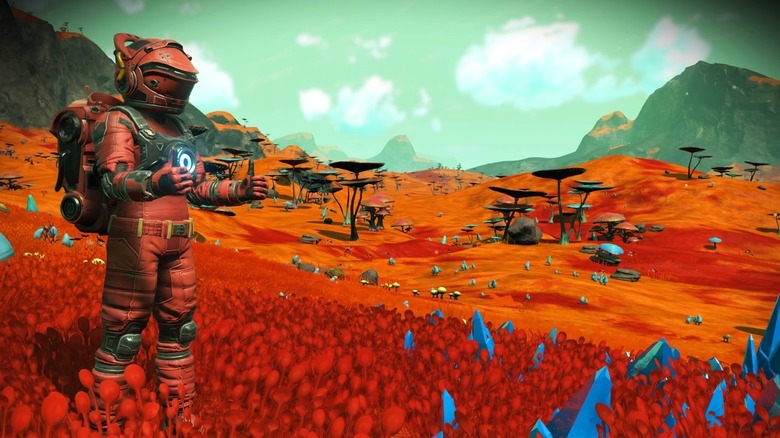 Hello Games
While many may consider "No Man's Sky" a cooperative or multiplayer title now, it wasn't always that way. Though multiplayer was initially promised leading up to release, players found a very lonely experience when "No Man's Sky" first hit shelves. Unfortunately, that's the experience Switch players are in for — at least until an inevitable update changes things. According to the official webpage for the Switch version of "No Man's Sky," the title will initially reach players as a single-player experience. 
Advertisement
The website reads, "No Man's Sky Switch Edition will launch as a single-player experience. As an award-winning live service game, the Switch Edition will continue to benefit from ongoing development post launch." Players who wholly intended to jump into the game with some companions may be soured by this news, but with the promise of continued support after release, it's likely Switch players won't be alone forever.