This NFT Console Is Raising Eyebrows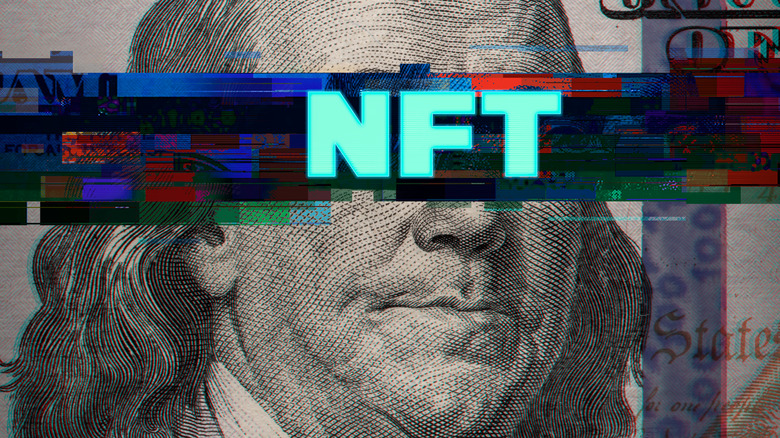 Cinemato/Shutterstock
Even as the crypto market continues to go through instability, leaving investors unsure of the future — something that might be good for gamers — it seems that blockchain technology is likely here to stay, for better or for worse. This includes the ever-controversial non-fungible tokens (NFTs) that have saturated the gaming market in recent years. Overall, NFTs in gaming have been limited to small things such as pieces of art or cosmetics. But it seems that one small company has decided to take this concept and take it to the next level: an NFT gaming console.
Advertisement
Formally announced via Twitter, the Polium One is purported to be a next-gen gaming console that is said to support gaming at 8K resolution and up to 120 frames per second with ray tracing and will be released in 2025 — or 2024 for those who buy the NFT-based "Polium Pass." If these specs are legitimate, it'd be one of, if not the, most powerful consoles on the market right now. On top of that, the game will "support games across different blockchains" (via Yahoo Finance). This announcement has raised quite the amount of eyebrows in the gaming community, but seemingly for all the wrong reasons.
Many are skeptical of the Polium One
As with anything NFT-related in the gaming sphere, the Polium One was nearly universally panned by the gaming community on social media. While not without its supporters, Polium One was accused of being a scam by many who don't find the idea of any such console having the capabilities it does. "That totally doesn't sound completely impossible for an independent studio to do on a system that small," Twitter user @hellomredwards said in response to the announcement. The user also pointed out that the Polium One official website had stolen artwork from other games. More criticism has been levied towards its logo which looks strikingly similar to the Nintendo GameCube logo. The official Twitter account for the Polium One denied any such stealing of a Nintendo trademark, but said the company would soon "illustrate a new logo that is original."
Advertisement
Overall, it seems that the consensus of the Polium One is of extreme skepticism. The console and the idea of it running NFT games has been collectively dragged on Twitter since its formal announcement. But who knows, maybe it's real, and "The Day Before" will be its first exclusive.