Ubisoft's Latest Move Has Assassin's Creed Fans Seeing Red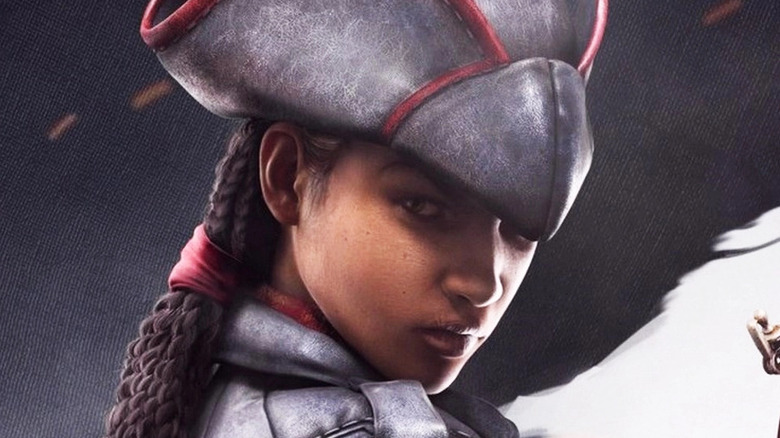 Ubisoft
Publishers removing games from online stores is nothing new. The reasoning varies, ranging from internal strife, issues with licensing, legal problems, or other scenarios. This has caused video game preservation and piracy to become hot-button topics in the industry, with debate reigniting following the news that Ubisoft potentially planned to revoke access to one of its older "Assassin's Creed" games.
Advertisement
As discovered by Twitter user @Nors3, Ubisoft appeared to have pulled "Assassin's Creed: Liberation HD" — an HD port of the original "Assassin's Creed 3" spin-off released for the PlayStation Vita in 2010 — from the Steam store. It even included a notice that seemingly implied gamers who had already purchased the entry for its $19.99 sticker price (though it was reportedly sold at a 75% discount in a recent sale) would lose access to the title starting September 1. Ubisoft has since said that the date will simply mark the shutting down of the game's online servers.
"Only DLCs and online features will be affected by the upcoming decommissioning. Current owners of those games will still be able to access, play or redownload them," Ubisoft said in a statement (via Eurogamer). Predictably, "Assassin's Creed" fans were not happy about the situation and how Ubisoft handled it.
Advertisement
Assassin's Creed: Liberation move burns bridges with many fans
Ubisoft
In response to the original notice indicating "Assassin's Creed: Liberation HD" would soon be gone, many voiced concerns. "That's just wrong and completely disrespectful to its fan base by putting it on sale and basically saying your money is now ours," one commenter said. Others echoed this sentiment, calling out Ubisoft for using the title to turn a profit with the knowledge it would become unplayable soon after.
Advertisement
In response to the controversy, Ubisoft clarified the confusing language of the game's Steam page and said that people who had purchased "Liberation" prior to September 1 would retain the ability to play it. "It has always been our intention to do everything in our power to allow those legacy titles to remain available in the best possible conditions for players, and this is what we are working towards," Ubisoft's statement continued (via Eurogamer).
While this may be a relief to some, others have communicated disappointment with Ubisoft for not making this clear from the start. Twitter user @Nors3 — the original source of the news — posted an update on the situation, but expressed confusion over the wording used for "Liberation," as opposed to the concise description on the "Splinter Cell Blacklist" Steam page. The language for "Assassin's Creed: Liberation HD" has since been updated to match, and Steam users can now purchase it again if they so desire. Many gamers have already taken the opportunity to express their distrust of Ubisoft by review bombing the title, which now has an "Overwhelmingly Negative" recent rating.
Advertisement