The Actress Who Plays Ikora Rey In Destiny 2 Is Gorgeous In Real Life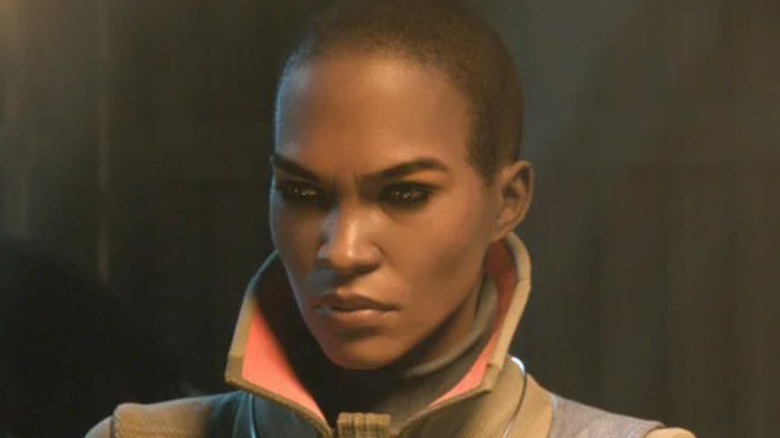 Bungie
"Destiny" is a franchise that's had quite the dedicated following since its original release back in 2014. While "Destiny 2" didn't have the same great reception that the original game had, the release of "The Witch Queen" DLC brought a ton of attention and fans back to the game (via Forbes). Despite Bungie's ongoing issues with cheaters that has even dissolved into an anti-cheat lawsuit, players have still enjoyed the game. "Destiny 3" isn't happening anytime soon, but there's still plenty of support for the second installment of the game.
One of the things that the "Destiny" series has excelled at is creating great characters, like Cade. Ikora Rey is one of the three Vanguards in the game, making her a popular and important character. The current voice actress for Ikora took over the role in 2017 when "Destiny 2" was released and Gina Torres stepped down from the role. She's worked on an impressive number of video games in the past, and she's absolutely stunning in real life.
Meet Mara Junot
The voice behind Ikora Rey in "Destiny 2" is Mara Junot, a prominent voice actress who's appeared in a number of video games. According to IMDb, her voice is featured in "League of Legends," "Genshin Impact," "World of Warcraft," "Persona 5 Strikers," and even "Call of Duty: Black Ops Cold War." According to her website, she's also narrated commercials for massive companies like McDonalds, Walmart, and Target.
Junot uses her social media platforms to spread awareness about social issues and sharing adorable cat pictures. She doesn't stop at cute pictures, either. She also shares information about the games she works on, including fanart of Ikora.
On her Twitter account, Junot shared some acting inspiration in the form of a Jim Carrey quote: "I act because I am broken in a lot of pieces and acting gives me a chance to reconfigure those pieces into a thousand different things that are positive for people to watch."