Tony Hawk Made These Pro Skater Fans' Dreams Come True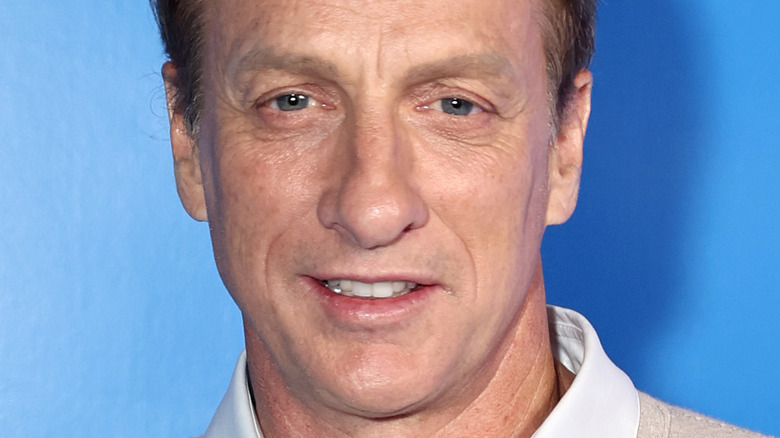 Matt Winkelmeyer/Getty Images
If you were a gamer in the late '90s and early 2000s, it's very likely you are familiar with the "Tony Hawk's Pro Skater" series. Upon the release of its first two entries — "Tony Hawk's Pro Skater" and "Tony Hawk's Pro Skater 2" — in 1999 and 2000, Activision's seminal extreme sports franchise became a phenomenon in gaming, making tons of money in sales. The first two titles were such successes that they were given the remake treatment two decades later. But the "Tony Hawk" series is more than just a great video game IP, it's a cultural phenomenon.
The initial "Tony Hawk's Pro Skater" installments boast more than fun gameplay and a selection of iconic skateboarders — they also have phenomenal music. As noted by NPR, the soundtracks are some of the most enduring in video game history, featuring songs from legendary artists such as The Dead Kennedys, Rage Against The Machine, and Bad Religion among others. The soundtracks are so popular there's even a cover band made of "THPS" fans dedicated to playing the most iconic tracks from the series' playlist. And Tony Hawk himself surprised them during a performance in the UK.
Tony Hawk takes to the stage with The 900
Even the cover band's name, The 900, is a tribute to the iconic extreme sports franchise, borrowing from what is arguably Tony Hawk's most iconic signature vert trick. During a recent show in which they played a small pub in Haggerston, London, the "THPS" fans were given a huge treat — a cameo from Tony Hawk himself.
The skateboarding icon joined The 900 for two songs of the set. One was "Bloodstains" by the band Agent Orange — a track that appears in "Tony Hawk's Pro Skater 4," the last title in the original run before it transitioned to the "Tony Hawk's Underground" subseries. Throughout his cameo appearance, Hawk doesn't miss a step and seems to legitimately be enjoying himself as he belts out the lyrics to some of the most well-known songs from the video games that bear his name.
"@tonyhawk himself came to our show at @signaturebrewe8 and BLEW THE ROOF OFF!" wrote The 900 on Twitter. "Words can't express how grateful we are to Tony for not only watching our show, but nailing 2 iconic songs!"