The Actor Who Played Catwoman In The Batman: Arkham Games Is Gorgeous In Real Life
There's no shortage of "Batman" content these days, and the "Batman: Arkham" games are no exception. Out of all the iterations of the Dark Knight the world has seen, these titles deserve a moment of their own in the spotlight. A standalone series, "Arkham" puts its own spin on the "Batman" concept, albeit with a twisting timeline. With adventures from the asylum to prison and beyond involving iconic characters like Harley Quinn, The Joker, and Catwoman, these titles allow fans to enjoy a sense of familiarity and novelty all at once.
Advertisement
In "Arkham," the writers gave Batman a complex relationship with Catwoman that sways from rivalry to romance and everything in between. Scrappy, smart, and stubborn, Catwoman is a key player in Gotham City, to the point that she was added as a playable character in "Arkham Knight" alongside classic Batman sidekicks Nightwing and Robin.
Speaking of Catwoman, the attractive and cunning villain/anti-hero is portrayed by a talented actor who is just as easy on the eyes. For those who don't already know, here's the woman who brings Catwoman to life in the "Batman: Arkham" franchise. Chances are, even if you haven't seen her before, you've probably heard her voice many, many times.
Grey DeLisle is Catwoman
Grey DeLisle, also credited at times as Grey DeLisle Griffin, brought her skills to the world of Gotham City as Catwoman. With an impressive voice acting career spanning a few decades, the multitalented DeLisle describes herself on her website as "a Grammy-winning singer/ songwriter who is known as the most prolific voice actress in American animation history, having performed over 1500 cartoon voices since 1996." As if that wasn't impressive enough, DeLisle also saw success as a stand-up comedian thanks to her well-regarded and appropriately titled "My First Comedy Special."
Advertisement
DeLisle's characterization of Catwoman — seen in games such as "Arkham City," "Arkham Origins – Blackgate," and "Arkham Knight" — has been praised by fans of the character. Over the course of the "Arkham" games, she's portrayed Catwoman's shifting allegiances between Batman and the criminal underworld, as well as all of the guilt and self-doubt that comes with it. Her take on the character was so memorable that she would take the lead in a few different DLC chapters, including "Arkham Knight: Catwoman's Revenge." DeLisle also voiced an alternate universe take on the character in the acclaimed "Injustice" games, in which the tough-as-nails cat burglar powered up and helped the Batman take on Superman's fascist Regime. She reprised the role in a few animated films as well, including an adaptation of "Injustice" and the English dub of "Batman Ninja," which re-teamed her with "Arkham Origins" Batman voice actor Roger Craig Smith.
Advertisement
Outside of her performance as Catwoman, Grey DeLisle has also taken on a number of other Batman-adjacent roles, including Black Canary in "Batman: The Brave and the Bold" and Magpie in "Beware the Batman." The former performance notably allowed DeLisle's Black Canary to interact with another of her iconic characters: Daphne Blake in "Scooby-Doo!"
Grey DeLisle never slows down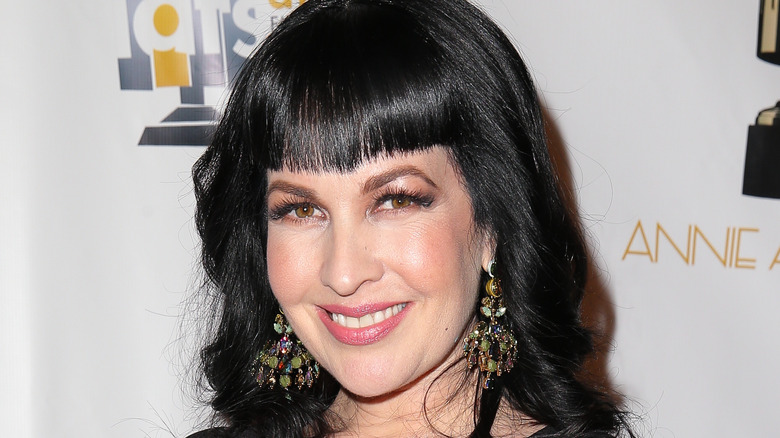 Imeh Akpanudosen/Getty Images
In addition to her embodiment of Catwoman in "Batman: Arkham," DeLisle has taken on many notable roles, including Vicky from "The Fairly Odd Parents," Azula from "Avatar: The Last Airbender," and Daphne Blake in the "Scooby-Doo" cartoons since 2000. Her performance as Daphne has become a particular fan favorite, and she was devastated when she learned that the role had been recast in 2020 for the production of "SCOOB," showing how close she feels to her characters. 
Advertisement
According to an interview with Screen Rant — talking about another DC Comics-related project, of course — not even the pandemic could slow Grey DeLisle down. When lockdowns went into effect, she was able to continue recording in her own in-home studio. She explained to Screen Rant that this actually helped her to balance her home life as well: "I get to spend so much more time with my kids ... Now it's so nice to be able to go, 'Okay, I'm done, I'm gonna take my headphones off, go upstairs and I can make a full lunch and actually sit and talk with my kids and enjoy them and then go right back down to work and be early sometimes.'" Yes, on top of all her beloved voice work, her bio notes that she's raising her three kids as a single parent. She's also an accomplished musician, putting out several folk-infused albums including "Iron Flowers" and "The Graceful Ghost." Basically, Grey DeLisle does it all.
Advertisement
Keeping up with DeLisle on social media is easy since she regularly shares on both Twitter and Instagram. Expect updates on her many creative projects and pursuits, glimpses into her personal life, stunning selfies, and of course, a healthy dose of humor.