How Gotham Knights Hopes To Get Batgirl Right
Despite being one of the most central figures in the "Batman" comics, Batgirl has had a rough go of it recently. Earlier this week, fans of the character received some terrible news when it was announced that the upcoming "Batgirl" film being made by HBO Max was abruptly shelved midway through production, despite being almost finished. And with the character slated to appear in the upcoming "Gotham Knights" video game as a playable character, certain concerns have been expressed by fans regarding Batgirl's portrayal.
Batgirl's presence in "Gotham Knights" has come under fire for its depiction of Barbara being able to overcome her injuries due to hard work alone. For those who might be unaware, Batgirl — the crime-fighting identity of Barbara Gordon, daughter of GCPD detective Jim Gordon — was previously paralyzed by The Joker in "The Killing Joke." After her injury, she becomes Oracle, who assists Batman and his team of vigilantes remotely. However, in "Gotham Knights," Barbara — despite still recovering from these injuries — is able to "miraculously" overcome her condition and get back into the field. While Barbara spends significant time as a wheelchair user in the comics, overcoming the psychological and physical trauma of what happened to her, the Barbara of "Gotham Knights" seems to be back on the streets in no time.
This may seem like too sudden a recovery, and it's not unreasonable that some may have a problem with this stereotype of Barbara simply "overcoming" her condition. However, it seems the team behind "Gotham Knights" is doing its best to do right by Batgirl and rationally explain her recovery from such a brutal injury.
In Gotham Knights, Batgirl is still recovering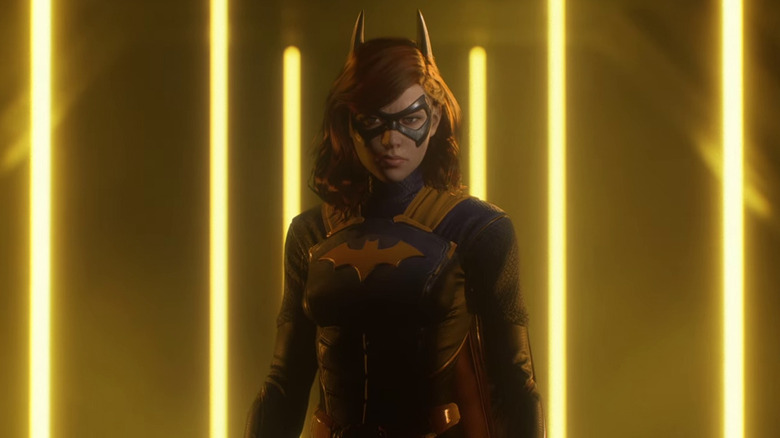 Warner Bros. Games
In a recent interview with GameSpot, "Gotham Knights" lead writer Ceri Young explained why the team at WB Games Montreal chose Barbara Gordon's version of Batgirl to portray as opposed to the other iterations, despite her injury and stint as Oracle being canon in this universe. According to Young, Barbara's trauma is a central to the story and in this universe, she is still recovering from the injuries sustained from The Joker. This is incorporated into the story in "Gotham Knights" through subtle things such as idle animations.
"Batgirl's injury and rehab, her time as Oracle, is part of her story and part of who she is," Young told GameSpot. "So, of course, we recognize it in Gotham Knights, and there are a lot of moments that will reflect that." According to Young, Batgirl will wear a back brace when she is in the field with Robin, Nightwing, and Red Hood. Animations when she's idle will also show her do exercises that allude to her past injuries. "We know that it's very important to a lot of people so we worked with consultants at Ablegamers to make sure that we were handling it with the care and respect that it deserves."