Final Fantasy 14: What Is The Market Board And How Do You Use It?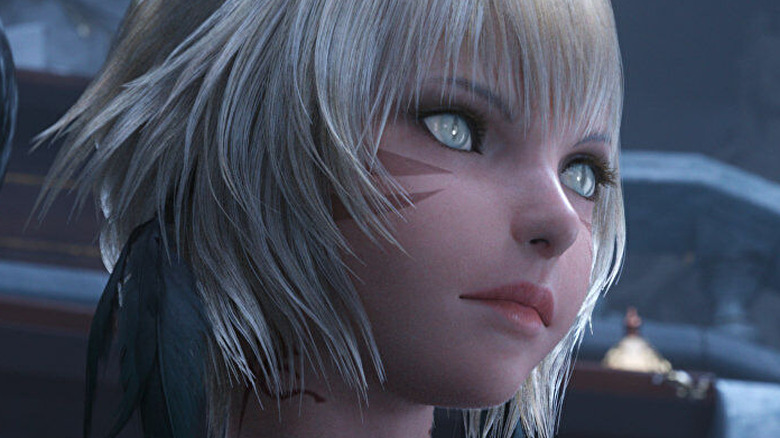 Square Enix
Despite being a huge flop when it first launched in 2010, "Final Fantasy 14" became one of the most successful MMOs on the market after its revival in 2013. Even years after its release, "Final Fantasy 14" is still worth playing due to its impressive worldbuilding, story, and multiplayer mechanics. On top of that, the game boasts a massive amount of content that could give players hundreds to over a thousand hours worth of play time (via HowLongToBeat). But jumping in can be a little daunting, especially when it comes to the in-game economy.
Advertisement
Similar to titles like "Eve Online" and "No Man's Sky," the virtual economy in "Final Fantasy 14" is mostly dictated by players and their actions. To access said economy, players have to make use of the Market Board. But what exactly is it? Here's everything you need to know about the Market Board and how to use it in "Final Fantasy 14."
What is a Market Board?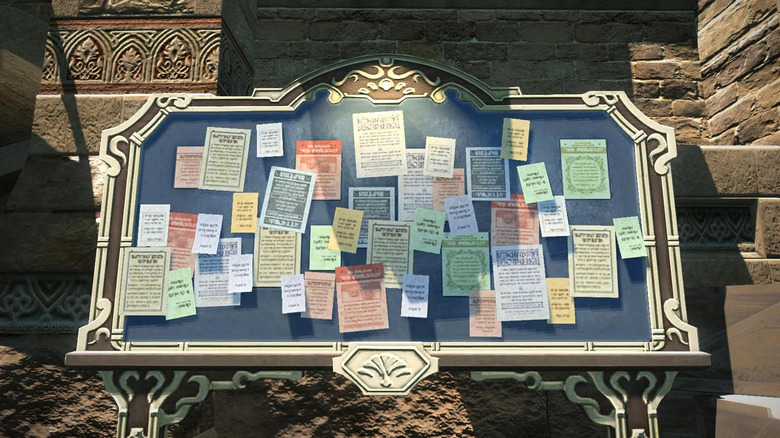 Square Enix
The Market Board in "Final Fantasy 14" is essentially the interface for the in-game marketplace where players can buy and sell items. Market Boards are shown with notices and messages plastered all over them, and are available in virtually every major city. Upon accessing the Market Board, players see an interface divided into category-based sections — Main Arm/Off Arm, Armor, Items, and Housing Items. The Market Board also gives players the ability to search for a specific item via a search bar at the top of the interface.
Advertisement
Upon selecting the category of item you want, you will be given a list of available items accompanied by the amount available on the marketplace and the current demand of that product. These items can also be sorted by level. Given that certain items and weapons in "Final Fantasy 14" can only be used upon reaching a specific level, using this feature will spare you the disappointment of buying something that is either above your current capabilities and inaccessible, or way below your level and effectively useless.
Buying items from the Market Board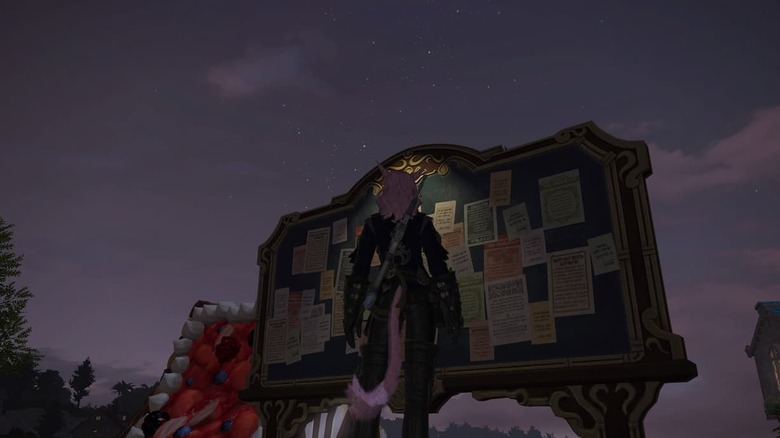 Square Enix
When it comes to using Market Boards to buy items, it's a relatively straight forward process. One way to do this is simply selecting the category of item you want to purchase and then skimming through the available options on the marketplace. The list of results will always sort from the lowest-priced items to the highest, so odds are you'll be getting the best deal possible by default. 
Advertisement
If you are looking for a super specific item and don't feel like perusing from a whole list, simply type your desired item's name into the search bar. As noted by YouTuber Lycona DaCheeChee, searching requires you to type in the exact spelling of that item by default. In order to bypass this requirement, make sure to enable the "Partial Match" feature above the search bar.
Selling items on the Market Board
Selling items via the Market Board in "Final Fantasy 14" is a bit more of an involved process and requires the use of in-game NPCs known as Retainers. To unlock Retainers, players will have to finish the Level 17 quest "Scions of the Seventh Dawn." Once you've hired a Retainer, you can start selling items through them on the marketplace.
Advertisement
When you approach your Retainer to sell items, a market window will pop up that will allow you to place items in it. When placing an item in the market widow, YouTuber Zepla HQ recommends that players click on the "Compare Prices" button. This will show you what that item typically goes for on the market and allow you to make a decision regarding whether to sell it above market price in the hopes of a demand surge, or undercut everyone and turn a quick profit. You can also click the "History" button to see what amount of Gil that item has been purchased for recently.
You can only sell up to 20 items at a time through a Retainer, so make the best of these limited slots and be sure you're selling items of actual value. Unneeded items with very low values can be sold quickly by selecting the option "Have Retainer Sell Item." Also bear in mind that sellers have to pay taxes on each transaction. These tax rates vary from market to market and constantly fluctuate, so make sure you check with a Retainer Vocate to determine the best locations to sell through Retainers at any given time.
Advertisement