Dune Awakening: How To Sign Up For The Beta
Funcom
2022's Gamescom opening night livestream wasn't short on big news from the world of gaming, but one of the biggest premieres shown at the event was the reveal trailer for the upcoming "Dune Awakening," a survival MMO video game set in the treacherous "Dune" universe. The trailer starts off showing a man in a Stillsuit reciting the iconic Litany Against Fear. As the man reminds himself that "fear is the mind-killer," he oversees a giant sandworm destroying a building below the cliff he is standing on. The sandworm finally emerges over the cliff as the main character jumps off the cliff in an attempt to latch onto it. It's a brief and effective glimpse into what gamers can expect when they finally set upon the desolate world of Arrakis.
Advertisement
What is currently known is that "Dune Awakening" will be available for the PlayStation 5, Xbox Series X|S, and PC. What isn't known yet is when it comes out, as the trailer did not reveal a release date. However, the game's developer and publisher, Funcom, will be hosting a beta for the game. During this time, gamers can get an early look at the in-progress title. Here's how you can sign up for it.
How to sign up for the Dune Awakening beta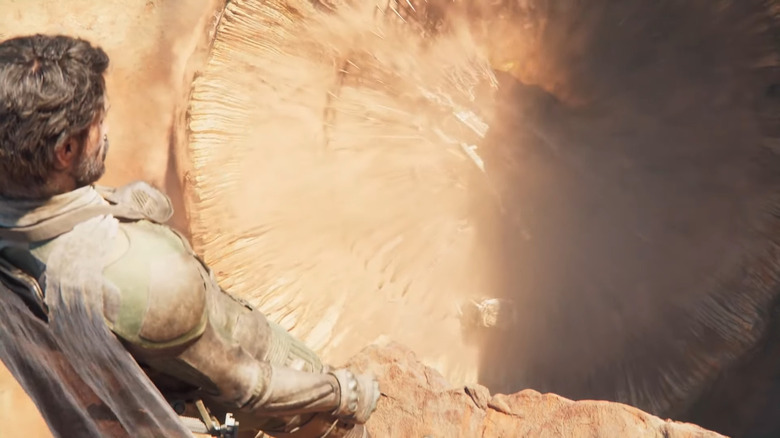 Funcom
If you're interested in participating in the beta for "Dune Awakening," the process is pretty straightforward. First, head over to the game's official website. Once you're there, you'll be greeted by a rundown of "Dune" and the game's setting. At the bottom of the screen, there will be a button that says "Sign Up For The Beta." Clicking on it will offer the option to enter an email address and opt in for emails about "Dune Awakening" and other games from Funcom. After entering an email, click "Register" at the bottom of the pop-up window.
Advertisement
And that's pretty much it! Prospective "Dune Awakening" players will then be directed to a screen confirming the subscription. As of now, it's unknown when Funcom will be distributing beta codes for the game. But once signed up, fans will have as good of a chance as anybody to experience "Dune Awakening" a bit early.