The Best Xbox One Games Of 2017 That You Can't Play Anywhere Else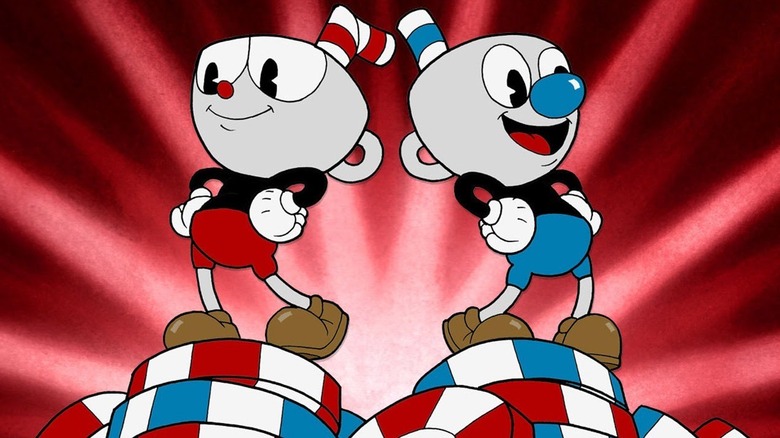 Studio MDHR
There's no doubt about it–2017 has been a phenomenal year for gaming. While it's been hard to find time to play every great game that's released, the good news is we're never at a disadvantage when it comes to looking for something different to play. Though Microsoft's bigger focus this year was on getting some new hardware out in the form of the Xbox One X, the company still found the time to release a half-dozen terrific exclusives that stood out from the pack.
Advertisement
Forza Motorsport 7
The seventh proper entry (and tenth overall) in Microsoft's proprietary Forza series, Forza Motorsport 7 was the first entry to offer true 4K graphics running at 60 frames per second. And considering that Forza is already considered one of the most beautiful simulations on the market, this latest installment takes the franchise to a whole new level.
Advertisement
No matter how gorgeous a game is, it doesn't mean much if the gameplay doesn't back it up. Fortunately, Turn 10 Studios has never faltered in this aspect. Forza Motorsport 7 handles like a dream, with the improvements learned from Forza Horizon 3 making this entry more tactile than ever. The Xbox One controller's fantastic force feedback options truly capture the feel of a bucking car, gripping hard on the turf at exceptional speeds, letting players know how to respond without any guesswork.
Like many Xbox One console exclusives, Forza Motorsport 7 is also technically available on Windows as part of Microsoft's Play Anywhere feature. Still, the Xbox is the only console where you'll find Forza forever, and this year again proves there are few racing titles that can compete.
Advertisement
Cuphead
Arguably one of Microsoft's most anticipated titles for 2017, Cuphead spent years in development before finally hitting the console (and Windows PCs) this summer. Inspired by the 1930s animation of Walt Disney and Max Fleischer, Cuphead stood out from similar side-scrolling shoot-'em-ups with its unique, hand-drawn-style. Though it was announced way back in 2014, the three years players spent waiting for a chance to play were well worth it, since all that time allowed Studio MDHR to perfect the animation and difficulty for optimal balance.
Advertisement
As awesome as Cuphead is too look at, it's equally as challenging to play. The simplistic jump and shoot mechanics give every player a chance to learn quickly, but the depth of combat takes quite a bit of time to master. Learning counters and boss patterns makes Cuphead a much more thoughtful game than it first appears, with the ability to add a friend in co-op play ratcheting up that challenge even further.
Cuphead will push every player's dexterity, but at least any frustrations from taxing boss battles are balanced with the stylish world and characters. It's just impossible to stay mad at that little anthropomorphic cup.
Halo Wars 2
For the Halo Wars sequel eight years in the making, Microsoft turned to real-time strategy masters Creative Assembly. Working closely with 343 Industries, Microsoft's in-house, post-Bungie Halo team, Creative Assembly reworked the original Halo Wars' innovative control scheme to make the complexities of an RTS feel more at home on a console. The UK developer also worked closely with 343 to ensure the narrative and new characters and vehicles were more closely tied to the Halo Universe.
Advertisement
The result was an incredible experience, and one that again showed that real-time strategy games are possible on a console...with the right development team behind them. Halo Wars 2 not only expanded on the lore of the world beyond Master Chief's limited view, but also introduced new enemies and vehicles into the fold that we hope to find in the first-person big brother one day.
Beyond being a strong RTS, Halo Wars 2 also introduced a new competitive mode called Blitz, which was much more fast-paced and user-friendly for quick matches online. By eliminating the necessity of base-building for versus modes, battles were much more frantic and didn't require nearly as much waiting around for the fun to begin. Couple that with a graphic update for Xbox One X and crossplay with PC, and it's easy to see why Halo Wars 2 was one of Microsoft's best games this year.
Advertisement
Tacoma
After the success of Gone Home, developer Fullbright turned its attention to the stars for its follow-up, Tacoma. Set on an orbiting lunar transfer station, Tacoma put players in the role of Amy Ferrier, a specialist sent to the station to recover the AI core after a meteor shower caused an evacuation. Like its previous effort, Tacoma is all about exploration and story, with players able to view virtual logs from the ship AI detailing the lives of those aboard the station before it was evacuated.
Advertisement
Though there are no challenging gameplay elements, Tacoma is a wonderful exploration of humanity and the potential future we face as corporations dominate more and more of the world's economy. Don't be fooled by detractors that label this as nothing more than a "walking simulator." Fullbright has plenty to say, and there's enough interactivity for players who want to explore the full breadth of Tacoma.
On top of all that, Tacoma also uses sign language as a driving force in exploring the station, giving the non-verbal language a chance to shine in a medium where it has largely been ignored to this point.
Super Lucky's Tale
There was a time when the 3D platformer was all the rage, and every publisher was looking to find that next big star mascot. Though there are still a handful of attempts to reignite that fledgling genre year after year, it's rare when they stand out enough to be considered among the best a console has to offer. Such was the case for Super Lucky's Tale, a sequel of sorts to the 2016 Oculus Rift game, developed as a "launch" title for the Xbox One X.
Advertisement
Crafted with 4K in mind, Super Lucky's Tale is a cute platformer starring Lucky the Fox, a hero who's trying to save his world from the evil Kitty Litter, a group of cats intent on ruining everyone else's good times. Developer Playful Corp. doesn't stray too far from the formula with this game, but still delivers a solid console-exclusive platformer that immediately calls back to the late '90s. Sometimes nostalgia can be fulfilling enough, provided the game plays well–and that's the perfect spot where Super Lucky's Tale resides.
Pit People
When your portfolio of games includes the likes of Castle Crashers, Alien Hominid, and Battle Block Theater, there's an expectation that whatever game comes next will follow suit with similar success. Though Behemoth's Pit People is still in Xbox Game Preview (read: a paid public beta), it's already clear the developer has another potential smash hit on its hands.
Advertisement
A turn-based tactical-strategy game, Pit People lets players compose teams of fantasy stalwarts like swordsmen and archers with more outrageous characters like zombies and cupcakes. Behemoth's creativity in character types is just one reason Pit People is such a weird, fun game to play, but the actual strategic elements back up all that inspired design with deep, rewarding strategy gameplay. There's a goofy story in there to keep you coming back for more too, but it's the addictive nature of finding and recruiting all those unexpected minions that will keep Pit People at the top of your playlist.