NBA 2K23: How To Get Dr Disrespect's Cosmetics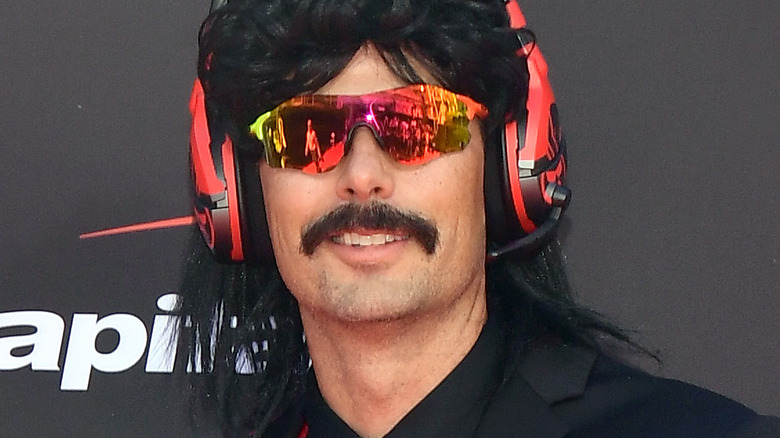 Matt Winkelmeyer/Getty Images
"NBA 2K23" is now available, letting people once again start on their own basketball journey. While many players show up to these games for MyTeam mode, some also enjoy the career mode, where they can take their own created player through the NBA ranks. Part of making your own character is getting to pick out what they wear, and "NBA 2K23" offers a variety of items to choose from, including some inspired by the Two-Time champ.
Dr Disrespect tweeted on September 8, "Hearing a lot of rumors about the Two-Time. [Nevertheless,] see you in game tomorrow... literally." That tweet was posted along with an image of a basketball court, marked by the release date of "NBA 2K23." Some fans with early copies of "NBA 2K23" posted images of some of Dr Disrespect's items in-game, like his signature black headphones and mullet. Here's every Dr Disrespect item in "NBA 2K23" and how to unlock them.
Level up in the NBA 2K23 MyCareer mode
According to Dexerto, there are three different tiers of unlocks they award you with Dr Disrespect cosmetics. In order to unlock these different tiers, players will need to progress in the MyCareer mode and level up to the corresponding levels. At level 8, players can unlock the black headphones and mullet. At level 20 players can unlock the Dr Disrespect Prototypes, which are his signature sunglasses he wears while streaming. Lastly, at level 32 players can unlock the Dr Disrespect Showtime Vest, which is the red tactical vest the Two-Time wears while streaming.
Once unlocked, players can dress their created character in Dr Disrespect signature attire. If you really want to complete the look, you could always model your created character after the streamer. This isn't the first 2K sports game for Dr Disrespect to appear in, as fans made a custom Dr Disrespect wrestler in "WWE 2K22." Dr Disrespect is also currently working on his own game "Deadrop" which has been controversial due to its implementations of NFTs.