Cyberpunk 2077: How To Get Edgerunners-Inspired Items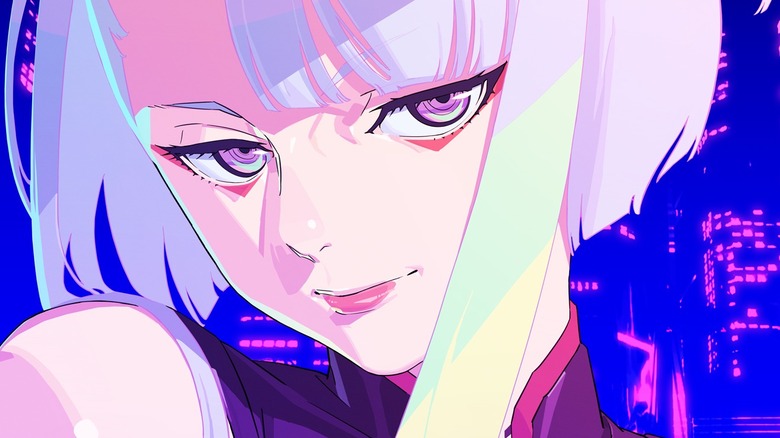 Netflix
"Cyberpunk 2077" had a bit of a rocky start when it was released in 2020 because of a staggering amount of bugs and glitches. Though there was also much to celebrate in the immersive open world action RPG, its launch stands out in many gamers' memories as a massive disappointment.
Advertisement
Thanks to various updates, "Cyberpunk 2077" is a lot better off than it once was. It took some time for the game to reach the playable state it's in now, including years in limbo and updates that just weren't enough. Not only is "Cyberpunk 2077" itself undergoing a continued evolution – it's inspired additional content including an upcoming "Phantom Liberty" DLC as well as upcoming Netflix anime series "Cyberpunk: Edgerunners."
"Edgerunners" is set to release on Sept. 13, 2022. The series will feature 10 episodes that tell a story seperate from that of the "Cyberpunk 2077" game itself, offering appeal to fans of the game as well as those just discovering the franchise. In anticipation of "Edgerunners," there's a new "Cyberpunk 2077" Patch 1.6 that dropped Sept. 8, 2022 to get players ready for what's to come. Here's how to get "Edgerunners"-inspired items in "Cyberpunk 2077" just in time for the upcoming anime release.
Advertisement
Look for Edgerunners items in Cyberpunk 2077 garbage cans
There's a lot in the "Edgerunners" Patch 1.6 update to "Cyberpunk 2077," including new patches, gigs, weapons, the addition of cross-progression, a new arcade game, and more.
Finding "Edgerunners" items in "Cyberpunk 2077" involves a healthy sense of mystery, as CD Projekt hasn't revealed specifics about the anime-inspired content in its Patch 1.6 update. In fact, this is all the company wrote on the topic: "Added some secrets related to the 'Cyberpunk: Edgerunners' anime series to be discovered in Night City, including new equipment and new Photo Mode features."
Advertisement
However, if one thing's for sure, it's that there will be a little dumpster diving, as the company revealed on Twitter. CD Projekt specified that the best trash cans to search through are in Santo Domingo. It's not exactly a crystal-clear plan of action, but after all, this is "Cyberpunk 2077," a world that's forever uncertain yet still full of plenty of secrets to discover. Given "Edgerunners" is still a few days away, now is the prime time to find items inspired by the series in "Cyberpunk 2077," as it essentially offers a sneak preview into what is to come.
For a game many once wished they could throw into the trash can, it feels ironic that exclusive content is now located in the in-game dumpsters. Only time will tell if the "Edgerunners" series and the items that tease it are trash or treasure.
Advertisement