Assassin's Creed Mirage Collector's Case: What's Included?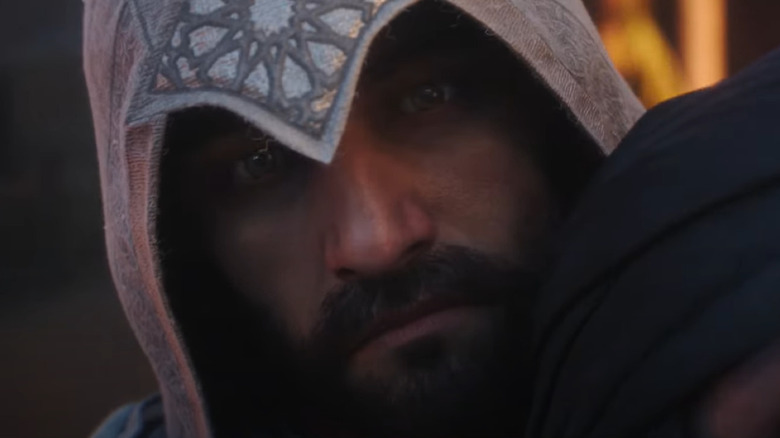 Ubisoft
The next entry in the "Assassin's Creed" series is officially on the way with "Assassin's Creed Mirage." Announced at 2022's Ubisoft Forward with a trailer and preview from the presenters, the new game will take place in Baghdad before the events of "Assassin's Creed Valhalla." It will follow the story of Basim Ibn Ishaq and reveal how he became an assassin before the events of "Valhalla." The game is set to release in 2023 and promises a sprawling city with the stealth and combat fans have come to expect from the series. "Mirage" will be available for PC, PS4, PS5, and Xbox Series X|S with three different editions on offer.
The Standard Edition will simply include the base game and sell for $49.99. Meanwhile, a Deluxe Edition will be available for an extra ten dollars and include some bonus goodies, such as skins for Basim's mount and eagle, extra weapons, and an outfit based on "Prince of Persia." Finally, super fans and gamers with a little extra disposable income will have the opportunity to grab the Collector's Case for $149.99. This edition will feature everything from the Deluxe Edition, as well as a steelbook and other physical and digital bonuses.
What does Assassin's Creed Mirage Collector's Case include?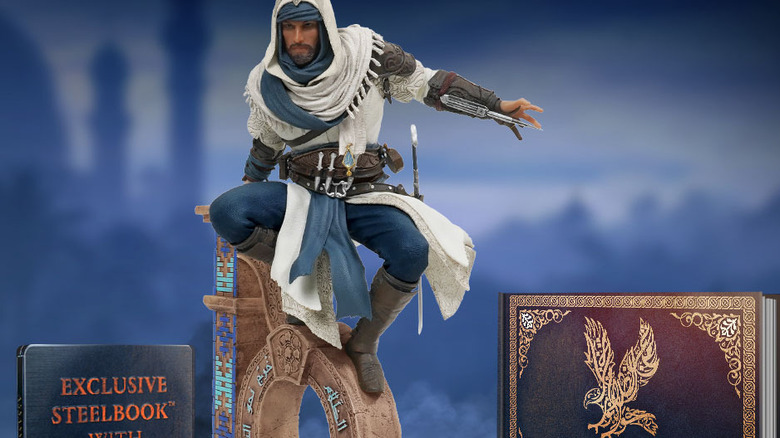 Ubisoft
The "Assassin's Creed Mirage" Collector's Case will offer a mix of digital and physical bonuses. Ubisoft has shared some of these bonuses, with the company planning to reveal the rest at a later date. The physical package looks to come in a case bearing the "Assassin's Creed" logo and the game's title. This case will feature the following:
The Deluxe Edition of "Assassin's Creed Mirage" as a digital download, including the bonus content found in the Deluxe Edition

A figurine of Basim Ibn Ishaq perching over an archway

A selected soundtrack from the game on CD

A mini book detailing the art of "Mirage"

An "Assassin's Creed" steelbook with a design to be chosen later based on fan votes

A map of Baghdad

A recreation of Basim's in-game brooch

Access to a digital artbook and digital version of the soundtrack
Beyond these goodies, Ubisoft has promised additional "bonus content." Pre-ordering any version of "Assassin's Creed Mirage" will also grant access to "The Forty Thieves" quest. It appears that the Collector's Case is primarily geared towards fans that want more physical items to display. In terms of in-game content, this edition offers the same bonuses  as the far cheaper Deluxe edition. Still, for the hardcore fans that love to show off their fandom on shelves and walls, this will be the version of the game to pick up.