Dead By Daylight: How To Get Hooked On You Cosmetics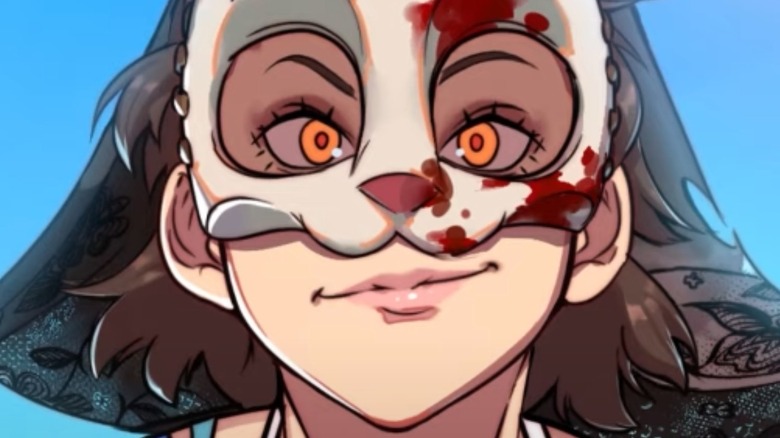 Behaviour Interactive
"Dead by Daylight" fans got some bizarre news earlier this year when a new spin-off was announced and released: "Hooked on You," a game that lets players take their horror game fantasies to the next level and actually date some of the killers in "Dead by Daylight." And just like any good dating sim, the game offers plenty of options for making your characters look as snazzy as can be.
When players purchase "Hooked on You," they automatically unlock two cosmetics: the Captured Heart Charm and the Surf Survivor outfit for Jake Park (via Steam). However, these aren't the only cosmetics in the horror game that are influenced by the dating sim counterpart. Three new skins were announced on September 13 on the official "Dead by Daylight" Twitter account. While not everyone was excited about the new additions to the game's long list of cosmetics, others were happy to see them and hopeful about future potential crossover skins. And luckily for players who are already in invested in "Hooked On You," getting the skins to use in the main game is incredibly straightforward.
Take an island vacay in Dead by Daylight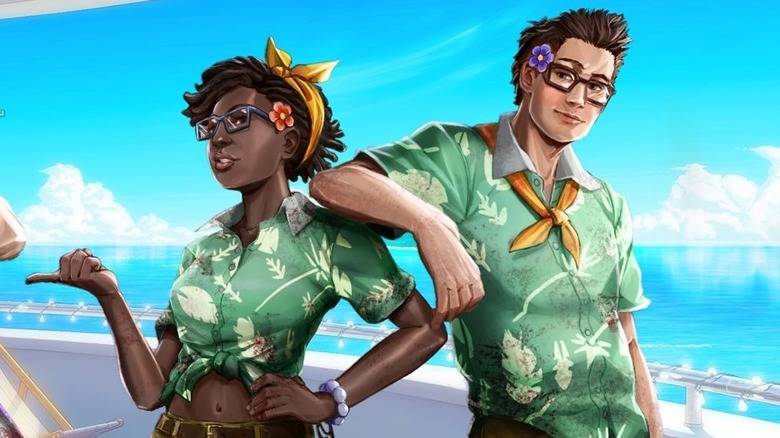 Behaviour Interactive
Unlocking the new "Hooked on You" cosmetics in "Dead by Daylight" is as simple as typing in your credit card information and hitting purchase. As noted by the game's official website, the three skins are available via the in-game store.
The three skins are at two totally different levels. The Island Outfit for Claudette Morel and the Sun-Dappled Ensemble for Dwight Fairfield feature tropical green shirts and khaki-colored bottoms, complete with a flower in their hair — the standard getup for anyone looking to take a vacation in a tropical environment. However, the Paradise Beatdown outfit for the Trickster is an electrifying purple outfit with an open shirt and abs for days. Plus, the Trickster's weapon becomes a terrifying (but gorgeous) seashell with plenty of points for stabbing enemies.
If you really enjoy the skins but haven't played "Hooked on You" yet, you can pick up the dating sim ion Steam. While you won't be able to actually woo The Trickster (too bad), you will see him in the story.