Amy Hennig's First Video Game Was An Unreleased Atari 7800 Project
Perhaps one of the most influential names in the gaming industry is Amy Hennig. Most players today are quite familiar with her work, especially as it pertains to Naughty Dog's "Uncharted" series. 
According to an overview of Hennig's spectacular career by VG Legacy, Hennig was the head writer and creative director for "Uncharted: Drake's Fortune," "Uncharted 2: Among Thieves," and "Uncharted 3: Drakes Deception." After leaving her position at Naughty Dog, Hennig joined Skydance Media as the president of the company's newly-minted video game division, where she began working on a Marvel team-up game featuring Black Panther and Captain America. There's a lot to be excited about in Hennig's future, but her past is perhaps just as interesting.
Advertisement
As it turns out, Hennig served in a number of roles in the video game industry for some time before reaching the monumental heights she found at Naughty Dog and Skydance Media. In fact, at one point, Hennig worked as an artist on a never-to-be-released game for the ill-fated Atari 7800.
Hennig's start in gaming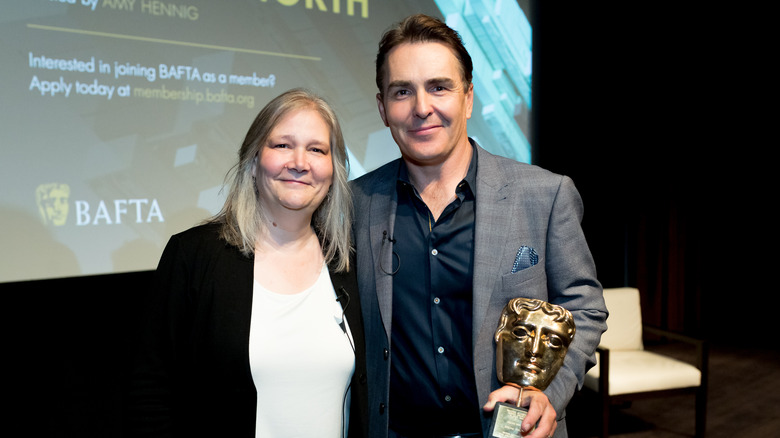 Greg Doherty/Getty Images
During her time at college, Hennig was interested in learning about the art of storytelling. After getting her bachelor's in English at UC Berkely, this desire prompted Hennig to head to film school, according to the Los Angeles Times. It was then that the one-day "Uncharted" creator found a job as a freelance artist on a video game. The game was called "Electrocop."
Advertisement
According to a 1991 issue of the magazine "Atari Explorer," "Electrocop" is a 3-D side-scroller likely inspired by the film "Blade Runner." Players fight robotic enemies, avoid traps, and collect various weapons as they make their way through the game's levels. While the initial Atari Lynx version of the game was released to the public, VG Legacy notes that the Atari 7800 port Hennig worked on never made it to stores.
It may not have been released, but "Electrocop" did make an incredibly impact on the gaming industry, if for no other reason than it inspired Amy Hennig to get into gaming. While working on the game, Hennig came to the realization that, gaming felt like a more dynamic medium than film to her. Because of this, she left film school behind and went into gaming. She worked in various design capacities on games like "3D Baseball" and "Michael Jordan: Chaos in the Windy City" before becoming the design manager on "Blood Omen: Legacy of Kain." This gig would lead to her directing the following installment, "Legacy of Kain: Soul Reaver," and the rest was history.
Advertisement
So, if you enjoy the "Uncharted" series and Hennig's other projects, you can thank this unreleased Atari 7800 game.