Why Voice Actors Are Concerned By This AI Tech
Artificial intelligence has come a long way since the nightmares of 20th century sci-fi authors. Nowadays it's normal to see AI generated art and images almost everywhere, even without realizing it. An AI generated artwork won a State Fair award in Colorado, for example, but the problem's not restricted to just generating pictures. It can be (and has been) used to create videos imitating real people – if you've ever seen a deep fake of a politician or a celebrity, it was likely made using AI. It can also be used to generate audio and vocal performances, a service offered by London company Altered AI.
Advertisement
Altered AI offers clients the tools to single handedly "drive a whole multi-character production" with the use of their cloning and vocal reproduction software. The company has, perhaps to the surprise of some, already partnered with several well-known game development studios such as Bossa Games ("Surgeon Simulator") and Ninja Theory (the "Hellblade" series). In an interview with GLHF,  Altered AI CEO Ioannis Agiomyrgiannakis said, "I never believed in human replacement." On its ethics page, the company claims that Altered AI "allows people from all walks of life to create content... previously only available to a few."
The use of synthetic vocal performances has stirred controversy amongst the voice acting community concerned over the ethics and impacts such technology could have. Artificial intelligence is projected to affect many working sectors in the future, and video game voice actors are just the latest to learn how it could affect, or replace, their profession.
Advertisement
Voice actors say to err on the side of caution with AI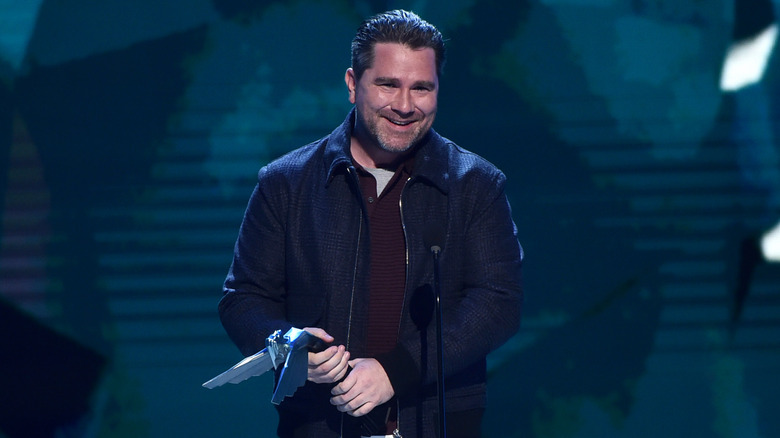 Alberto E. Rodriguez/Getty Images
In his interview with GLHF, Agiomyrgiannakis argued that AI generated voices are good for the industry as they fill in background characters, freeing up budget for more real actors. Speaking with GLHF, "Horizon: Zero Dawn" voice actor Ashly Burch pointed out that the Screen Actors Guild offers agreements "designed so indie developers can get access to quality VO without breaking the bank." Bursch went on to say, "You're never going to get a truly dynamic and compelling performance from an AI," and said that it could be used for "combat barks."
Advertisement
Another voice actor interviewed by GLHF, "Red Dead Redemption 2" voice actor Roger Clark, said "I am interested in what AI can do, but its capacity for imitating real people is alarming." Clark then argued that when AI can listen and respond to a real actor, "we're in trouble." In the same interview, "Firewatch" voice actor Cissy Jones said, "a synthetic performance is soulless by definition, thus losing... the creative spark that comes from people working together."
Altered AI features demonstrations of its tech on their YouTube channel – notably one that shows off AI voices in "The Ascent." The full impact of AI on the voice acting industry is yet to be felt, but several developers and even modders are already using AI technology. But if gaming voice actors are to be believed, there's a thin line between AI being a useful tool, and being a roadblock for aspiring VO artists.
Advertisement