Ed Sheeran Is Becoming Pokémon Canon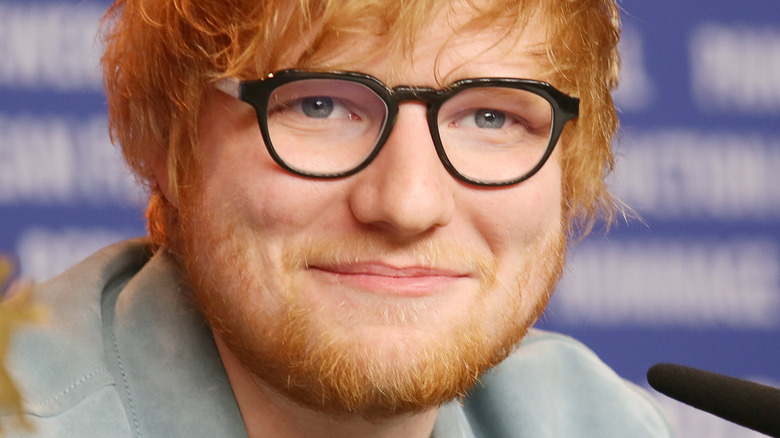 Denis Makarenko/Shutterstock
As it turns out, Ed Sheeran is a fan of much more than just making chart-topping music. He also loves the world of "Pokémon." That's why Sheeran has released a new song that's set to be featured in the upcoming games "Pokemon Scarlet and Violet," according to a new press release from Sheeran and The Pokémon Company. The song, called "Celestial," also arrived with a highly-produced music video featuring Sheeran going on his very own "Pokémon" journey.
Through the first half of the video, Sheeran wakes up in bed, gets ready for the day, and goes for a walk as various characters from "Pokémon" interact with him. Appearing to be inspired, Sheeran runs back to his apartment to record a song. As the artist is shown belting out "Celestial," he glances over at a TV that comes to life, depicting Sheeran as a "Pokémon" trainer. Not too long after, Sheeran is shown passed out on the couch. He briefly wakes up to pick up a classic Game Boy Color before an animated Hypno peers out of the device, sending Sheeran back to sleep.
This fun music video represents so much more for Sheeran than merely a promotional job, it seems. It also represents Sheeran's life-long love of the series coming full circle.
Sheeran is a long-time Pokémon fan
In an Instagram post accompanying the release of "Celestial," Sheeran explained why the Pokémon series means so much to him. The artist has been a fan of "Pokémon" since he first started collecting the cards at age seven, and he quickly became a fan of the TV series as well. The first two "Pokémon" games he played as a kid were "Pokémon Blue" and "Pokémon Yellow," the latter of which he played on his beloved Game Boy Color.
"I got a game boy colour with Pokémon yellow for my 8th birthday, obsessed was an understatement," Sheeran wrote. "Flash forward to me at 31 I still have the same game boy colour and still I play Pokémon silver on long haul flights." Apparently, it was Sheeran's love of the series that prompted him to meet with The Pokémon Company while he was traveling in Japan, which eventually resulted in the creation of "Celestial." And now he's a part of the game series he grew up loving!
Just as Sheeran likely fell in love with the "Pokémon Red and Blue" starters, today's young fans will likely fall in love with the starter Pokémon in "Scarlet and Violet." The internet already has some new favorites from the trailers for the new games. It remains to be seen just how the song will be integrated into the upcoming games, but fans can enjoy the music video until then.