The New Scarlet And Violet Preview Hid Three Pokemon In Plain Sight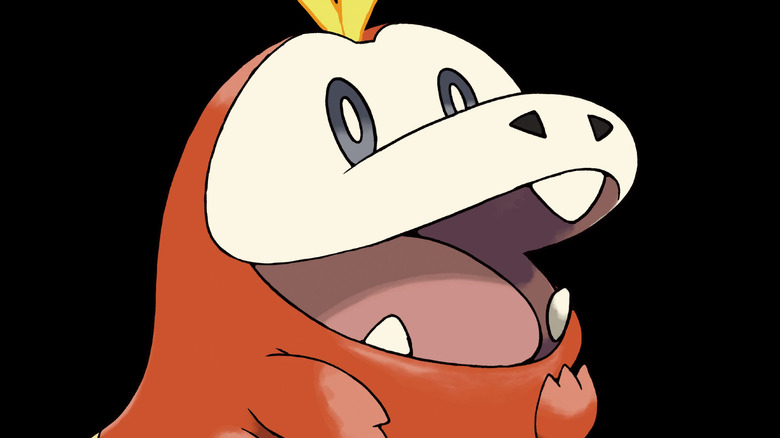 Pokémon
"Pokémon" fans have been eager to learn anything new about the series' next generation since it was announced out of nowhere near the beginning of 2022. "Pokémon Scarlet" and "Pokémon Violet" are the two versions that comprise "Pokémon" Generation 9, and both are scheduled to release on Nov. 18, 2022. Until the gameplay reveal, fans didn't know what to expect from these new "Pokemon" games, as most of what was known was gleaned from the first trailer and infrequent drips of info from the Pokémon Company. There was a major "Pokemon" leak in September 2022, though, which gave particularly desperate fans an unofficial, unconfirmed sneak peek into "Scarlet" and "Violet" versions.
Advertisement
The gameplay trailer for "Pokémon Scarlet" and "Pokémon Violet" shows off a number of features over its dense 15-minute runtime. For fans who want to know more about the upcoming games, it's a must-watch; the gameplay reveal shows off the new terastallize mechanic, the upgraded visuals compared to "Pokémon Legends: Arceus," and loads of other new features for open-ended exploration, a major new battle feature in the "Pokemon" series, and new ways to interact with the world. Though the "Scarlet" and "Violet" gameplay trailer shows off plenty of new additions to the ever-expanding "Pokémon" roster, it also accidentally revealed a few Pokémon in the Paldea region that weren't meant to be announced yet. 
Advertisement
Spoilers ahead!
Two mice, a parrot, and a chunk of salt
In the gameplay reveal posted to the Official Pokémon YouTube Channel Oct. 6, 2022, the game's minimap is shown throughout as the trainer navigates the open world. For just a few seconds, from 7:16 to 7:19 in the gameplay reveal for "Pokémon Scarlet" and "Pokémon Violet" versions, icons of several Pokémon can be seen on the minimap, three of which "Pokémon" fans don't officially know about yet.
Advertisement
There are two Pokémon that look like standing mice right next to each other — sure to become the internet's new favorite Pokemon – one of which is covering what could only be a Rookidee, a small bird Pokémon that also appeared in "Pokémon Sword" and "Pokémon Shield." Next to the Rookidee is another bird-like Pokemon, but this one sports a bright green coloration and a beak like that of a Parakeet or a Puffin. Just to the right of this new Pokémon is a strange-looking icon, but fans seem to agree that it looks like a hunk of salt, perhaps stylized to resemble both a rock and a salt shaker. 
There are plenty of Generation 9 Pokemon that have been officially revealed, like Farigiraf, an evolution of Girafarig, but these three have only been seen in the leaked Pokedex for "Scarlet" and "Violet." The mice are listed at #48, the Parakeet at #35, and the aptly-named Salt at #70. Fans will have to wait a little longer to find out the names of these new Pokemon, though.
Advertisement