The Anime Legend Who Almost Appeared In Death Stranding
"Death Stranding" features several real-world celebrities, both as part of the main cast and via cameos that pop up as protagonist Sam Bridges makes his deliveries. As revealed in a September 2022 episode of his "Brain Structure" podcast, "Death Stranding" director and producer Hideo Kojima wanted to add another name to the extensive list of appearances: Mamoru Oshii. Anime fans will recognize Oshii as the legend behind "Ghost in the Shell."
Kojima and Oshii have a long history. "Mamoru Oshii and I are both cinephiles, and in the ['80s], we couldn't move pictures in Japanese animation and games," Kojima said in a duo of tweets announcing the episode. "We share our same starting point." Long before Oshii appeared on his podcast, Kojima and Oshii took part in an interview about the former's 1994 graphic adventure "Policenauts" (translation via thearkhound). Years later, Oshii heaped praise on "Death Stranding" and its creator. Given this glowing response and his long-standing connection with the director, why didn't Oshii make it into Kojima Productions' flagship game?
An accident kept Oshii out of Death Stranding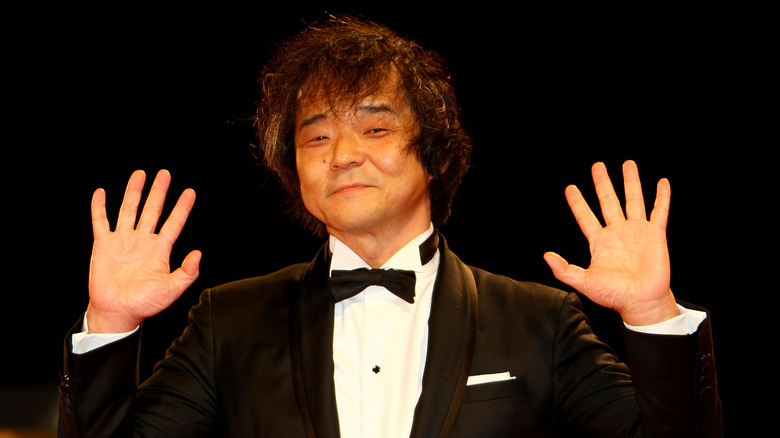 Vittorio Zunino Celotto/Getty Images
According to "Brain Structure," Oshii was supposed to go to Kojima Productions so that he could be 3D scanned into "Death Stranding," but he suffered a bone fracture that prevented him from traveling. He and Kojima were ultimately unable to reschedule. Kojima brought up the incident to illustrate how often they were supposed to meet before an unexpected element delayed their reunion.
Kojima has been a fan of Oshii's since his film based on manga series "Urusei Yatsura." He particularly enjoys how Oshii directs animated scenes as if they were filmed in front of a camera. "Even when the camera is fixed, things are constantly moving," he described in the podcast. He highlighted how Studio Ghibli co-founder Hideo Miyazaki was particular about the way characters moved and how even the waves rolled in backgrounds of his films. Meanwhile, Oshii's strength is the way he directs animated films through a "fisheye lens," an aspect he appreciated from a film lover's perspective.
Oshii may not have made it into "Death Stranding," but his continued friendship with Kojima could indicate that he'll turn up in a future project from the director.