Fans May Have Just Spotted Xbox's Keystone In Phil Spencer's Room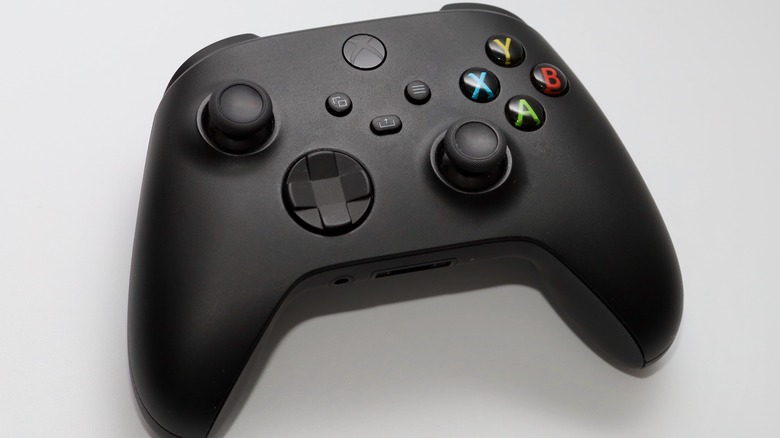 AlexandreSheva/Shutterstock
Announced back in May, Microsoft and Xbox are currently hard at work in bringing the Xbox Keystone to life. For anyone unaware of this device, it's meant to be a streaming stick/console hybrid dongle that employs the use of cloud gaming similar to how the Amazon Firestick does media. Of course, cloud gaming has been a tricky concept for companies to figure out. PlayStation's streaming service, PS Now, has been underwhelming for some gamers due to its notoriously bad input delay, and Google Stadia — the tech company's attempt at cloud gaming — fell flat on its face and will be discontinued in January 2023. However, despite these past failures, it seems Microsoft is dead set on making the Keystone a reality.
Advertisement
Since its announcement in May, the Keystone has largely been kept out of the limelight during its development, with little details released since its initial unveiling with Windows Central. However, CEO of Microsoft Gaming Phil Spencer recently tweeted out a picture that many fans believe contains a look at the Keystone. And from the looks of it, it's legit.
An early prototype of the Keystone is leaked by Spencer
In a recent post to his personal Twitter profile, Phil Spencer gave Bethesda a shoutout in celebration of the "Fallout" series reaching its 25th anniversary. In the post, Spencer posted a photo of his shelf, which was adorned with iconic imagery from "Fallout" as well as other gaming-related trinkets. However, it seemed that something in particular caught the eye of fans. At the top of Spencer's shelf was what appeared to be a micro-sized Xbox Series S. Some keen observers seemed set on this seemingly innocuous piece of memorabilia being the Keystone itself.
Advertisement
This theory seems to be supported based on a reply to the photo from the official Xbox Twitter profile. "Now what did we say about putting old prototypes on your shelf boss," the post quipped. Xbox would later confirm to Digital Trends that the micro Xbox Series S seen on the top of Spencer's shelf was indeed an early prototype of the Keystone. However, the company has since moved away from this design. "The device on Phil's shelf was an old prototype of Keystone," an Xbox spokesperson told Digital Trends. "Earlier this year, we announced that we made the decision to pivot away from the current iteration of Keystone and are taking our learnings to refocus our efforts on a new approach that will allow us to deliver Xbox Cloud Gaming to more players around the world in the future. We have nothing more to share today."
Advertisement